A gentler side of Florida awaits you—with cleaner sands, warmer waters, and fewer crowds. Come see where America's First Resort Destination™ was built, and genuine hospitality began. Come discover The Palm Beaches, a place that surpasses all expectations, awaiting discerning travellers who won't settle for the ordinary. A place different from the rest, waiting just for you.
Located on Florida's southeastern tip, The Palm Beaches are a vibrant collection of 39 towns and cities, all located within a short drive or train ride from Miami, Fort Lauderdale and Orlando. For the most seamless travel experience, flying into Palm Beach International Airport will put travellers just minutes outside of West Palm Beach and many of the area's most popular hotels and attractions.
The tale behind the destination's namesake is just the beginning of its storied history. A massive coconut spillage from a cargo ship – the Providencia - that ran aground in 1848 led to a profusion of palm trees flourishing around the coast, and this little piece of paradise ultimately evolved into America's first destination developed exclusively for tourism. Since then, it's been drawing discerning visitors for over 125 years.
Located an easy drive from either Miami, Fort Lauderdale or Palm Beach International Airport (you can also fly into Orlando), it's been drawing discerning visitors for over 125 years. You might bump into some famous faces - residents and guests have included everyone from Mark Zuckerberg to Tiger Woods, Rod Stewart, Serena and Venus Williams and many more high-profile figures… And no wonder, thanks to The Palm Beaches' sun-kissed sands, eclectic restaurants, peerless golf courses, compelling arts and culture and more - come and discover it for yourself.
What to do in The Palm Beaches
Soak up that sunshine
Want that tropical island feeling without actually having to board a boat to get to one? You've come to the right place. Thanks to that 19th century coconut calamity, The Palm Beaches are now a laid-back, welcoming destination where the instinct to pull up a striped sun-lounger, sit back and sip on a piña colada is absolutely the right one. With year-round temperatures averaging a positively balmy 25°C, you'll want to be outside making the most of it.
There are 47 blissful miles of pristine, postcard-perfect beach to choose from; some of the best (read also: the most Instagrammable) include the sheltered but sea-life-rich waters of Coral Cove Park in chilled-out Tequesta; the wide, sweeping golden stretch of sand at funky Delray Beach; or Juno Beach Park, home to a striking, 990-foot-long pier off which you can fish, or just catch a magnificent sunset. Some are even pet-friendly, too - and, just because they fringe the Atlantic, that doesn't mean you should be wary of dipping in your toes (or anything else); The Palm Beaches are the closest place in North America to the Gulf Stream current, which means warm, crystal-clear water, in which you might spot sea turtles or dolphins.
Take a closer look from under the surface; conditions are perfect for snorkellers or divers, with more than 160 artificial reefs and dozens of deep-water wrecks. Of course, there are plenty of on-land outdoors experiences to have too, from hiking or biking around lakes or through the Everglades to playing tennis or even croquet (well, there's a first time for everything, right?).
Sharpen your appetite
You'd better come to The Palm Beaches hungry because these hospitable folks are going to want to feed you - and feed you well. Within the region's critically acclaimed dining scene, you'll find over 3,000 dining venues, five celebrated chefs, several food and drink tours, dozens of breweries, one organic winery and three distilleries - in essence, if you can't find something you want to eat or drink here, it would seem that you aren't looking very hard. So, where to start? Perhaps by sampling some of the region's incredible, fresh seafood - you can rock up to Guanabanas in Jupiter, a waterfront eatery with a laid-back feel, and tuck into everything from Bahia fish tacos and sauteed Atlantic shrimp to blackened Cajun salmon and grilled catch of the day. You'll find colourful, Caribbean-style vibes at the Old Key Lime House in Lantana, a historic, lime-green seafront restaurant dating from 1889, which, as well as serving specialities from Maryland crab cakes to the dessert it's named after, has a casual outdoor tiki bar where cocktails and live music are the order of the day (and night).
If you prefer finer dining, you can nibble on dishes from award-winning chefs. North Carolina native Lindsay Autry owns culinary hotspot, THE REGIONAL, in West Palm Beach, known for its fancy take on Southern fare, such as moreish fried green tomatoes and delicate summer peach salad, while Clay Conley owns four successful restaurants in the area, including the Italian-style Grato and small-plates Japanese joint, Imoto. If craft breweries are your bag, sink an ale or a tasting flight at the likes of Prosperity Brewers in Boca Raton, or enjoy the community atmosphere with a grapefruit Pilz at the Twisted Trunk Brewing Co in Palm Beach Gardens. Cheers!
Put sport to the fore
With all the food you'll be eating, keeping active is probably a good idea. Budding golf pros will be thrilled to learn that The Palm Beaches are Florida's Golf Capital, and the world's best golfers both play and live here. There are over 160 awesome golf courses - both public and private - designed by some of the greatest architects in the game.
One of the biggies is the PGA National Resort & Spa, with access to six championship courses (as well as an epic wellness facility and state-of-the-art fitness club); play the Jack Nicklaus-designed The Champion, lauded as one of the best golf courses in the USA, or brush up your form with their 1-hour golf clinic. The Breakers Ocean Course is Florida's oldest 18-hole course, found at the elegant hotel of the same name, which was established in 1896 by industrialist Henry Flagler.
A believer in the old adage that golf is just a good walk spoiled? There are plenty of other activities to enjoy, from stand-up paddleboarding and jet-skiing to boat trips or fishing excursions, if you're the type who'd rather rev up than relax. Most big hotels and resorts offer tennis courts, pools, gyms and bicycles for hire, from the aforementioned Breakers to The Brazilian Court (both in Palm Beach), so there's basically no excuse for laziness.
State of the arts
Not only are The Palm Beaches leading the way in Florida in golf, but they're pretty nifty in the arts and culture department, too. They boast more than 200 art, entertainment, and historical venues, from world-class museums and impressive outdoor sculpture gardens to excellent theatres and performance spaces. Pretty Delray Beach has a sizeable arts community, where you'll find dozens of galleries and studios, particularly around downtown Pineapple Grove and Old School Square. There are Art Walks on the first Friday of every month, and a newly-launched Art Trail, showcasing everything from colourful murals to vivid installations.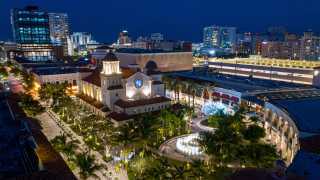 More works, classical and modern, can be found at the Boca Raton Museum of Art or the Norton Museum of Art in Palm Beach (don't miss its Art After Dark experiences, which mix art and entertainment). And the acclaimed Flagler Museum, set within a beautiful Beaux-Arts building which used to belong to Henry Flagler himself, displays exhibits and artefacts from America's Gilded Age. You'll find evocative artworks and perfect bonsai trees at the Morikami Museum & Japanese Gardens, and fascinating pieces scattered throughout the Ann Norton Sculpture Gardens. There are always events going on, from outdoor concerts to cabaret performances, at the likes of Harbourside Place in Jupiter or Downtown West Palm Beach. And there's an annual calendar of fun things to do and see, from the BOCA Festival of the Arts to the Palm Beach Show. One thing is absolutely guaranteed - in the Palm Beaches, you will never be bored.
Find out more and plan your trip at thepalmbeaches.com or visit The Palm Beaches Facebook, Instagram and TikTok