OK, so you've eaten the freshest fish in beachside tavernas, you've swum in sparkling blue sea, and you've soaked up thousands of years of ancient history. But there's heaps more to explore in Greece – especially when it comes to action and adventure.
Sure, you could sunbathe; but did you know you can ski? And you know you can snorkel, but what about rock climbing to an ancient monastery? No matter what type of adventure you're after, you'll find it in Greece. Here are some ideas...
Climb to an ancient monastery at Metéora
You could walk up the rock steps or take the cable car to Metéora's historic monasteries. But if you like adventure, don't miss the chance to climb. These Unesco World Heritage holy sites sit on top of 400m-high stone pinnacles, commanding breathtaking views over the landscape. Metéora is one of Christianity's holiest places – of the 30 religious communities that were here, today only six remain, making this an even more unique experience. Whether you're here for a spiritual journey or to take in the landscape, Metéora makes for an experience you'll never forget.
Walking trails on Andros and Tinos
Let's start with something gentle: walking along old mountain paths lined with fragrant herbs. Particularly of note is the island of Andros, which has more than 25 hiking trails that'll take you past old bridges, watermills, waterfalls and lush valleys, with routes that are suitable for both expert and novice adventurers. Over on Tinos, you can meander along cobblestone paths through traditional villages and past chapels and shrines, for a true glimpse of rural Greek life.
Go skiing at Aráchova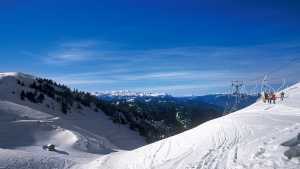 For a completely different Greek escape, head to the mountain village of Aráchova in winter. Nestled at the foot of Mt Parnassós in southern Greece, this traditional village boasts a modern ski resort, where you can ski, snowboard, take part in many other winter sports, or head out on a tour of the mountain by Jeep or mountain bike.
If you're getting hungry, local delicacies abound: hilopites, linguine-like egg noodles; kontosoúvli, big chunks of rotisserie pork; sarmádes, stuffed vine leaves; and more. Then there's plenty of first-rate accommodation ranging from guest houses to luxury hotels, as well as a strong local tradition of textiles and woodwork, so you'll be able to find that perfect holiday souvenir. And if that weren't enough, you're close to Athens' nightlife, too.
Go trekking in Samaria gorge
For a hike that'll get your heart racing you'll want to head to Samariá gorge on the island of Crete. At 16km in length, it's the longest gorge in Europe, and descends for about 1,200 metres. Grab your hiking boots and prepare for a challenge on this six-to-eight hour walk – but all the effort is worth it, because at the end of the path lies wild swiming, delicious lunches at tiny tavernas or picnics with panoramic views over the Mediterranean sea.
White water rafting in Vikos gorge
Take in Greece from a totally different perspective by going white water rafting down the Voidomatis River in Vikos gorge in northern Greece. You'll meet at Aristi bridge near the traditional village of Aristi, right in the middle of the Vikos-Aoos National Park, before setting off on a 5km route downstream that'll take you past verdant greenery, small waterfalls and picturesque stone bridges. Roughly halfway through your journey, you'll come to the abandoned 16th century Agioi Anargyroi monastery, where the rock caves were once used as monk retreats. And on the final leg, you'll pass underneath the gorgeous single-arch Kato Kleidonia – and go for a dip in the water to bring the experience to an unforgettable close.
Rock climbing in Kalymnos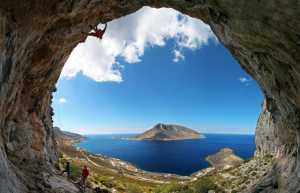 Trade sweaty indoor climbing walls for climbing with jaw-dropping views of the open sea in Kalymnos, a small island in the southeastern Dodecanese archipelago. The isle started to garner attention from climbers in the mid-1990s who came in search of giant cliffs and beach ambience, and now there are 77 climbing routes and it's one of the most important climbing destinations in the world. There's already a strong offering of challenging rock formations to try your hand at – but only 10% of the area has been explored, which means there's an opportunity to discover new routes, too. There's even the world-famous Kalymnos Climbing Festival, which brings climbers together here once every two years.
But beyond the world-class climbing, the island of Kalymnos makes for an ideal holiday destination in its own right, with endless sunshine and small towns and villages peppering the rolling countryside. It's also the place to go trekking, gently amble along walking trails, get rough and ready with mountain bike climbing, go diving in the perfectly clear water or just cool off with a refreshing dip in the Aegean.
All this adventure got you dreaming of your next holiday? You'll find all the adventure you imagined – and some you didn't – in Greece. For more info, go to visitgreece.gr