We go to music festivals for many reasons – hearing our favourite artists live, enjoying the sun, dancing outdoors, collecting fabric wristbands, showcasing our summer style. While we're sipping a cold beer and bobbing to the tunes, it's easy to forget the history of music festivals in the UK. How many people know that they emerged from distinct sociopolitical movements and contributed to epic eras in British cultural heritage?
We're going to dive into this rich history, taking a whistle-stop look at how music festivals have developed.
Back in the day
The concept of music festivals dates back centuries – even millennia if you consider traditional celebrations like harvest festivals. In the 19th and early 20th centuries, classical and jazz music festivals began popping up, catering to cultured elites around Europe and the US.
The direct sociopolitical connection can be traced back to as early as the 1940s, with the revival of folk music in the US. This became the soundtrack to the political movements of the day, from labour groups to anti-war protests. As the American political landscape became more heated, folk musicians like Pete Seeger voiced the concerns of a generation. It was in this atmosphere that the modern music festival was born.
The 1960s counterculture era
The UK music festival as we know it today has its roots in the famous Californian "Summer of Love." It was 1967 and the Monterey Pop Festival heralded a new era of live performance. More than 25,000 people gathered to see Janis Joplin, The Who, Simon & Garfunkel and Otis Reading live. Jimi Hendrix set his guitar aflame here, an iconic moment in rock history. Rock, folk and pop music all intermingled to mark a countercultural wave that was sweeping the US and all of the Western world.
Hippie culture exploded, with thousands of young people rebuffing societal norms and embracing alternatives – free love, feminism, environmentalism, self expression, equal rights and freedom for everyone. Social movements protested for civil rights and against the Vietnam War, fought for the future of the environment, and rejected mainstream ideals. The mood of the day was creatively free and anti-establishment, and music festivals reflected that. They were no longer the provenance of the cultured elite; they were accessible to and representative of everyone.
From the US to the UK
Two years after Monterey, the first Woodstock festival took place in upstate New York, giving music festivals global recognition. Masses of people – 400,000 by some counts – came together over three days to celebrate music and peace. Woodstock marked music festivals' entrance into the mainstream consciousness.
In 1968, the Isle of Wight Festival started with a small audience. By 1970, it had boomed in popularity and over 600,000 people attended. Andrew Kerr attended the festival and went on to start his own – Glastonbury. This marked the official move of modern music festivals to the UK, setting the stage for the festivals we love to this day.
The UK music festivals we know and love today
Glastonbury
When you think of UK music festivals, Glastonbury is at the top of the list. It is the iconic one, as revered today as it was when it started decades ago. Originally called Pilton Festival, the first event drew a crowd of 1,500 people, who paid a single pound for a ticket and got free milk as a perk. It has evolved into a muddy metropolis that is the highlight of the UK festival season.
With that expansion, Glastonbury has managed to maintain some of its free love, hippie, counterculture ethos. It is committed to environmental causes, raising money for Oxfam, Greenpeace and WaterAid. Their Love the Farm, Leave No Trace campaign also encourages attendees to be as mindful as possible of their environmental impact.
Isle of Wight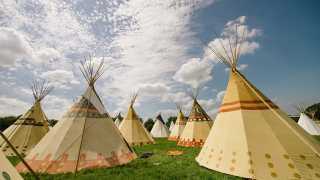 This was the Woodstock of Europe, starting as a small event and then swelling to a huge crowd in 1970 who came to see The Doors, Joni Mitchell and Leonard Cohen. Parliament actually banned the festival after that, worried that the huge numbers and raucous partying might negatively impact the island.
The festival was relaunched in 2002 in a new location on the island and under new management. It continues to be a big player in the UK festival scene, with major acts performing each year. While it's much less counterculture now, it still supports local charities by offering free tickets for auctioning. They've also partnered with various charities to raise money, including WellChild and ShelterBox.
Secret Garden Party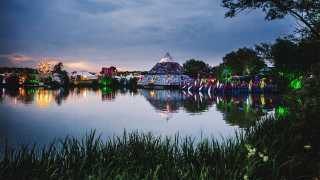 Andrew Whitton/Fanatic 2016
Where else on the UK festival circuit can you find mermaids, unicorns, yurts, DJs, dance battles, glitter and rave music all in one? The hippy, bacchanalian festival in the Cambridgeshire woods isn't actually a festival at all – its founder, Freddie Fellowes, likes to describe it as a party where everyone is a participant. Started in 2004 as an alternative to mainstream music festivals, it has grown from 500 guests on a patch of his dad's farm to the resounding success it is today. SGP 2017 will be the last festival, bringing an end to an era.
As they've grown, SGP has stayed committed to the ethos of their early days, with no corporate sponsorships or high profile celeb guests. While it's not explicitly political, SGP embraces a mantra of inclusivity, egalitarianism, independence, peace and love. This seeps into every aspect of the festival, from the fancy dress to the diverse mix of bands. They also are a proud supporter of CALM, the Campaign Against Living Miserably, a suicide prevention charity focusing on male mental health.
The UK music festival of the future
More and more festivals are reconnecting with their activist and socio-political roots, balancing the commercial with the communal. Major festivals are starting charity partnerships and new smaller festivals are embracing political or social ideals. One example is Shambala Festival in Northamptonshire, which has a major sustainable focus. It's now 100% renewably powered and went meat and fish free in 2016 to reduce its carbon footprint even further. Yoga, wellness and family-friendly zones are being integrated into music festivals, with the trend showing no signs of slowing down.
So this summer, as you collect your festival wristbands and soak up the sun (or rain), remember that you're participating in a ritual with a history much older than you. Social movements made these music festivals and that history is a big reason they continue to be so popular today. Whether you're just going for the music or you love the history, have an amazing time.
ID&C is a UK based wristbands, lanyards and badge supplier, servicing the international festival and event industry. For more info, see idcband.com
Click these links to read more about the best festivals for summer 2017, whether they're in the UK or Europe.