It's when I get to Inle Lake that I realise my challenge to cross Myanmar using as many different modes of transport as possible has already been accomplished by people far more high-profile than me: the former presenters of Top Gear.
My guide Nau-Nau was a fixer for the 2014 show. As we leave Heho Airport for the vegetable allotments and temple-studded plains of Shan State, he rattles off anecdotes: Jeremy Clarkson visiting freedom fighters near the Thai border; the trio buying loudspeakers and mobile air-con units to attach to their rust pile cars from the market in capital Nay Pyi Taw.
My insides deflate. I'm not doing anything nearly as adventurous. All I've done so far is rattle around in a sidecar through downtown Yangon and razz a scooter in dusty circles underneath Bagan's temples. In a country whose infrastructure is at best ramshackle and at worst unusable, I thought my challenge was sound. Or not. Unfortunately, transport is the least of Myanmar's worries right now. After escaping the clutches of a draconian military government in 2015 (although the army still remains a powerful force), the country is back in the news for the Rohingya crisis. On a practical note, its incredible sights on its tourism belt are considerable distances away from troubled Rakhine state. On an ethical note: should you still travel to Myanmar?
"I completely understand the moral questioning when travelling to a country in conflict, but I do think that, especially now, it's important to support people from all races and religions in Myanmar," adds Diana Fung, travel designer at Lightfoot Travel, which organised the logistics of my trip and ensures it partners with sustainable tours and operators on the ground. "Giving the country the cold shoulder would be a huge mistake, because the dip in tourism would directly affect thousands of innocent local families and small businesses all across the country that have become dependent on visitor-generated income."
My advice would be to spend money locally. Talk to local people. Read the newspaper. Visiting a country does not necessarily mean you endorse the government's actions, however ugly they are. One section of society's actions should not deprive the rest of the country's citizens of tourism income.
And with that I've decided to chase down Myanmar's most majestic sights in a far more genteel transport challenge. Spoiler: mine includes quite a lot of sitting down.
PLACE: YANGON
Transport option one: Sidecar and bike
Downtown Yangon is one of Asia's best-preserved colonial cores. Pastel-coloured townhouses swathed in wires (walk down bodhi-tree-lined Bo Aung Kyaw road to see a range of Battenberg cake colours) jut up against vast early 20th century Victorian courthouses (the High Court). There are a number of different halls of worship here – the Roman Catholic church and the dusty Armenian church alongside a mosque and a Buddhist temple – although how harmonious the relationship is between Myanmar's various religious groups isn't visible through the architecture. We're driven in a squashy sidecar from Yangon's grand, messy train station: past locals with thanaka circles on their cheeks (made of bark, thanaka is a natural sunscreen, and my milky Essex skin doesn't take to it), past the chic mahogany Strand Hotel where Kipling lived and the crumbling Port Authority and Custom House.
At sunset, we cycle to the iconic Shwedagon Pagoda. Myanmar's most holy temple is said to house eight hairs of the Buddha, and we watch as the sun drips yolk onto its golden spires.
On to the Rangoon Tea House on Pansodan Road for dinner, a restyled colonial café – a 'stylishly hipster teahouse' according to Lonely Planet – with a neat selection of Burmese curries and traditional cups of tea. Next door is the excellent Hla Day craft shop, selling local curios made by disadvantaged groups across the country.
Transport option two: Train
You've had enough of hipster Yangon – I get it. Thankfully hipster is the last word to describe the battered ex-Japan Rail train that clatters in a very, very long circle from the main railway station, but it's a study in local life: tea sellers hawking tiny cups, vegetable sellers with unrecognisable lumps of vitamin D and entire families crushed into a four-person seating configuration. Hop on at Insein in the north and get off at the main railway station for a 40-minute journey through Yangon's tin-roofed houses.
PLACE: BAGAN
Transport option one: Scooter
To Bagan: Myanmar's temple-studded, green-carpeted, tourist-crowded jewel. In spite of the millions of sunset and sunrise Instagrams that this place inspires, Bagan is every bit as awe-inspiring in the flesh and even this jaded travel writer spent a good 40 minutes watching the sun turn the sky an angry purple from atop the Buledi temple.
Old Bagan's some 2,000-strong temple field is fairly compact, hemmed in by four golden pagodas (the best view is from the not-unimpressive Nyaung Lat Phat Kan hill right in the middle of the plain), but the paths are complex. It's why we hop onto electric scooters each morning before the midday sun hits, zooming around quiet, frangipani-trellised Thabeik Hmauk, the gigantic Dhammayangyi Temple and Sulamani Paya, covered in centuries-old murals and usually considered Bagan's most beautiful temple.
Transport option two: Horse and cart
The Orwellian way to see Bagan's temples is by horse and cart. We clamber up at sunset, bumping under the nose of the 11th-century stupas and surrounding villages, before pulling up at temple 749 (they're all numbered – the more ordinary, if they can be called that, are known just by their numbers) for a blockbuster sunset.
PLACE: INLE LAKE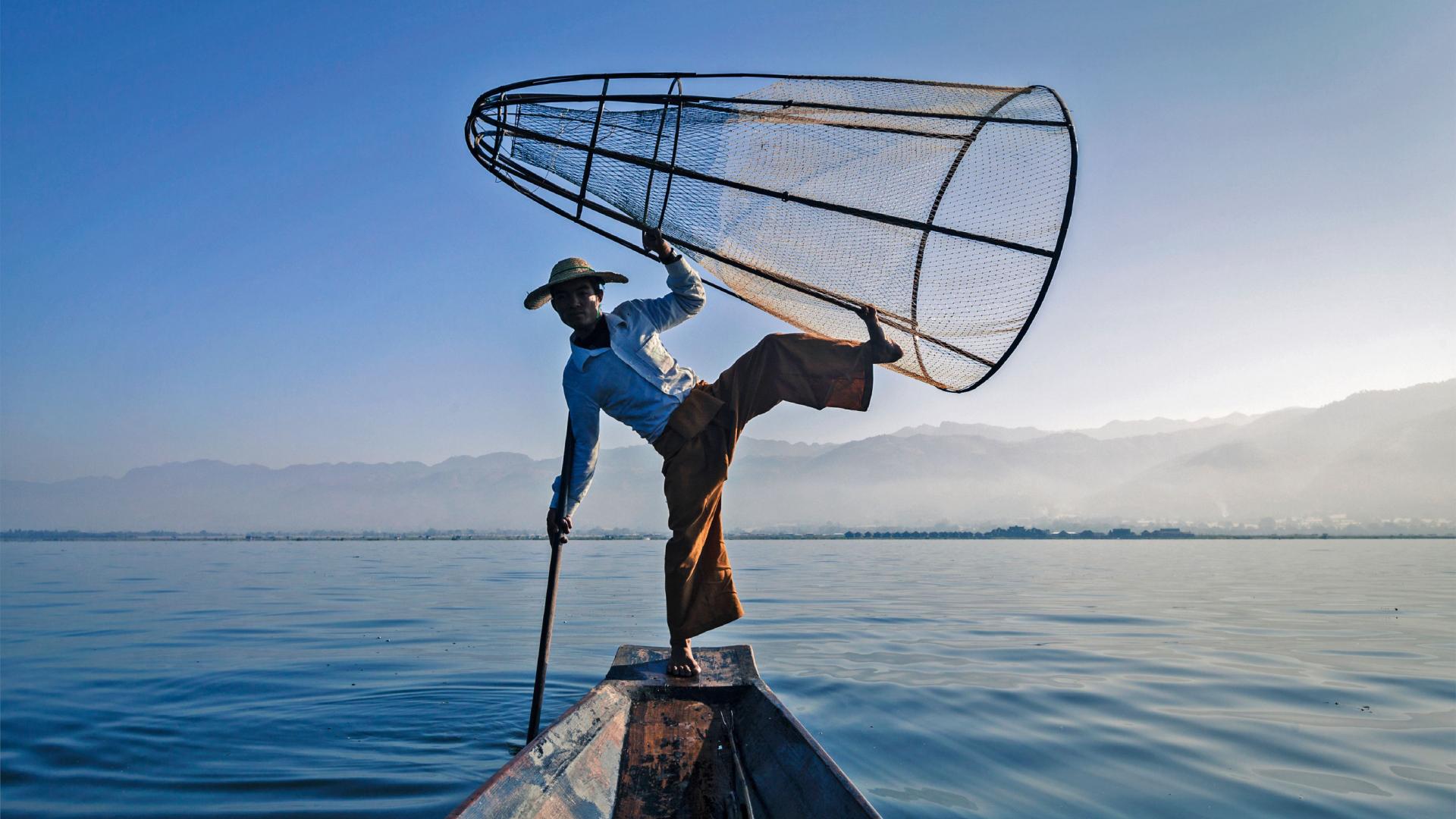 2014 Dmitry Rukhlenko/iStock
Transport option one: Kayak
We arrive at glassy Inle Lake via a day's hike from Kalaw, a hill station with Victorian country houses and afternoon tea straight out of Burmese Days. After days sneezing at Bagan's temples and slowly cruising down the Irrawaddy River, the hike is everything we need: a walk across the ridge of the Shan state's green carpet of hills, stopping to peer into hill tribes' houses and spot monasteries buried in the folds of the mountains.
Inle Lake is a different beast entirely, at first glance flat and featureless; so shallow it's only two metres deep. A fat mattress of crops, mostly tomatoes (80% of Myanmar's tomatoes are grown on Inle) lies on the edges. It's why Inle's standard greeting goes "How's the price of tomatoes?"
Around 60 different villages, with a population of around 180,000 Intha, live around the lake. How best to see them? We try kayaking: although if you value your marriage and your triceps, an hour is enough. That's plenty of time to explore the floating Jumping Cat monastery (so-called thanks to its resident cats, although they're more likely to be found sleeping than leaping), fly underneath a bamboo stilt home and see Myanmar's most popular postcard image up close: fishermen balancing wooden baskets on their toes.
Transport option two: Long boat
The less divisive option is to bump along Inle in a long boat. We visit many of the lakeside villages, stopping for soupy bowls of Shan noodles (a traditional dish of rice noodles with pork, peanuts and tomatoes) and watch the Intha women race across the lake. It also makes more of an appropriate entrance to the gorgeous thatched stilt villas at the lakeside Inle Villa Resort.
The end
Back to Yangon, where we need just two feet for the last stops: fish noodle soup at chain restaurant Feel; and a chai at Lucky Seven.
I've not offended anybody, I've not raced cars across borders – but I've still seen the best that Myanmar has to offer.
Need to know
Belmond Governor's Residence, a handsome teak villa in the leafy embassy district, is Yangon's grandest property. Rooms are colonial and gauzy, and the fan-shaped pool is ideal for a post-sightseeing cool-down. Seebelmond.comfor more. Lightfoot Travel creates bespoke travel itineraries across the world. In Myanmar it works with local agency Khiri Travel. lightfoottravel.com