Berlin, Germany: The best places to eat and drink
Huong Que
A deal between East Germany and the Communist government of Vietnam in the 1980s, as well as south Vietnamese seeking refuge from the Vietnam War in West Berlin, means Berlin has a flourishing Vietnamese population, and plenty of Vietnamese restaurants to show for it. Head to Huong Que in trendy Kreuzberg, an intimate space serving up oodles of noodles. In keeping with the city's rep for great vegan food, there are plenty of animal-free options that don't compromise on flavour. Bergmannstrasse 96, 10961
Getting there
Ryanair flies from London Stansted to Berlin Schönefeld from £55 return, or fly with easyJet from London Gatwick from £46.93 return. British Airways flies from London Heathrow to Berlin Tegel from £157 return.
Curry Mitte
Scoffing currywurst while on the hoof in Berlin is a cliché, but when you know you're going to do it anyway you might as well get it right – and it's all about finding the perfect balance between the sausage, the sweet, tangy sauce, and the dusting of spice. We like Curry Mitte in all its neon-lit glory because you can get wurst made with both organic beef and pork, the chips are always fresh, and you can also get a pint of Berlin's finest in a meal deal that'll set you back less than a fiver. Oh, and here's another tip: if you didn't get your fix while out and about, the currywurst stand at the back of Tegel airport is great for a pre-flight snack. Torstrasse 122 10119; currymitte.de
Kater Blau
Kater Blau is a cooler-than-cool riverside bar during the day and a nightclub by, er, night, with a vast outdoor space that makes it the ultimate summer hangout. Kick back with pizza, beers and cocktails as you watch the ducks and hipsters basking in the sun, or head to its two indoor dancefloors for a brilliant music roster with some of Berlin's best DJs. There's even a wooden boat that doubles as a chill-out area. Like most clubs here, the bouncers can be picky – we'd recommend starting your night at FAME, the site's restaurant. The food's surprisingly decent, and it may well make it easier to get into the club later. Holzmarktstrasse 25, 10243; katerblau.de
Berlin, Germany: The best things to see and do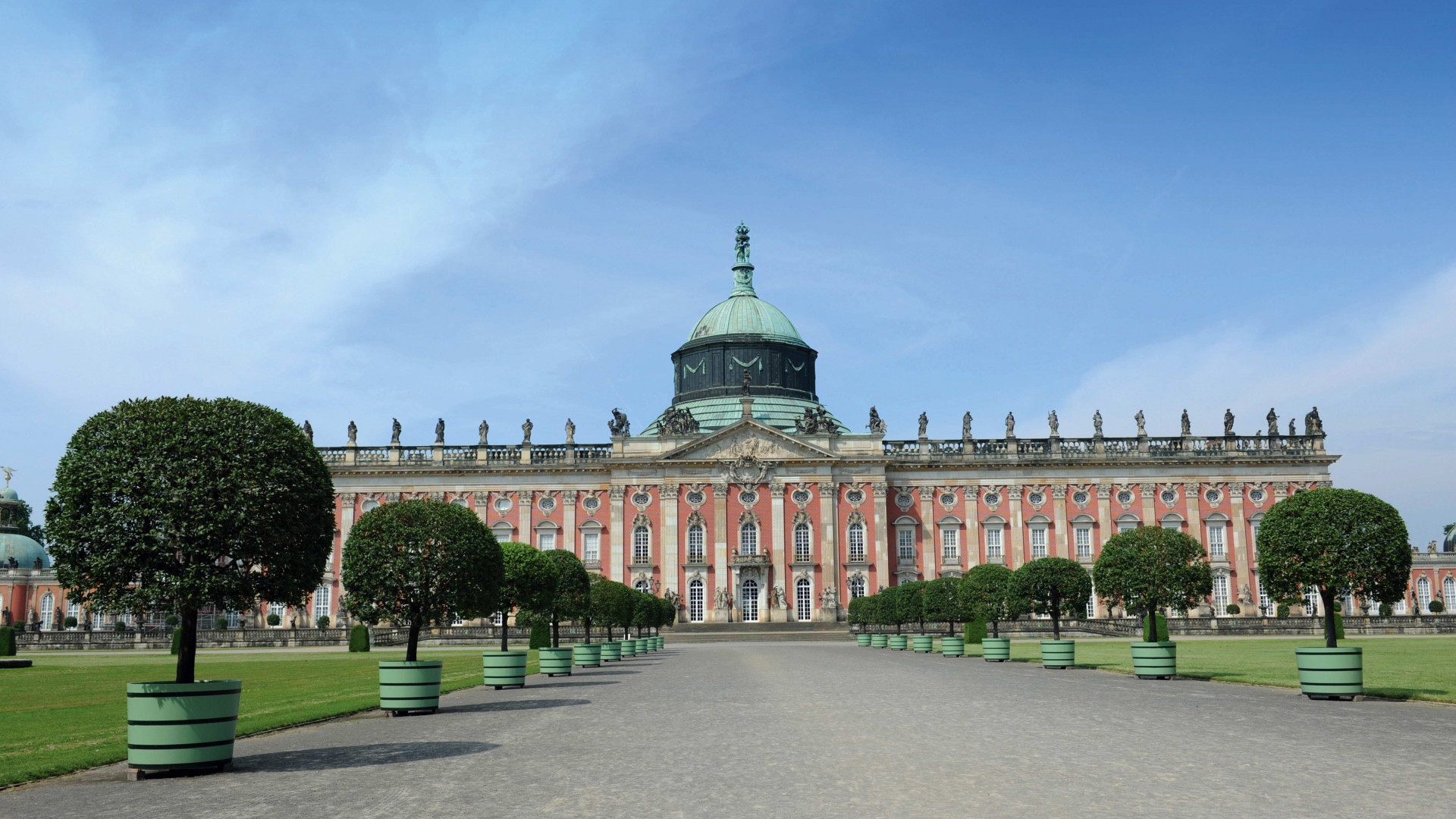 Explore Potsdam
Potsdam is technically another city on the outskirts of Berlin, but it's easily reached by S-bahn in 40 mins. The area's lush woods and lakes made it a summer playground for Prussian royalty and its islands are home to many of the kings' summer palaces. Visit the opulent Sanssouci palace, built to rival Versailles; feast your eyes on art at the swish new Museum Barberini; or head to Alexandrowka, a rural Russian village that's made up of 14 farms and an orthodox church but still sits in the middle of town. Weird, but we like it.
Go shopping
You've gone to Berlin, now it's time to get the t-shirt – or in this city's case, a set of garms that'll make you look effortlessly cool, even if it took you hours to achieve. Enter Bikini Berlin, a 1960s high-rise next to Berlin Zoo that's been turned into a hub for shopping, food, workspaces, a cinema and other recreational facilities. Think along the lines of a hipper, more German version of Boxpark and you won't be far off the mark. It's the place to hit up permanent boutiques or explore pop-ups from up-and-coming new brands before sitting down to hoover up a merguez hot dog topped with pear and gorgonzola. Budapester Str 38-50, 10787; bikiniberlin.de
Museum der Dinge
If you're a hoarder, boy have we got a treat for you. Berlin's Museum der Dinge, or 'Museum of Things', is essentially a giant room filled with, well, stuff, ranging from Siamese cat-shaped salt and pepper shakers to a Sony Ericsson mobile phone from 2006. Sounds weird, yes, but start reading the lengthy wall texts and you'll find yourself sucked into a story of good and bad design that's given moral and political context. Quite frankly, it's fascinating, and it'll make you look at everything you own – and everything you want to own – in a whole new light. Oranienstraße 25, 10999; museumderdinge.org
Berlin, Germany: the best places to stay
Michelberger Hotel
Tongue-in-cheek creativity reigns supreme at this unique hotel in Friedrichshain. Its rooms range from Cosy – meant for one, or a 'couple in love' – to The Big One, which has six single beds and is ideal for families or groups. We particularly like the Band suite, which has four single beds arranged around a structure that looks a bit like an indoor house. The hotel also has a bar, a courtyard that holds events, a decent restaurant, and is ten minutes from the infamous Berghain, perfect for when you inevitably don't get past the bouncers at 5am. From £70. Warschauer Str 39-40, 10243; michelbergerhotel.com
Henri Hotel
If your trip to Berlin is going to involve more refined activities than dancing till the early (or late) hours, look to this plush, Wes Anderson-esque hotel located in the sophisticated Charlottenburg neighbourhood, formerly – and still – home to the city's most affluent residents. It's got all the parquet floors and stucco work that are characteristic of Berlin interiors, but they've been given a 21st-century lift by white walls and some seriously comfy soft furnishings. In a nice touch, the hotel serves abendbrot – a typically German dinner of breads, dips and snacks that's included in the room rate – although you do have to pay extra for the excellent breakfast spread that'll set you up for a day's exploring. From £95. Meinekestrasse 9, 10719; henri-berlin.com
The Weinmeister
If this hotel's name makes you think you'll be glugging bottles of the good stuff, well, you're wrong. Sorry. But that's not a bad thing – it's actually a reference to its location on a street in the downtown Mitte district, close to key tourist sites like Musee Insel, an island in the middle of the Spree river that's home to the city's main museums and galleries, and the DDR Museum, which explores what life was like in former East Germany. The Weinmeister, adorned with street art-style murals, is part edgy art stay, part pristine boutique hotel at a great price, but what really makes it a good choice is the surrounding neighbourhood and easy access to the rest of the city. From £85. Weinmeisterstraße 2, 10178; the-weinmeister.com