Go on a spa safari in Sumba, Indonesia
We love safaris and we love spas, so it makes sense that we'd love enjoying them both at the same time – especially when it's at a remote Indonesian hideaway. At the Nihi resort on the island of Sumba, you can start your day with a trek or safari drive through the Nihi Oka Valley, before stretching away your worries with a yoga sesh and refuelling with a bush-cooked breakfast. Then you'll have a whole day of treatments (using local ingredients, natch) with a personal therapist while you drink in views of the ocean and rice paddy fields. Ridiculously indulgent? Yes. Do we want to do it? Er, yes.
How: From £451pp for a Spa Safari; stay at Nihi Sumba from £603 per villa per night.
Getting there:Malaysia Airlines flies from Heathrow to Bali via Kuala Lumpur from £531 return. From there, Garuda Indonesia flies to Sumba from £104 return.
Enrich your soul on an artist's retreat in Sri Lanka
Health is just as much about the mind as it is about the body, so it's time to give your soul some TLC, too. Sri Lanka's stunning landscapes and beautiful buildings can inspire even the most jaded of creatives, so it's the perfect place to stay with an artist family and take part in writing masterclasses, cooking lessons and landscape painting workshops. You'll finish up with leopard spotting in Yala National Park and getting lost in the breathtaking walled city of Galle.
How: 10-night stays with Travel Local from £1,450pp.
Getting There:Sri Lankan flies from Heathrow to Colombo from £531 return.
Try SUP yoga in Zanzibar, Tanzania
Everyone knows stand-up paddleboarding is boring and yoga is easy, right? Erm, wrong, which is why we take our caps off to anyone who manages to successfully combine the two. That said, SUP yoga is one of the biggest crazes in wellness right now. It helps, of course, if you do it in the tropical surrounds of Zanzibar…
How: Seven-night retreats with Yoga Zanzibar start from £587, not including flights.
Getting there:Turkish Airlines flies from London to Zanzibar via Istanbul from £479 return.
Punch away your stress at Finolhu in the Maldives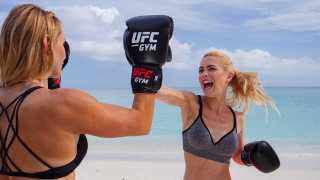 Some people's idea of wellness is beasting it in an outdoor jungle gym; other people's is reclining on a divan in a chandelier-lit treatment room. Either, or a bit of both, works for us, which is why we like Finolhu Maldives' Cove Club. Oh, and you can do SUP, yoga, kickboxing and there's a Ultimate Fighting Championship gym as well. Yes, really.
Stay: Rooms at Finolhu from £681pn.
Getting there:Oman Air flies from Heathrow to Malé via Muscat from £759 return. Finolhu organises seaplanes from £386 return.
Whip yourself into shape at Shanti Maurice in Mauritius
Fitness takes many forms, and if you book into a Fusion Fitness programme at Shanti Maurice on the beautiful isle of Mauritius, you'll have a chance to try your hand at, if not all, many of them. The resort offers seven-day programmes that kick off with a health and fitness consultation, and then you can choose your daily activities, from running along the island's beautiful coast to guided meditation, tennis and spa treatments.
Stay:Health and Fitness Travel offers seven nights at Shanti Maurice from £2,405pp.
Getting there:Air Mauritius flies from Heathrow to Mauritius from £727.