Glastonbury's rest year left a gaping hole in your summer? One of these cool, quirky festivals might just fill the void. From futuristic fancy dress at Standon Calling to a woodland rave at Farr Festival, a stunning coastal setting at family-friendly Festival No. 6 in North Wales to a celebration of country music and motorcycles in Kent, we've found something to suit everyone. Grab your glitter, wellies and your tent – because that's the only festival kit you need, right?
Kendal Calling
26-29 July, Lake District
What started as a two-day, 900-person-capacity festival in 2006 has become a four-day party that can hold up to 25,000 – this year headlined by none other than The Libertines, Catfish & The Bottlemen and Run DMC. Not too shabby. And that massive growth is all down to Kendal Calling's knack for selecting outstanding musicians, engaging arts and culture and damn delicious food – and is maybe something to do with its setting in the beautiful surrounds of the Lake District. Sounds far, but trust us, it's worth it.
£149; kendallcalling.co.uk
Standon Calling
26-29 July, Hertfordshire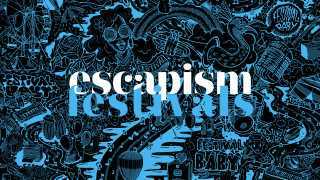 Hop in a time machine and jet straight into the weirdest, wackiest future you can imagine for this year's Standon Calling, the boutique festival to end all boutique festivals, set in a field just outside London. There'll be music from Paloma Faith, George Ezra, Bryan Ferry and George Fitzgerald, comedy from Seann Walsh, Lucy Porter and way, way more plus a killer food line up made from London's best street food and drink traders. Forget the dancefloor, we'll see you by the burger van.
£149; standon-calling.com
Parklife
9-10 June, Manchester
When you think about music in Manchester, you'd be forgiven for immediately picturing parka-wearing lads singing 'Wonderwall', but that would be to ignore Parklife. Okay, so that name is a touch Britpop as well, but don't be mistaken; Parklife is a two day festival of EDM (Née: dance music), grime, hip-hop and a liberal sprinkling of indie. Now in its 9th year, Parklife is held in Heaton Park, north Manchester, which is only a 20 minute tram ride from the city centre. This year the line-up includes The XX, N.E.R.D, A$AP Rocky, Bonobo, Skepta, and - ensuring there's still at least one person in a parka singing Wonderwall - Liam Gallagher.
£119.50; parklife.uk.com
Barn on the Farm
5-8 July, Gloucestershire
Misbehave at Barn on the Farm and you'll find yourself at the mercy of some seriously tough security guards – the working farm's ostriches. Yes, really, and trust us, you don't want get on their bad side. They're probably the reason why the festival is renowned for its warm and intimate atmosphere. Jokes aside, this up-and-coming festival has a serious knack for being ahead of the game when it comes to sourcing talent, with Ed Sheeran, James Bay, Matt Corby and Ben Howard on previous line ups. This year's roster sees Tom Grennan, Tom Misch and Mystery Jets take to the stage, as well as a special acoustic set by Fickle Friends. We can't wait.
£115; barnonthefarm.co.uk
Red Rooster
31 May-2 June, Suffolk
Eating gumbo and chicken wings while soaking up some of the best Americana, blues, folk and old-school R'n'B, you'd be forgiven for thinking you're in the American Deep South. The only thing that'll (probably) be missing is brilliant weather, because this festival takes places in Suffolk, which is very definitely in the less-warm climes of the UK. But when you're having this much fun, who cares? With appearances from the acclaimed bluegrass legend Pokey LaFarge, as well as UK bands like Alabama 3, The Bonnevilles and Worry Dolls. There's more southern-inspired food than you can shake a hot-sauce-coated finger at, too, from wings by Mother Clucker and Orange Buffalo, mac'n'cheese from The Mac Factory, and bbq from Man Meat Fire, as well as utterly delicious, down'n'dirty vegan junk food from Club Mexicana. Imaginary scorching hot sun is just as good as the real deal, right?
£59.50; redrooster.org.uk
Forbidden Forest
6 May, Derbyshire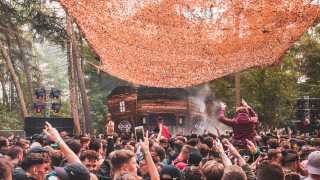 Daisy Denham for Here & Now
No, it's not some sort of weird sex den, it's actually a festival set in Donington Park, a location steeped in acid house history. And that heritage should tell you everything you need to know about what kind of music to expect. The festival grew out of a passionate response to the stagnation of the dance music festival and clubbing circuit in the UK – which means it's basically like the sickest rave you've ever been to, but better, because you won't be grooving away in a sweaty warehouse. Names to look out for this year are Sonny Fodera on The Rift stage, and d'n'b and dubstep genius Wilkinson.
£47.50; forbidden-forest.co.uk
Festival No.6
6-9 September, North Wales
Fancy visiting a Mediterranean-style fantasy village that's surrounded by estuary, mountains and woodland, with a mouthwatering food line up (including the gods of modern Thai from London's Som Saa) and music to match? Yeah, us too. That's why you'll find us heading down to Portmeirion, North Wales, for Festival No. 6. There are heaps of family friendly activities, too – adding to the illusion that you decided to go to this as a fun family weekend away rather than just for yourself.
£TBA; festivalnumber6.com
Farr Festival
5-8 July, Hertfordshire
Grab your tent and jump on a train to (the not-so-far-away) Farr Festival in Hertfordshire, which takes place in an uninhabited forest that was originally planted as an orchard for wild animals. With lasers dancing through the leaves, the setting is just as fantastical as you'd hope. As is the lineup, with Tom Misch, Maribou State, George Fitzgerald, Roman Flugel and more set to play. Not got much holiday? You can enjoy the party on Sunday and easily get home in time for tea.
£100. 5-8 July; farrfestival.co.uk
The Beat-herder
Lancashire
Such is the devotion of regular Beat-herder attendees that they've planned babies around it. Yes, really. It's safe to say this Lancashire festival is worth the journey, due in no small part to its spectacularly friendly vibe. And it's hardly surprising, given its story: a group of friends threw a party in a section of woodland due for destruction, and the party was so successful that saving the trees and turning the one-off party into a full-on festival was the only logical option. These days, Beat-herder has more than 16 music venues, 14 bars, a fairground… You name it, it's got it. The hotly anticipated line up is yet to be announced, but with last year's headliners including Kelis, Crystal Fighters and Romare, we've got very high hopes indeed.
£144.50; beatherder.co.uk
Black Deer
22-24 June, Kent
Music? Check. Delicious, USA-style barbecue food? Check. A roadhouse saloon bar and custom motorcycle area? Er, check. New festival Black Deer celebrates americana and country culture, including the custom-built motorcycle movement, so you can expect to share the field with two-wheeled beauties ranging from bobbers to choppers and street scramblers. Music is headed up by Passenger and Iron & Wine; there'll be smokehouse cooking – by which we can only assume plenty of slow'n'low barbecued meats – stalls from artisans and makers; and plenty of craft beer. Grab your leather chaps and ride on up.
£140; blackdeerfestival.com
Mouth of the Tyne
5-8 July, Tynemouth and Castle
No prizes for guessing where this festival is held. The mouth of the Tyne might seem like a long ol' way to go for a festival, but we've heard it's more than worth it, with the two-day event consistently being reviewed as having a brilliantly friendly vibe. Currently only headliners have been announced, but with names like Paloma Faith, James Arthur and Gabrielle Aplin, it sounds like it's going to be a blast.
£38.50, mouthofthetynefestival.com
Looking for something in the city? Here are London's best festivals for summer 2018.