Florence travel guide: What to do
The museums
Ancient, beautiful and, er, often packed with tourists, the easily walkable city of Florence is basically a museum in itself – if history and art are your thing, it should probably be on your bucket list. There are too many museums and galleries to go into detail (or indeed, do in one visit), but a good place to start is the Uffizi, home to works by Botticelli, Da Vinci, Rembrandt, Caravaggio and more of the greatest artists to grace the planet. A visit will probably last around three hours (and that's if you're speedy – who knew you could spend so long in a gallery?) so refuel with a coffee at the cafe at the end of the top floor, which offers a terrace with a brilliant close-up of the top of the Palazzo Vecchio.
On the other side of the river, the Palazzo Pitti, a later residence belonging to the Medicis, offers a jaw-dropping selection of modern art from the 18th century and beyond, as well as a chance to sneak a peek at the Royal Apartments (currently closed because of Covid space restrictions). But for something a little less well-trodden, the more recently opened Museo dell'Opera del Duomo offers a fascinating insight into the history and the building of Florence's iconic, jaw-dropping duomo. Booking tickets in advance is a must to beat the queues.
uffizi.it; duomo.firenze.it
Mercato Centrale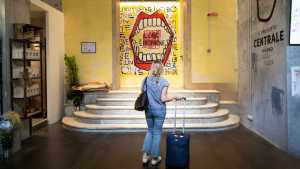 Got space in your case or in your belly? Mercato Centrale is a cornucopia of gourmet delights: think all the Italian cured meats, cheeses, olive oil, wine and more. Downstairs you'll find more traditional stands that double as both delis and maccellaria: restaurants selling early for the sciachatta, the classic Florentine sandwich filled with anything from lampredotto (tripe, don't knock it till you've tried it) to prosciutto or mortadella, or sit down with a full platter of treats, best washed down with a glass of chianti. But go upstairs to the sleek, modern food court for more tantalising treats, from pizza to truffles to gelato – think a bit like a smaller version of Borough Market that showcases the very best of regional Florentine food. Go on Mondays, when it'll be quieter as the bulk of tourists will have gone home after the weekend.
Piazza del Mercato Centrale, Via dell'Ariento, 50123; mercatocentrale.com
Visit the Frescobaldi vineyard
Frescobaldi is one of Tuscany's biggest, oldest winemakers (Renaissance artist Donatello reportedly bought his wine from them), and a visit to the estate and castle in Nipozzano is well worth a trip to drink in both the local history and the local wines. The secret to its success? The main Tuscan grape is sangiovese, and while this features heavily in Frescobaldi's wines, the estate also grows French grapes, thanks to one of the family's enterprising investment in cabernet sauvignon, merlot and cabernet franc varieties in 1855. A tour will take you around the castle and the labyrinthine cellars, and you can also finish up with a seasonal lunch made with veg grown on the estate paired with wines from the Frescobaldi portfolio. Our favourite? The smokey Mormoreto with big black fruit and notes of tobacco.
See street art
Forget Michelangelo, da Vinci, Titian and the rest for a minute, because if you want to get to grips with the bustling modern heart of the city, you're going to have to look a little more carefully. Florence isn't exactly full of graf tags (let's face it, when a city is built on pristine 14th-century buildings, it's not gonna hang around) but if you keep your eyes on the road signs as you go about your day, you'll notice pieces by local legend Clet Abraham, whose quirky sign hacks have spread all across Europe. Fancy a souvenir? Hit up his studio in San Niccolo. 
Via dell'Olmo, 8r, 50125; clet.com
La Specola [temporarily closed]
While it's the renaissance art-packed Uffizi and Accademia that pull in the biggest load of punters in Florence, sometimes it pays to do something a little different – enter La Specola. Almost as old as the city's two big hitters, and with a lot less pomp, the museum is home to one of the world's biggest collections of anatomical waxworks – which basically means a super-informative, antique and slightly creepy look at the inner workings of the human body. Needless to say, it's not a place for the squeamish (or to linger in a museum café).
Via Romana, 17, 50125
Easy Living Urban Beach
The perfect tonic to a boiling-hot clamber up to Florence's prime viewing platform and Insta spot the Piazzale Michelangelo, the city's urban beach takes up residence in the shadow of the San Niccolo tower throughout the summer months on the less tourist-laden southeast side of the city. Have a drink on the terrace, grab a lounger or shuffle to the DJs down on the beach, or take an afternoon yoga lesson on the sand under the Tuscan sun. It might not quite be a slice of the Italian seaside, but it's still bliss.
Piazza Giuseppe Poggi, 50125; easylivingfirenze.it
Florence travel guide: Where to eat
Il Santo Bevitore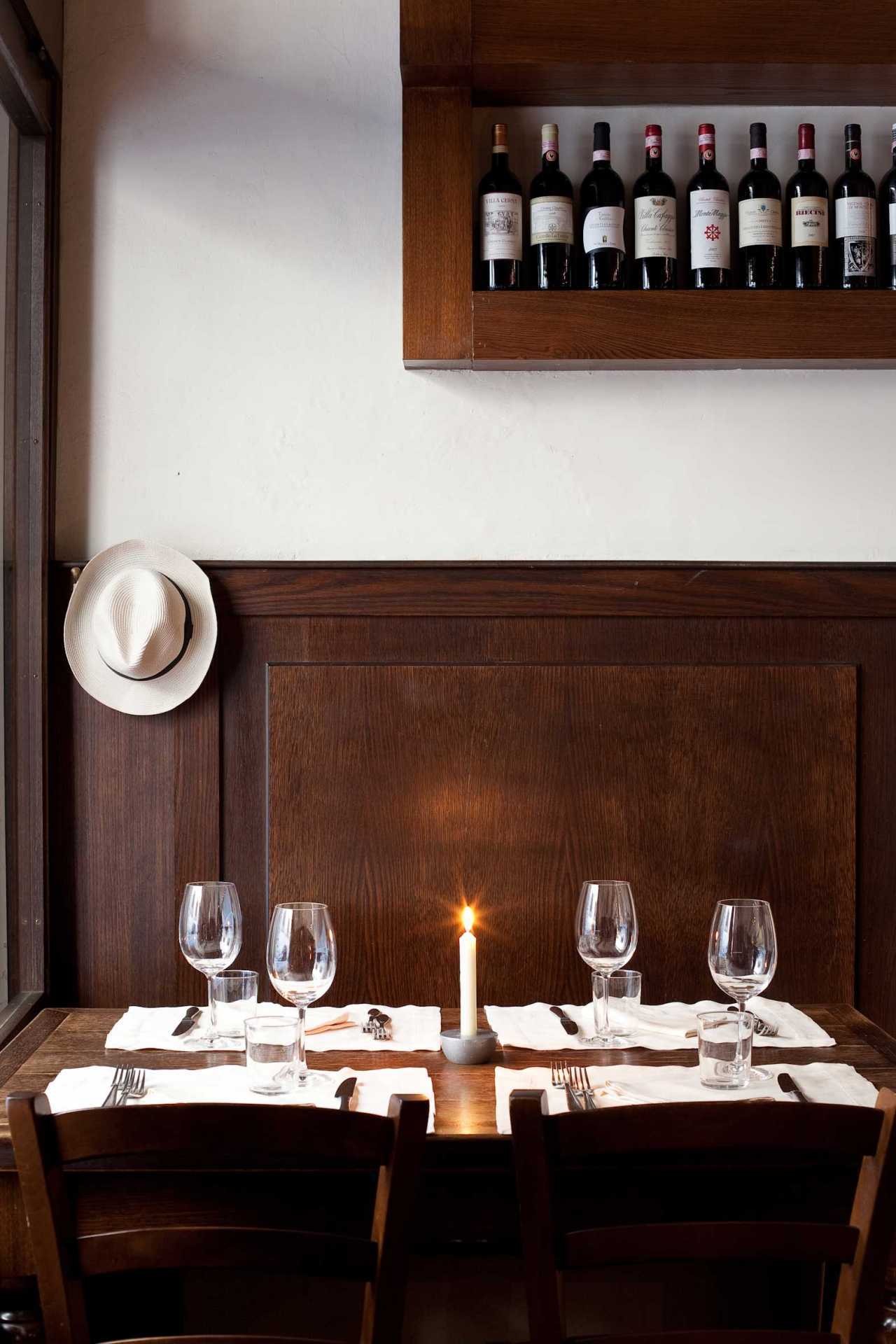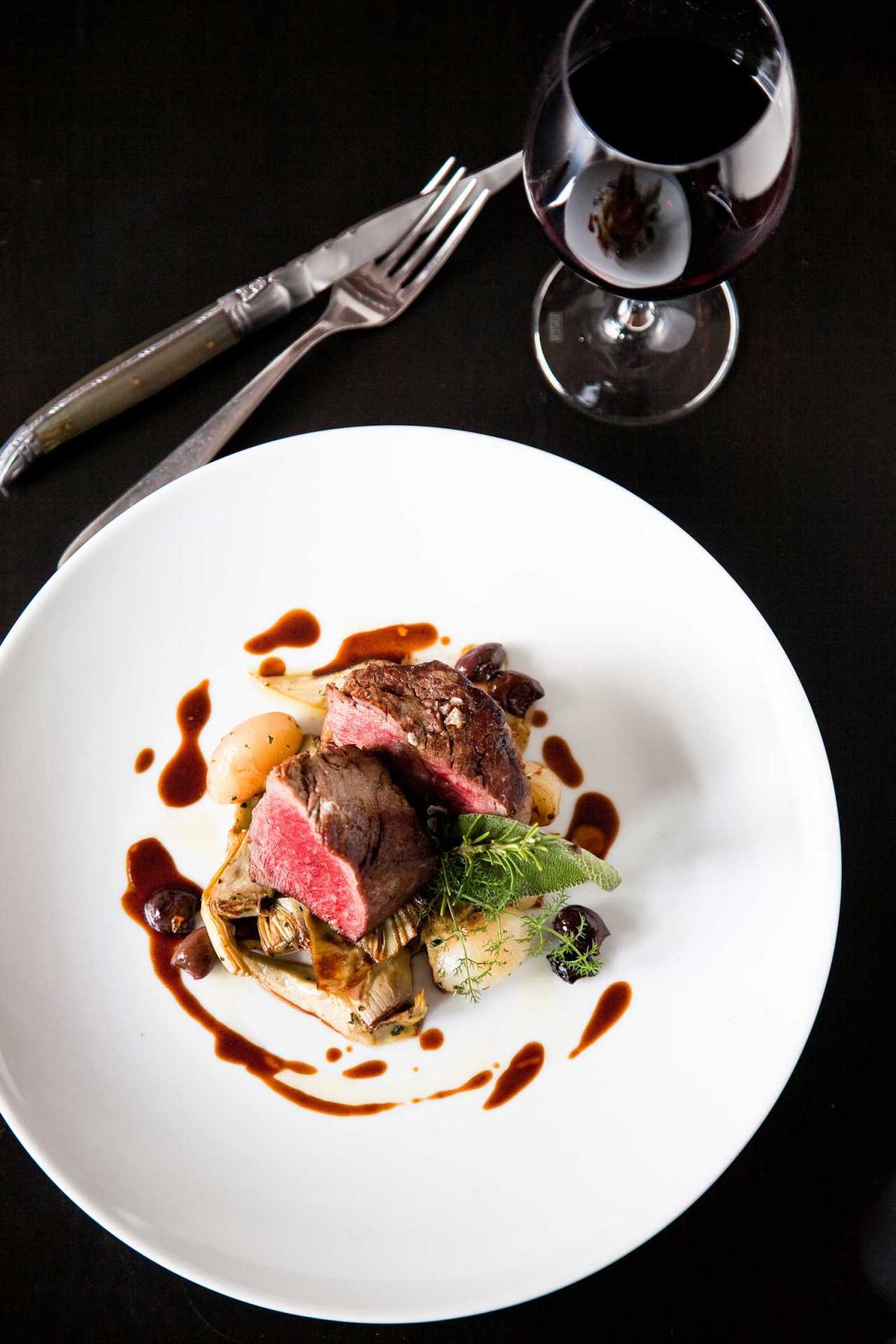 Restaurant Il Santo Bevitore, also in Oltrarno, is another spot blending Florentine classics with modern flair. Each dish on the menu sounds as delicious as the last, so if you're anything like us, ordering your dinner becomes something of a strategy game: how many dishes can you try without being too full? We went for one each from the antipasti, starters, primi and secondi – a plate of wafer-thin, lightly seared beef heart with a green sauce; the classic local bread and tomato soup; a deeply flavoured rabbit ragout with green olives, slathered over perfectly al dente penne, were among the highlights. Wines, too, are excellent (and so they should be – Il Santo Bevitore translates to "The Holy Drinker"), with many organic or biodynamic options; we were particularly impressed by a grechetto by the glass that had a musk reminiscent of orange wine.
64/66 Via di Santo Spirito; ilsantobevitore.com
All'Antico Vinaio
Boldly dubbed one of Italy's finest places for street food, All'Antico Vinaio is your ideal lunching spot if you love cured meat and ciabattas the size of your head, and don't mind sitting on the pavement while you eat. You'll find the postage stamp-sized deli on Via Dei Neri (look for the people chomping giant sarnies), which isn't far from the Uffizi, which means it's the perfect fuel for tackling that round-the-block queue. Thinly sliced fennel sausage and creamed artichoke never tasted so, well, arty.
Via dei Neri, 74/R; allanticovinaio.com
Enoteca Palazzo Pitti
About five minutes from the Ponte Vecchio opposite the Palazzo Pitti, this small wine shop and restaurant boasts floor-to-ceiling shelves of small production, high-end booze and (importantly) a super informative team of waiters who'll help you navigate the terroirs of Italy, and discover all the flavours you favour. With tons of classic (and pleasantly curveball) Italian wines by the glass or bottle, it's great for a lunchtime pick-me-up, or sipping your way around the country with a paired dish for each glass.
Piazza de' Pitti, 16; pittigolaecantina.com
Gosh*
Pink flamingo-patterned wallpaper, cool music and even cooler cocktails with a pharmacy theme give this cocktail bar a modern hipster tilt that goes gloriously with Florence's ancient streets. There's everything from cosmopolitans to amaretto sours to the Hotel Nacional with white rum, brandy and bitters, and – our favourite – the Rock and Rye, made with Wild Turkey rye. You'll find people drinking inside and outside the bar late into the night, but if you don't want to park up, they offer cocktails to go, too. It sits in the ultra-hip Oltrarno neighbourhood south of the river, which is where locals mostly hang out, rather than the crowded, touristy central areas.
46 Via Santo Spirito
Largo Nove
Located north of the river in a more modern square, Largo Nove is both a contemporary pizza joint and an award-winning cocktail bar – the woman behind the serves is Veronica Constantino, who was winner of 2020's Florence Cocktail Week, so you know it's going to be good. Pizzas range from the classic margherita to 'polpo et patate', topped with fior di latte, purple potatoes, octopus cooked at a low temperature, and peanuts. If you really want to push the boat – and the limits of your trousers – there's even a tasting menu with a slice from each the restaurant's gourmet pizzas, a concept that we can only hope is coming to London very, very soon.
Largo Pietro Annigoni, 9, 50122; largo9.it
Florence travel guide: Where to stay
Villa La Massa
Sick of the stresses and strains of modern life? Pretend you're a Medici prince or princess for the week at Villa La Massa, a former summer house belonging to the Florentine aristocracy that dates back to the late 13th century. The estate – which, as Goldilocks would say isn't too big, isn't too little, but is just right – offers stylish splendour, a newly renovated pool, views over the Arno and the rolling Tuscan hills, a glorious spa, and food and drink that stands out, even in a region that's already famed for its cuisine.
Five different buildings – lovingly renovated structures that were already on the property – offer slightly different characters and price points: the main villa, the Noble Villa the mill, Casa Colonica and La Limonaia. At the top end is the sprawling Arno suite in the Noble Villa, with a private patio overlooking the River Arno; at the bottom end are the slightly more bijou but no less luxurious suites of La Limonia, which each have their own balcony or garden; and in the middle is Casa Colonica, which is available by the room or by the entire four-suite building for larger groups.
As for wining and dining, cocktails on the riverside terrace are the only way to start (especially when there's a porcini-infused negroni involved) before dinner in Il Verrocchio, where you'll find inventive spins on Tuscan classics from chef Stefan Baldino, a new and excellent addition to the kitchen: warm spaghetti with Martini butter, topped with a Sicilian red prawn; pigeon with blackberry sauce; steak with sweetbreads and crispy capers; and cubes of zabaglione for dessert. At lunch time, you can dine poolside at L'Oliveto, a bistro in the former farmhouse, for everything from pizza margherita (delightfully listed as a snack) to gnudi with sage and butter.
At just a 15-minute drive from Florence's city centre (complete with free shuttle bus service, or a bicycle if you fancy), it's truly the ideal base for exploring – not to mention the team can organise extra adventures for you, too, like a trip to a vineyard or a masterclass with a Florentine painter.
Via della Massa, 24, 50012 Candeli FI; villalamassa.com
Casa Howard
Less a hotel and more like staying in an eccentric mate's Florentine palazzo, this 12-room guesthouse between the Duomo and Santa Maria Novella station is eclectic, original and quirky. Each of the rooms takes on a different theme and runs with it. From ramshackle rooms with exhibition posters to deep red, old-time-Italian style lodgings, each room has a distinctive character – and access to an honesty fridge full of bubbly, wine and soft drinks for those remove-the-sandals-it's-been-a-long-afternoon moments.
18, Via della Scala, 50123. From £107.sawdays.co.uk
Il Salviatino
When the city gets too hot, the rule in Tuscany is head for the hills, and this lavishly appointed 15th-century villa perched discretely among the greenery out to the north of Florence is the perfect place to escape to. Expect a two-tiered outdoor pool (pictured) that'll let you admire the city's skyline from a glorious and much less frantic remove, as well as gorgeous, cavernous rustic-meets-luxe rooms with 19th-century frescoes and hotel art that's actually worth something. Not bad.
Via del Salviatino, 21. Fiesole. From £247. mrandmrssmith.com
Hotel Lungarno
The cosiest of a group of four luxury properties that straddle the River Arno near the Ponte Vecchio, Hotel Lungarno was given a new lick of paint (and then some) and reopened earlier this year. Prime location river views come as standard, and so do fine-dining options which range from the hotel's Michelin-starred, 900-wines-in-the-cellar restaurant to private dining experiences on a riverside terrace. Our only worry is that they might not serve spag bol, though – we're sorry about that.
Borgo S. Jacopo, 14, 50125; From £320. lungarnocollection.com