Oh, the cruise – something with a mixed reputation that skews towards the tacky, claustrophobic and elderly. However, if you delve deeper into the world of voyaging vacays, it isn't the cliché you think it is. There's a whole host of life-changing cruises out there, from exploring the remote wilderness of Antarctica, embarking on a luxury transatlantic odyssey and cruising down the Nile by sailboat to discovering the Mekong River on an architecturally award-winning vessel and rocking out on a floating festival in the Bahamas.
Aside from the opportunity to see as much of the world as you can in a matter of days, it's easy to forget the stress a cruise takes out of holidays. No more planning-induced migraines – just kick back and soak up the maritime magic, knowing that the itinerary, right down to your pre-dinner aperitif, is already sorted.
So, what cruises meet the bucket list criteria? We've scoured the globe for the best ones that cater to both those seeking a gnarly adventure and those wanting their next piña colada. We've got luxury cruise liners with Michelin-starred kitchens, majestic sailboats, adults-only trips, family-friendly excursions, winter sun and polar adventures. So, without further ado, presenting the best 13 bucket list cruises to see the world by water.
Best cruises to book for 2023 and 2024
South Pacific luxury
Rascal Voyages Indonesia
When it comes down to brass tacks, Indonesia is one of the world's most exciting archipelagos, packing in over 17,000 islands into a reach nearly as broad as the United States. While it's always fun to drop into Bali, if you want to get a real feel for this mystical country, the best way is to get your feet wet on a boat. Rascal Voyages just happens to be one of the best yacht charters in Southeast Asia. Hungry for adventure? You've come to the right place, as Rascal Voyages can put together all-inclusive bespoke experiences that will bring nature's beauty front and centre with a healthy dose of adrenaline activation. The handcrafted traditional phinisi boats are pure luxury, channelling the spirit of the Hamptons to the South Pacific. It's all hands to the mast as it sets sail for islands such as Komodo, Raja Ampat, Spice Islands, Ring of Fire, and Rote. With ten berths available, it's time to make a shortlist of your ten best friends (if you screw up the line-up, you can always make someone walk the plank) and get ready to push the boat out on a once-in-a-lifetime trip.
Rates onboard Rascal start from £9,430 + 10% tax for up to 10 people; rascalvoyages.com
Amazonian adventure
Aqua Expeditions
From Fitzcarraldo to The Heart of Darkness to, er, Jungle Cruise with Dwayne the Rock Johnson, nothing says adventure quite like boarding a riverboat and setting your coordinates for virgin rainforests. Aqua Expedition's three-night luxury cruise does just that, giving guests the opportunity to explore the trippy colonial town of Iquitos before casting off and cruising the Marañon River, the Amazon's largest tributary, as well as other smaller waterways, to experience the jungle from a frog's eye view. Keep your eyes peeled for animals, there's a fair chance you'll spot endangered pink dolphins swimming in the riffle, taricaya turtles plodding through the undergrowth, and toucans, three-toed sloths and macaws perched in the canopy. Peru is a country that packs in towering mountains, bone-dry deserts, and dramatic coastlines, but the Amazon is arguably its most magical asset, and there's no better way to see it than by boat.
From £2075 per suite; aquaexpeditions.com
Discover the Antarctic Peninsula
Swan Hellenic
Maiden voyage is one of those phrases bandied about without much thought or consideration, but there's something utterly badass about embarking upon an actual maiden voyage, particularly when it's navigating the frozen waters of the Antarctic. It's exactly that on the SH Diana, Swan Hellenic's newest, largest expedition ship. With a Polar Class 6 ice-strengthened hull as well as extra-large stabilisers, she's perfectly suited for crossing the notorious Drake Passage from Ushuaia to the Antarctic Peninsula, and her first cruise will take place in December 2023. Named for the Roman goddess, the ship is staffed by a team of 141 experts and boasts 96 generous staterooms and suites, many of which include balconies, perfect for sightseeing icebergs, glaciers, elephant seals, whales, penguins and everything in between. When you're not ogling this haunting, pristine wilderness environment, there will be lectures delivered by expedition leaders, you can work out in a well-stocked gym, unwind in a hot tub, or get shipfaced with fellow guests over a world-class culinary offering.
A nine-night Antarctic Peninsula Discovery costs from £7,454 per person; swanhellenic.com
Meander the Mekong
Aqua Expeditions
You may need to book a visit to your chiropractor, as this trip will have your head on a swivel from the Southeast Asian scenery to the boat and back as they vie for your attention with their infamous charms. Unmoor yourself from your day-to-day and drift through the breathtaking waterways of Cambodia and Vietnam on the design-award-winning Aqua Mekong. The boat features all the hallmarks of a five-star hotel, complete with a spa, swimming pool, outdoor and indoor bar, observation deck, private viewing room, games room, library and restaurant helmed by Michelin-starred chef and Thai cuisine titan David Thompson. Plus, there are 20 spacious air-conditioned suites on board with full-length windows for panoramic views of the changing Mekong scenery. While there are different cruise options available, we love the week-long expedition that takes you along the Mekong and Tonle Sap Rivers, with plenty of opportunity to meet Khmer farmers, Buddhist monks and entrepreneurial friends in Vietnam's wet markets along the way. When you're not cruising, you'll cycle, kayak and tuk-tuk your way around the region, with plenty of pitstops for fiery sunsets, cocktails and pho en route. Talk about being delta, er, dealt a good hand.
From £1,880 per suite; aquaexpeditions.com
Transatlantic voyaging
Cunard
Have you even experienced luxury travel if you haven't been on a transatlantic cruise? There's something timeless about saying farewell to the green and pleasant land of England and setting sail for the Big Apple, and Cunard will see you making the journey in high style. The company is currently building out its Queen Anne liner and has enlisted the help of one Michel Roux (you know, the two-Michelin starred chef) to head up culinary development and create a gala menu for the ship's pub: The Golden Lion. This will sit alongside Japanese resto Aji Wa, high-end steakhouse Sir Samuels, and a Mediterranean eatery named Tramonto, as well as a pop-up of Roux's flagship fine dining restaurant, Le Gavroche, so best to start packing in the cardio now.
Seven-night cruises from £699 per person; cunard.com
Take the slow boat to Aswan
Wild Frontiers
There's no denying that Nile cruises are having a moment. You're just as likely to cross paths with the bright young gypset as you are with an OAP when drifting up the river's legendary waters. Wild Frontiers runs a particularly alluring package, the Slow Boat to Aswan, where guests will embark upon a voyage of discovery from the deck of a private sandal or dahabiya, traditional houseboats that have tacked and traded along Egyptian waters for centuries. And Upper Egypt will be playing all of the hits. Do your best Lara Croft impression when getting under the skin of The Valley of Kings, exploring the temple complexes of Edfu and Karnak or visiting the ancient city of Thebes. You'll have the opportunity to visit the bustling markets of Aswan, but you'll also be able to go with the flow and enjoy the freedom beyond the tourist trail. The choice is yours. Whatever floats your boat.
From £3,250 per person; wildfrontierstravel.com
Arctic exploration
New Scientist Discovery Cruises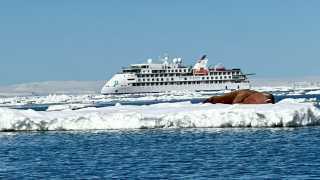 Count yourself a Steve Zissou? The Science of the Arctic expedition cruise offers the perfect opportunity to deep dive the far north, inviting guests to join similarly curious passengers and leading experts on the Greg Mortimer expedition ship to the hinterlands of Svalbard. Got a thing for marine biology? You'll have the chance to learn about polar bears, beluga whales, seals, walruses, reindeer and arctic foxes. Want to get face-to-face with one of the world's most shatteringly beautiful landscapes? Jump on zodiac boat safaris, hike the tundra and gawp at skyscraper-high glacial walls. And, if you want to flex a bit of mental muscle while onboard, you'll have the chance to pick the brain of Rowan Hooper, Podcast Editor of New Scientist and former features editor, who will be providing private talks and informal seminars. Just don't forget your red watch cap.
From £9,995 per person, based on two people sharing a Porthole Twin Cabin; newscientist.com/tours
Caribbean cruising
Regent Seven Seas Cruises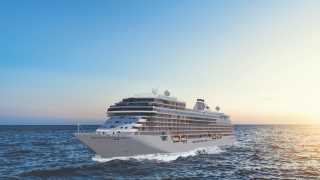 You have to break some eggs to make an omelette, but maybe swerve the bespoke Fabergé egg that Regent Cruises has commissioned for the launch of its Seven Seas Grandeur. Launching in November 2023, the ocean liner will have ample room to host 746 guests, with one of the highest staff-to-guest ratios in the industry. The route will visit a constellation of incredible Caribbean destinations, taking in vibrant rainforests, sparkling-blue bays and vibrant coral reefs along the way. The special collab with Fabergé will see the egg object, entitled the 'Journey in Jewels', taking centre stage in the vessel's multi-million-pound art collection, which is no yolk, er, joke.
Prices start from £6,509 per person; rssc.com
Sail the Scottish seas
Hebrides Cruises 
If you fancy a cheeky staycation but want to put the entire UK between you and your desk, this one's definitely for you. Armed with the expertise of a wildlife guide and three Scottish seafarers, you'll be scouring the rugged coastline of St Kilda and the Outer Hebrides, searching its sea stacks and archipelagos for puffins, machairs, deserted villages and true Celtic vibes like no other.
Ten nights start from £4,575 per person; hebridescruises.co.uk
French countryside cruising
Les Bateaux Belmond
There are plenty of ways to experience the French countryside, whether from the saddle of a bicycle or behind the bonnet of a classic convertible, but if you want to drift across the landscape in high style, cruising on a bateaux has a certain je ne sais quoi. Les Bateaux Belmond packs in everything that you could want from a river cruise to deliver you to the beating heart of France. Whether glugging bottles of ice-cold rose in Provence, sipping the best chardonnay and pinot noir of Burgundy or enjoying a refreshing glass of sparkling in Champagne, you'll have an incredible vessel to return to at the end of your day, and there's nothing more relaxing than pushing off into the land of nod while listening to the gurgle of river water. Belmond launched their newest vessel, Coquelicot, earlier in the year, and guests have the opportunity to accompany chefs into farmers' markets to choose produce for the evening's meal as well as experiencing everything from sun-soaked vineyards to picturesque villages to forests that feel like they've been lifted from a fairytale. Stripy shirt and beret non-optional.
From £11,666 per person; belmond.com
South Pole sailing
On The Go Tours
Seals, terns, penguins and ice – if this little lot ticks all your boxes, you're going to want to hop aboard the Ushuaia in Argentina and keep on heading south until you hit the ice (not literally). On a nine-day tour, you'll take in heaps of wildlife, the flooded cauldron of an active volcano and plenty of chilly polar waters. Even better, all this is just the, er, tip of the iceberg – with three even more exhaustive tours available for intrepid Antarctic adventurers, it's about time you broke the ice.
Ten nights from £4,365 based on two adults sharing; onthegotours.com
The grape escape
European Waterways
Whistlestop country-hopping cruises are great and all, but sometimes it pays to take things a little slower. Extending the 43-minute drive between Trebes and Sallèles d'Aude in the South West of France into a six-night ebb down the Canal du Midi in a hotel barge, this gentle amble takes in idyllic villages, abbeys and medieval castles, including the iconic citadel of Carcassonne. The itinerary is packed with private winery tours and tastings, truffle hunting, a tour of Narbonne's Archbishop's Palance and cycling, so you'll sure be living it barge.
Six nights from £4,950 per person based on two adults sharing; europeanwaterways.com
Rock out in the Caribbean
The Rock Boat
Sure, rock isn't the first word you want to hear when you're jumping on a ship and sailing the Caribbean Sea, but this frenetic floating festival blows that idea out of the water. Lifting anchor in Miami on January 30 2024, this five-day cruise is pretty much the best way to block out those end-of-winter blues – with buckets of bourbon, face-melting solos and the blue seas of the Bahamas. Expect sunset guitar shreds and ringing ears. In a good way.
Five nights from £944 per person based on two adults sharing; therockboat.com