In a hectic, fast-paced world it can be easy to forget just how amazing our planet really is.
Enter Dinoski, the adventure wear brand on a mission to show us just how much there is left to explore, and how much fun there is to be had while doing it.
Founders Will, Ed and Matt have worked with children's illustrator Jane Foster to create a range of stand-out ski suits for children that works for both on the slopes and a cold day at school.
The suits (suitable for two to seven-year-olds) come in several animal-themed designs: Spike the dinosaur, Cub the lion and Hop the rabbit, with three more designs to be released in the next year (Pounce the tiger, Patch the panda and Sparkle the unicorn). The eye-catching suits make it easier to spot your kid on the slopes, but they're also equipped with zips and seams to keep the snow out, thumb loops and cuffs to keep little hands warm, hoods and snow pockets – and, crucially, are machine-washable and easy to clean.
What's more, the Dinoski founders shipped over an American school bus and converted it into a tour bus to drive across the Alps. The bus doubled up as a mobile ski shop, show room and coffee bar, with four bunk beds and a roof terrace.
The Dinobus: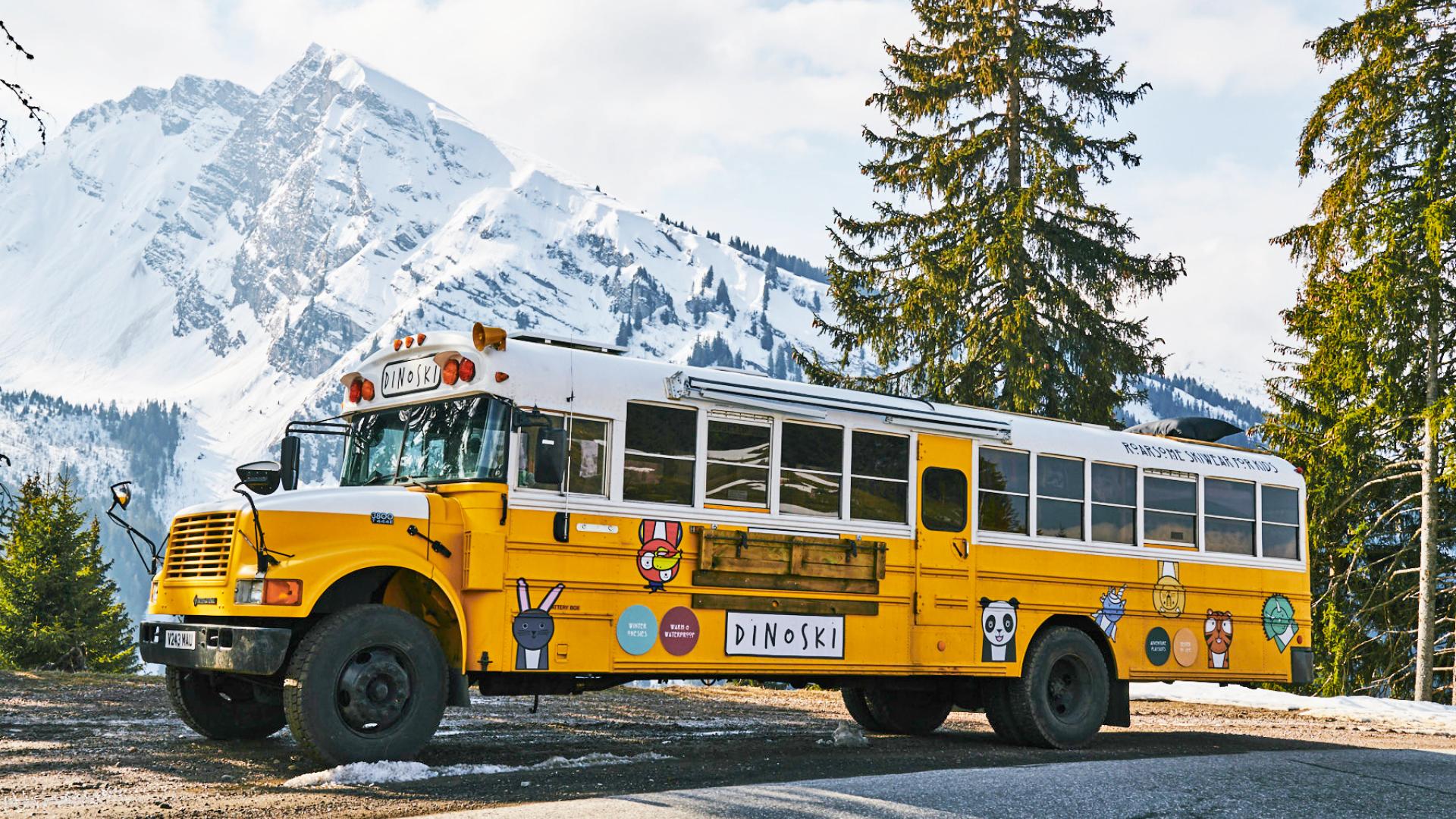 But this is only the beginning: Dinosea and Dinocity ideas are already in the pipeline, and Will, Ed and Matt have set themselves the task of becoming the biggest adventure brand in the world.
Want to help them? They've set out to raise £200,000 with Crowdcube, and are halfway to their target.
Here's what Dinoski has achieved so far:
Sold 1,200 ski suits since October 2018
Signed 25+ retail partners
Now supported by 50+ brands
Secured book deal with Penguin Books (launching in October 2019)
Secured multi-territory winterwear license for Peter Rabbit to support the upcoming movie (launching in October 2019)
Bought and converted an American school bus into a pop-up shop
Drove the bus across the Alps as part of the Roarsome Tour
Agreed concession in Le Bon Marche in Paris
Multiple suit collaborations launching next year
Currently designing a summer range, DINOSEA
Everything you need to know about Dinoski:
Find out more: dinoskiwear.com