Found in the south of Switzerland, the canton of Valais is home to the legendary Matterhorn, elegant alpine resorts and the fertile vineyards of the Rhône Valley.
If you're looking for something a little more fast-paced, Valais has a burgeoning mountainbiking and cycling scene that'll thrill riders of any level. Want to get stuck in? Here are some ideas:
bikepark champery-morgins
Dents du Midi
With nine downhill tracks, seven cross-country trails, a world cup trail and four lifts dedicated to mountain biking, the Champéry-Morgins Bikepark turns the Portes du Soleil into a mountain biker's paradise. With more than 600km of trails suitable for both amateurs and the world's finest riders, it'd take you multiple trips to explore it all.
To find out more: regiondentsdumidi.ch
Valais cycling tour
Valais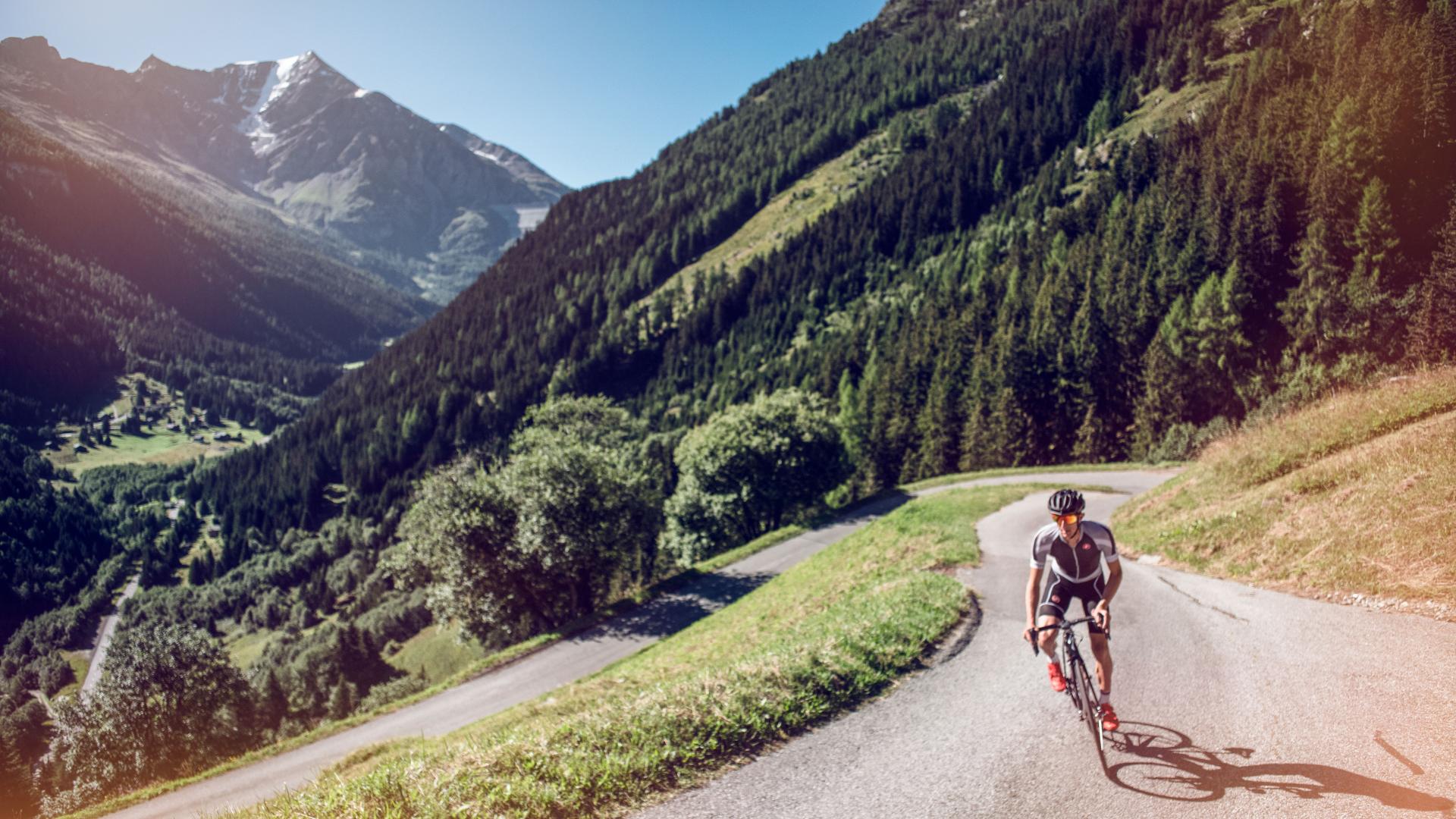 Thanks to its unique topography, Valais has a huge variety of cycling routes, and the best way to experience them all is with the Valais Cycling Tour. Set up by professional Valais cyclist Steve Morabito, this loop crosses Valais' most gorgeous landscapes over 740km, 18,500m of up and down and 25 climbs spread over 10 stages. It's not for the fainthearted, but it's definitely worth it.
To find out more: visitvalais.ch/cycling
Trails from Fiesch
Aletsch Arena
If you're looking for a range of medium-difficulty rides to fill a morning or afternoon with epic vistas and enough exercise to keep you feeling fresh, you should make Fiesch your base. Found at the foot of the Eggishorn, the village is home to more recommended cycle routes than any other part of the Aletsch Arena – and that's saying something. From here, you can strike out along the Rhone river to the beautiful Bieligertal valley or ride the mountain ridge up to the high-altitude villages of Bellwald and Fleschen – now that's variety.
To find out more: aletscharena.ch
Lac de Cleuson
Nendaz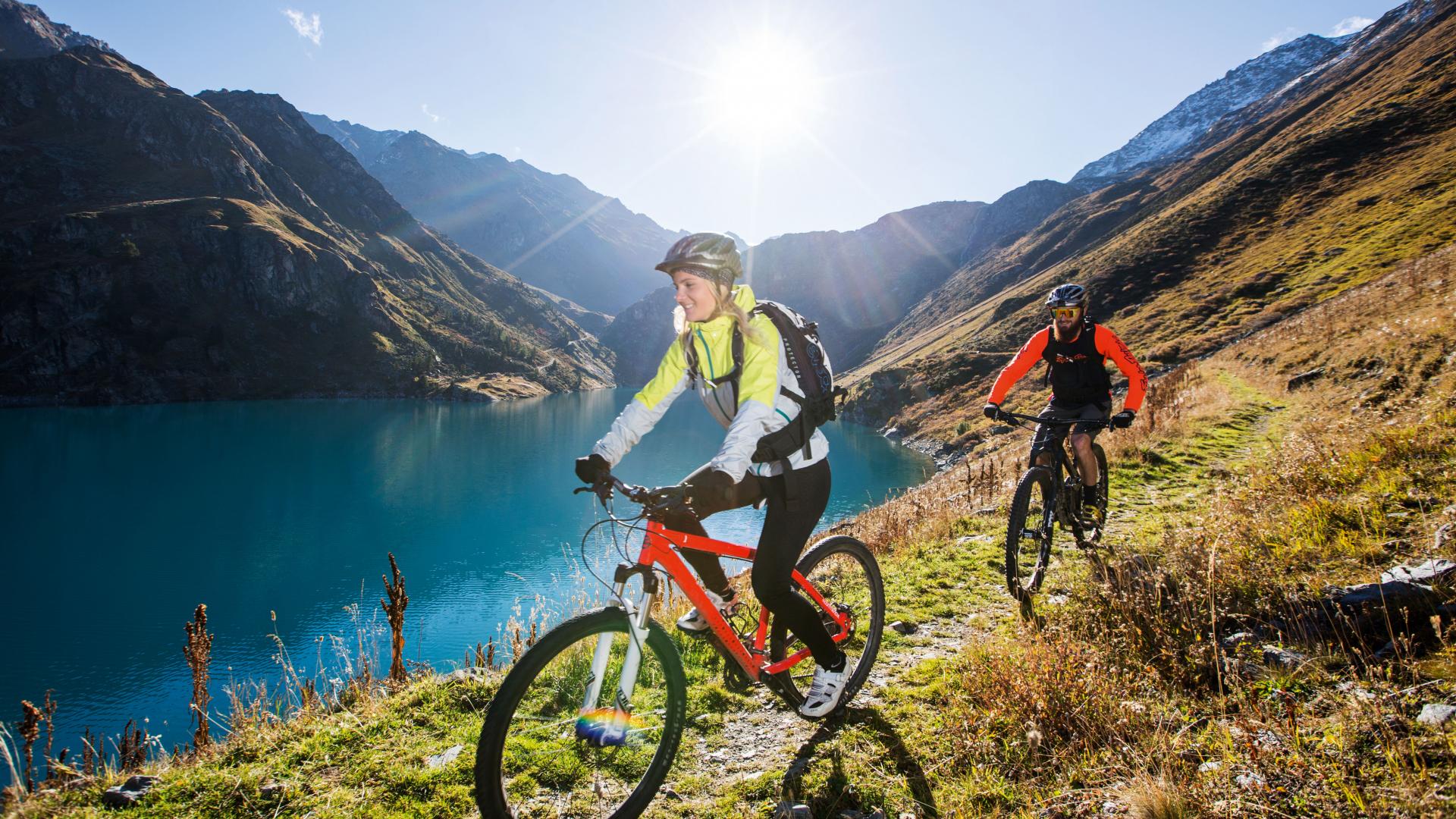 The turquoise waters of Lac de Cleuson are well worth the detour if you're in the Nendaz area. Found at 2,186m, the lake is a 10.3km ride from the village of Siviez. On the way out, the ascent takes you up to the Cleuson dam at the lake's end, where you'll get a view that's worth the effort your legs have put in during the ride. On the way down, things can start to get chilly, so make sure you've packed something warm.
To find out more: nendaz.ch
Stoneman glaciara
Aletsch Arena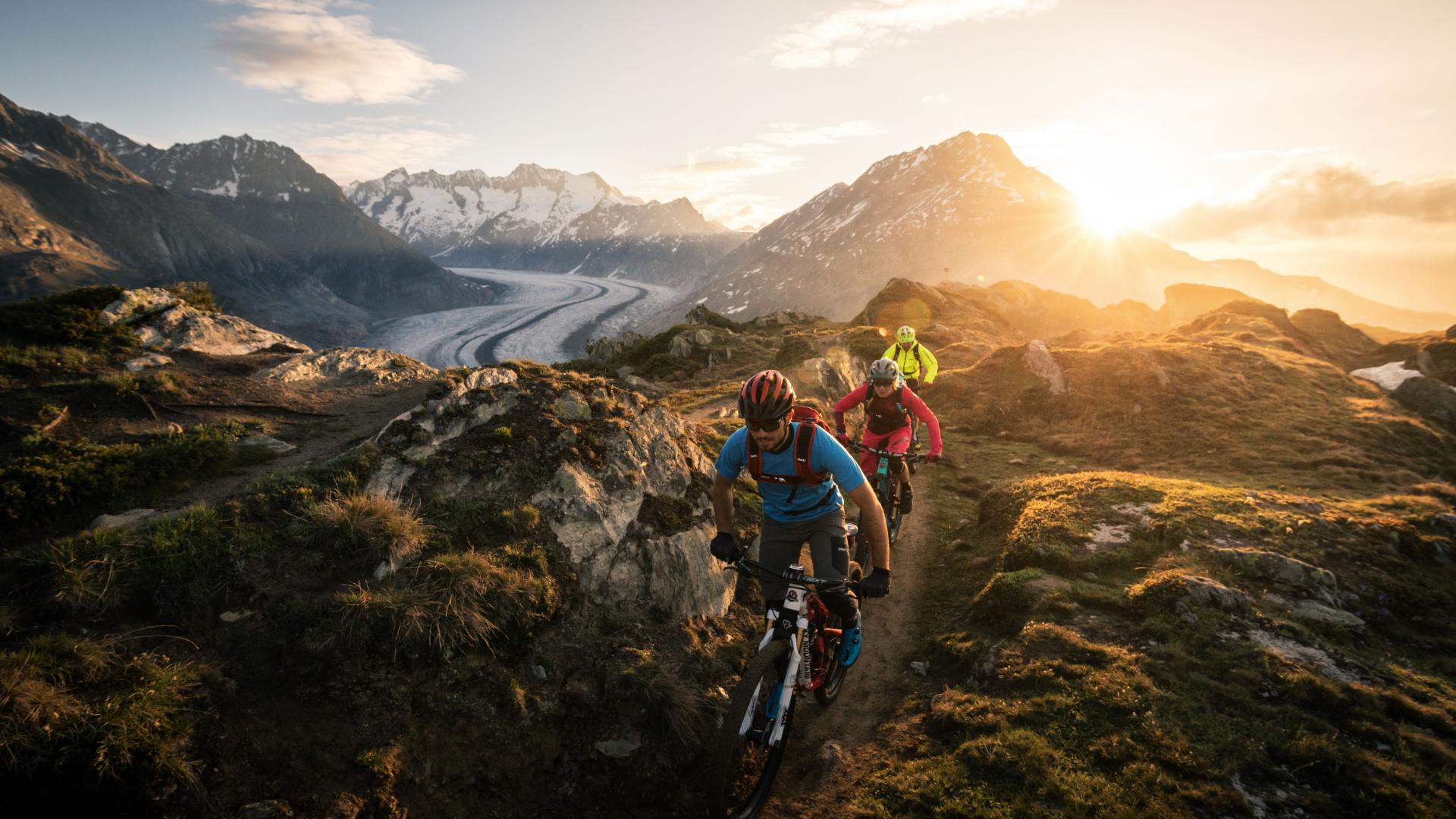 This 127km-long mountain bike race takes you through 4,700m of elevation gain among dramatic glaciers, dozens of 4,000m peaks and the sleepy allure of Aletsch Arena's mountain villages. Not only will you fix your eyes on Europe's mightiest ice stream (the vast Great Aletsch Glacier) en route, you'll also bag the mountain passes of Moosfluh and the Breithorn on your way as well. After the epic high-altitude part of the ride, you'll then descend to the valley beside the Rhone river, where you'll keep passing monuments steeped in history, as well as the odd inviting café, restaurant or bar. Fancy it? This year's event start on 14 June.
To find out more: aletscharena.ch
Grand raid bcvs
Nendaz
There are four startlines to the world-famous Grand Raid Swiss Mountain Bike Race Marathon, one of which is in the gorgeous resort of Nendaz. The event is Europe's biggest mountain bike race, taking in 125km and 5,000m of altitude change, and is a must-see for bikers. Save the date: 24 August.
To find out more: grand-raid-bcvs.ch
MTB Guiding
Dents du Midi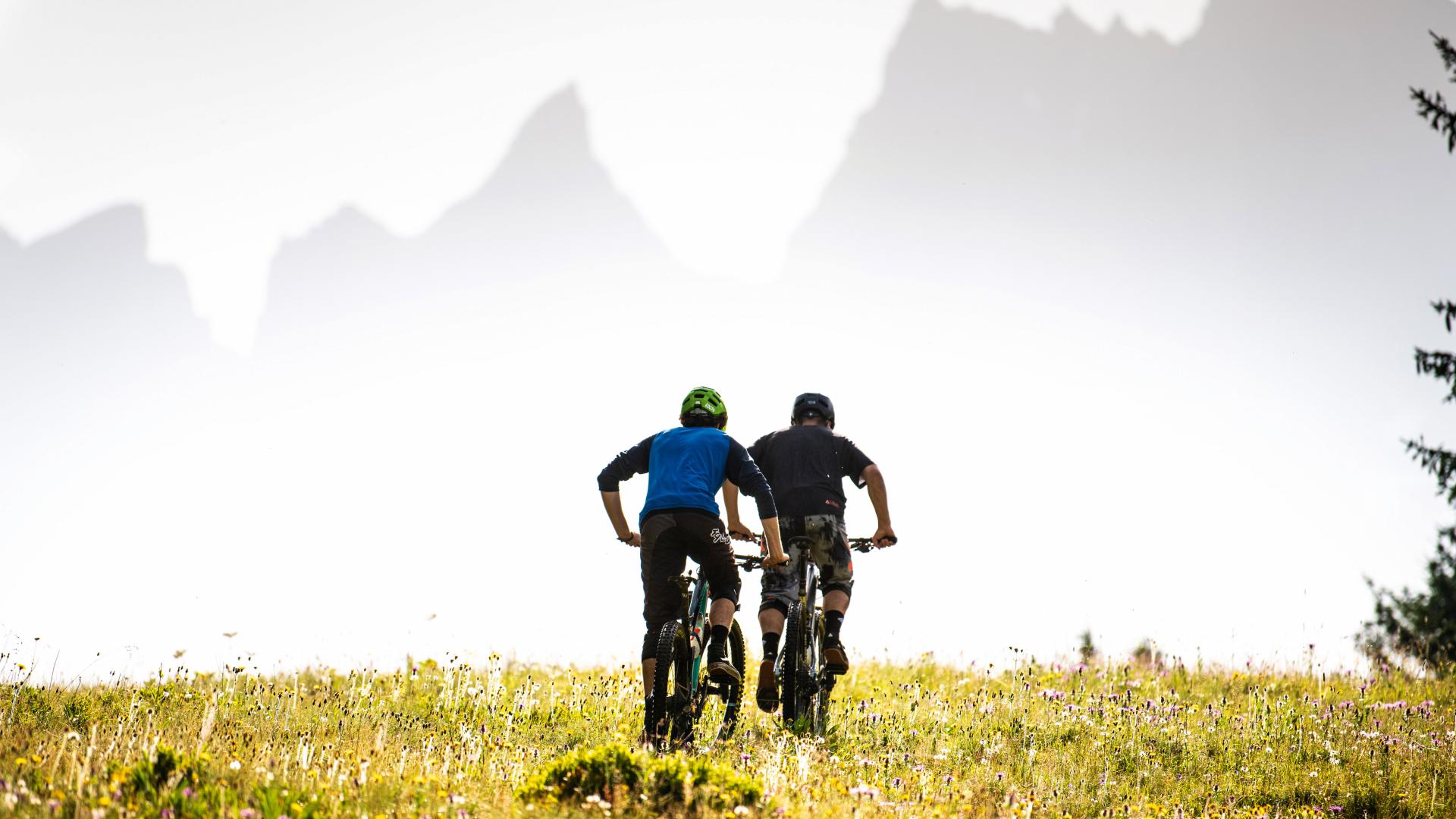 Julie Rebaudo / JB bieuville
It doesn't matter if you're a seasoned veteran or a first timer, you'll get more out of your time in the Portes du Soleil when you head out into the hills with a guide. Not only is it a great way to have the best experience in a shorter break, it's also a great way to stay safe on the trail if you're a little less confident in your abilities. Luckily, there are plenty of guiding companies based in Dents du Midi's main hubs, including Morgins, Champéry, Monthey and Val-d'Illiez.
To find out more: regiondentsdumidi.ch
the pumptracks
Dents du Midi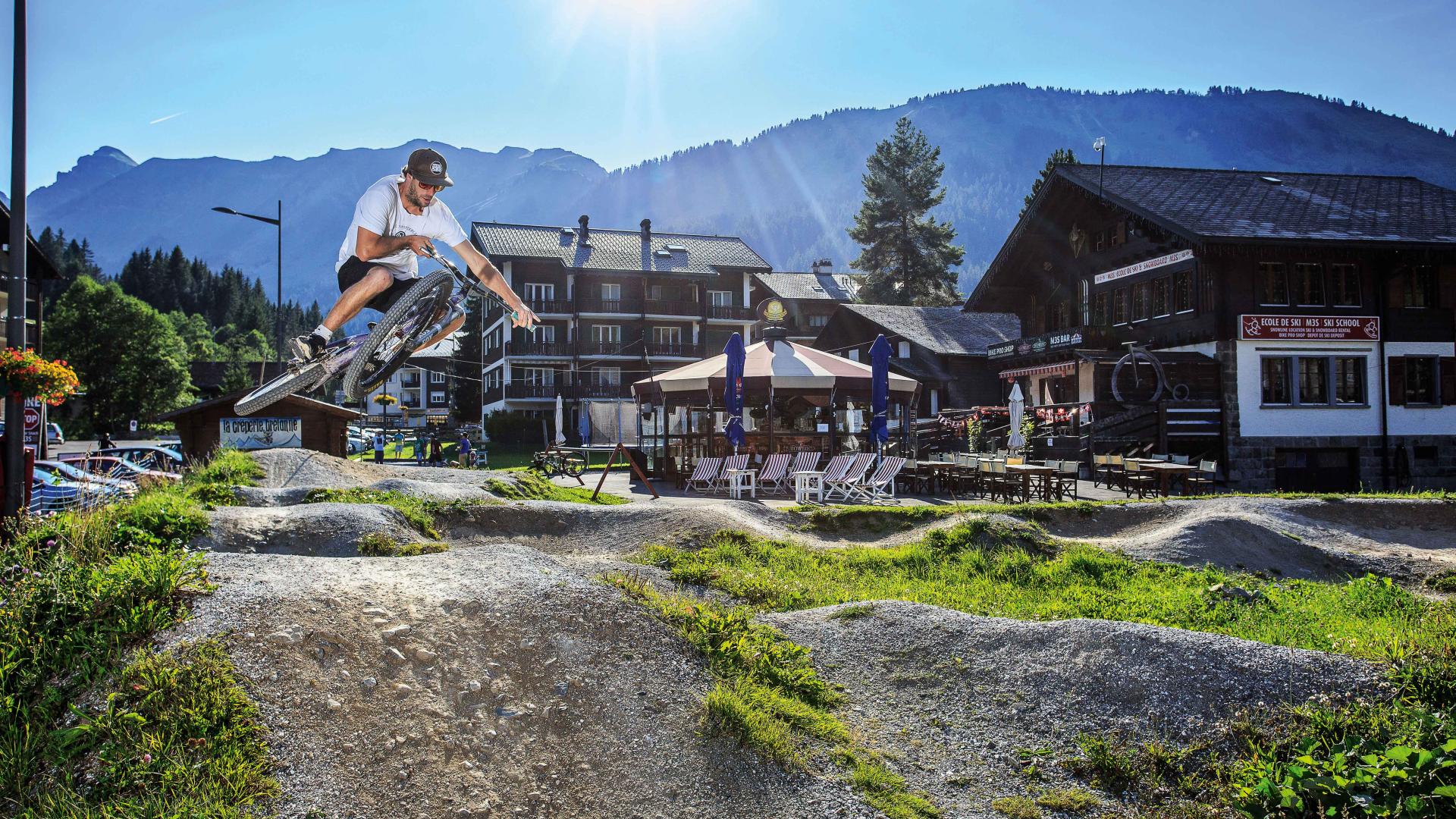 Found in the villages of Champéry and Morgins, pumptracks are great for improving technique and balance before hitting the mountains.
To find out more: regiondentsdumidi.ch
Fatbike touring
Aletsch Arena
Come wintertime, you can still head out on a bike in the mountains. With bigger tires that work perfectly in the snow, fatbikes are a great alternative to skiing or snowboarding. There are several routes you can follow to take it all in – try striking out from the village of Fiesch and finishing in Chäserstatt.
To find out more: aletscharena.ch
Pra da dzeu
Nendaz
If you're looking for a straightforward ride through tranquil alpine woods, you can't do much better than a tour of Pra da Dzeu. This sequence of woodland bike trails translates to 'the meadow in the forest', and as soon as you're out there riding, you'll get the recuperative feeling of being close to nature.
To find out more: nendaz.ch