From the iconic silhouette of the legendary Matterhorn to the sun-drenched vineyards in the south, the Swiss canton of Valais is a land of contrasts. The most obvious of these is the division of its languages, with French-speaking towns lying to the west and German-speaking villages in the eastern province.
Yet despite these differences, one thing's for sure: the people of Valais are united by a love of good food and drink – especially when it comes to cheese and wine.
And when you learn that Valais boasts more than 200 days of sunshine a year – making it the perfect place for growing grapes – this all begins to make sense. The canton's lower slopes are blanketed with 5,000 hectares of vineyards ripe for long, sun-soaked walks with convenient pitstops to visit the region's premier winemakers.
Valais has almost 60 grape varieties, some of which are unique to the region, and a diverse wine scene to match. Make sure you don't miss the district of Visperterminen, where you'll find some of the highest vineyards in Europe at an altitude of 1,150m.
sun-soaked valais has 5,000 hectares of vineyards and a thriving wine scene to match
At a slightly lower altitude you'll find the gorgeous Aletsch Arena, home to lush meadows, rolling mountain pastures and pure water that comes down from the Aletsch glacier. The fields here are resplendent with aromatic, flavour-packed flowers and herbs that have been used in Valais cooking for generations, imbuing traditional dishes with distinctive flavour.
One of the most significant dishes of all is the Valais Cholera, which was born during a time when the canton was struck by the illness. To avoid infection, people didn't want to leave the house, making pastry pies filled with the fresh vegetables and herbs growing in their gardens and ingredients they already had in their larders.
As you'd expect from a region with French and German influences, cheese sits pretty high up on the Valais menu, with heaps of local cheese producers. Raclette – the much-loved oozy, gooey cheese fondue – was invented here, by a wine grower called Léon who warmed up a piece of cheese over an open fire rather than eating it raw. The word 'raclette' came from the local French dialect – racler means to scrape – and this became the official name for the cheese in 1874. Today, Valais cheese makers still follow the historic recipe to make Raclette du Valais AOP. Valais Wallis Promotion/Sedrik Nemeth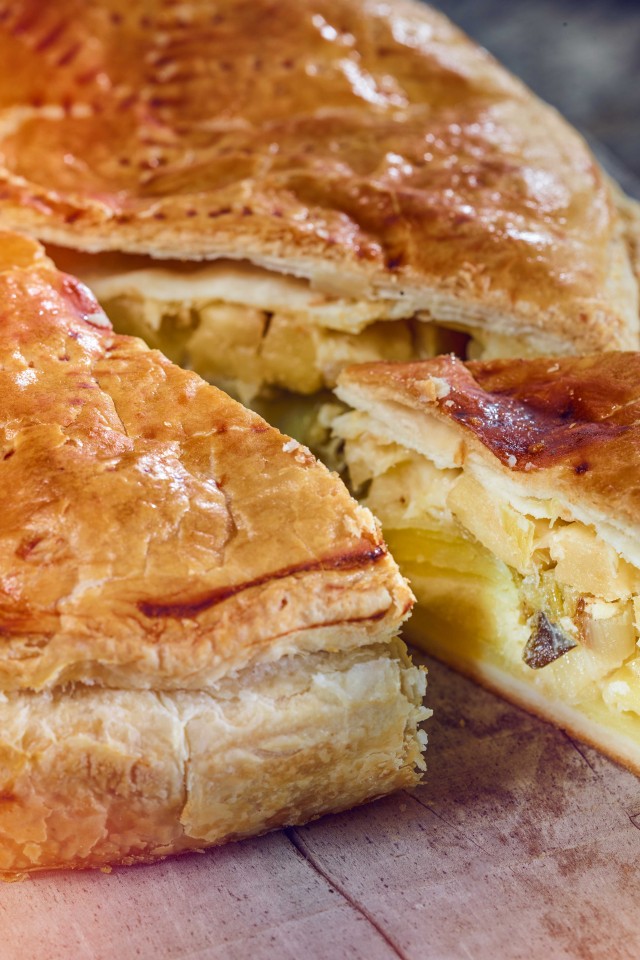 Valais Wallis Promotion/Sedrik Nemeth
Another Valais staple is fibre-rich rye bread, which had a key role when it came to meeting the day-to-day nutritional needs of the people of Valais. This bread is deeply intwined with the canton's history, creating an important link between the farmers, bakers and consumers.
Elsewhere, the Région Dents du Midi is home to six quaint alpine villages perched high in the Swiss Alps, with sweeping peaks and incredible views that make it the perfect destination for hiking and biking. Thankfully, it's also the perfect destination to refuel with treats from the area's many local bakeries, restaurants or alpine huts.
There's something to tickle everyone's fancy, from a craft brewery to 41 brilliant high-altitude restaurants, many of which participate in the Trophée des Alpages epicurean adventure. What's more, the area has three culinary specialities: the cinnamon sugar tart known as Salée de la Vallée, Reine des Prés caramels and the savoury Soupe au Plat.
Over in the Nendaz municipality there's also an unmissable food scene. A standout among its many acclaimed inns is Les Bisses, which sits between the resorts of Nendaz and Siviez. The restaurant specialises in showcasing Valais' most traditional produce, serving plates of beautiful local food against the stunning backdrop of the mountains. And as you'd expect from such a stellar repuation, Les Bisses is extremely popular – so it's a good thing it's easily accessible by car and by foot all year round.
Whether you're after mouthwatering cheese, fine wine or both, you'll find all that and more in the Swiss canton of Valais.
For more info, visit valais.ch