Finding the best packable waterproof jacket for travel is no easy task. Firstly, you want a good waterproof to give you more than enough water resistance whatever the weather. But sometimes the more rain-resistant waterproofs can be seriously bulky, and too heavy for your average day out in the rain.
If you're heading to festival – or if you're just looking to max out on the current trend of outdoorsy chic (yes, we can confirm it's a thing) – you'll probably want a waterproof jacket that looks good as well as protecting you from the downpour.
Cheap packable jackets and rain ponchos can quite often fail in the slightest of storms, though, which is why we've rounded-up some of the best on the market in 2018. From solid, protective packable raincoats, to lightweight and fast-to-pack trail-running jackets, we've got you more than covered.
Ready? We weren't. Watch the video above to see us put this year's best packable jackets to the test in a teacup-sized storm in London, then check out our thoughts on each of them below. Make it rain, people.
Patagonia Torrentshell, £109.99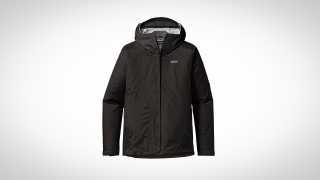 This packable softshell from Cali-based outdoor stalwarts Patagonia has three things you need: a breathable H2No water-repellant coating, a subtly peaked hood and 'pit zips. OK, not everyone loves armpit zips, but when you're suddenly sweating on the bus or Tube after five minutes out in the rain, you'll learn to love 'em. ellis-brigham.com; eu.patagonia.com
Filson Swiftwater rainshell, £190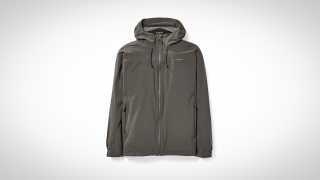 Seattle-based outdoor brand Filson's first foray into technical rainwear is as plush as you like – and you'd expect nothing less considering how much time people in the Pacific Northwest spend stuck outside in the rain. The jacket packs neatly into its hood, and its stretchy 2.5-ply ripstop and waterproof zip pockets almost make walking in the rain feel luxurious. Almost. filson.com/uk
The North Face Mountain Jacket, £85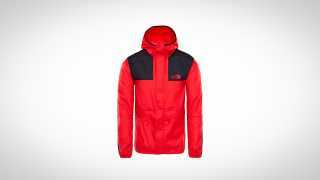 TNF's Mountain Jacket is more about mountain chic (yep, it's a thing now) than actual mountain exploration. The print is inspired by the brand's old-school mountaineering jackets from the expeditions of the '80s, but its packability and super-lightweight nature makes it. It might not be tricked out with the same level of waterproofing as some of the others on the list, but it does come in a chic camo colourway, so we're sold. thenorthface.co.uk
Finisterre Autan, £135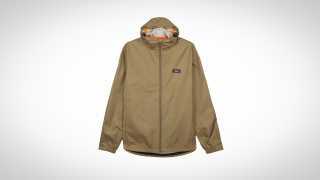 If we know two things about Cornish heroes Finisterre, it's that they they care about the planet just as much as they care about you. With that in mind, this is more than just a breathable waterproof that packs and unpacks with ease: it's a jacket with minimal environmental impact. The outer is made of 100% recycled ripstop polyester and recycled Japanese fabric, while the waterproof finish is fluorocarbon-free. A solid, all-purpose waterproof that looks good, does good and performs, erm, good? We like. finisterre.com
On-Running Weather Jacket, £190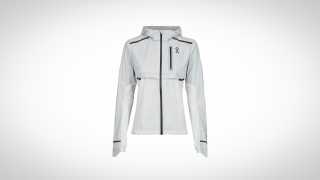 This women's jacket by trail running specialist On is so outrageously light that it almost (and we mean almost) makes you feel like you're wearing nothing. It's also vented to keep you cool when you're working hard, and it packs down to a tiny fist-sized pouch, so it's ideal for chucking in rucksacks, pockets and suitcases. Wear it running in the Alps during winter or hiding from a tropical rainstorm in Mauritius – the choice is yours. on-running.com
Arc'teryx Norvan SL, £255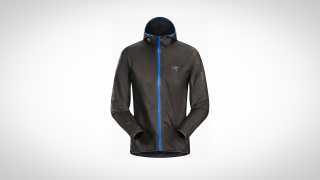 Paper light and super small when packed into its separate pouch, this trail running jacket from all-mountain adventure brand Arc'teryx will serve you just as well for sudden downpours in the city as it will in grim weather out on the trail. With a Gore-Tex waterproofing and breathability, you won't have to compromise on comfort for a lighter weight, either. Double win. arcteryx.com
Salomon Outspeed Hybrid Jacket, £160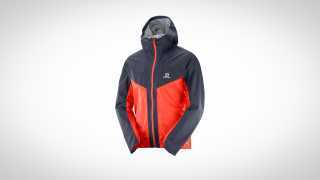 Sporty backcountry types will love this nifty little number from French mountain brand Salomon. You get top-level waterproofing where it matters (the blue bits) and a super breathable nylon mesh (the red bit) to deflect errant wetness while keeping you cool on the go. So simple. So clever. So tiny when you pack it away. salomon.com
TOG24 Jarder, £70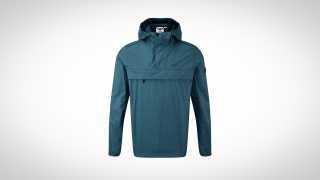 This over-the-head offering from TOG24 gives you way more than just windproof, shower-resistant Madchester vibes at a very reasonable price, it has a whopping kangaroo pocket in the middle, too. Contrary to the video above, it unpacks with immediacy – you just have to remember to leave it unzipped when you fold it away… tog24.com
K-Way Le Vrai Claude 3.0, £75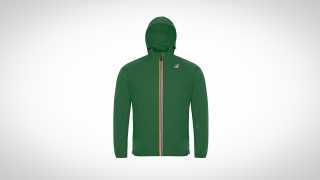 Big in the game since 1965, French brand K-Way is the name behind the original packable waterproof, and this colourful unisex number is an absolute classic. Waterproof enough to withstand showers and packable into a festival-friendly, bumbag-style pouch, you're more than covered when the rain inevitably comes. k-way.co.uk