With my neck craned backwards I can see the top of the tower. Sunlight bursts through with a filtered sort of glare, the silhouettes of birds glide from left to right, and I hold my breath to calculate how long it might take a body to fall from the 54th floor to the concrete below. "When they cleared all the rubbish out of here, they found dead bodies buried below all the trash," says my guide, Grant, gesturing to the ground with a sweep of his arm. "Nobody knows if they jumped or if they were pushed."
I'm at Ponte Towers just next to Hillbrow, Johannesburg – an area that, in the past, has been known as one of the most dangerous places in South Africa. At the height of its notoriety in the 1990s, the 173m-high concrete cylinder was described as the tallest urban slum in the world. It was overrun by gangsters and the pile of jettisoned waste at its core stacked up to the 14th floor, snatching any daylight from residents living below.
"Back then, you could get anything you wanted from Ponte: drugs, guns, prostitutes, even body parts," says Grant. "If you were a criminal, robbing people or shooting them, it was heaven, because there was no chance of you running into a policeman. They didn't come here."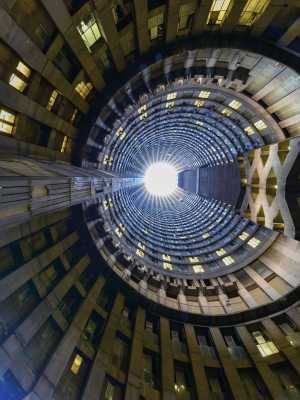 But things are changing. Grant is from Dlala Nje, a foundation designed to open up opportunities to young people living in Johannesburg. They raise funds by taking small group tours around Joburg's overlooked districts and have even installed a bar on Ponte's 51st floor. Book a walking tour with them and they'll guide you through the inner-city streets – through the rough-and-ready Hillbrow, along bustling Pretoria High Street and beyond – to see life in this city through a different lens (finishing up with a quart of Zamalek beer at a local shebeen bar with the locals).
The now-refurbished Ponte and its surrounds stand as a symbol for a city-wide renaissance; one that's seen Johannesburg's previous no-go areas transformed into gourmet street markets, artist's studios, craft beer bars and trendy apartments.
Because Johannesburg, or 'Jozi' as it's known by locals, has been undergoing something of a facelift. As well as an increased focus on security spawned by the hundreds of thousands of tourists that descended on the city during the World Cup in 2010, the past decade has seen urban regeneration projects crop up across the city.
Alongside buzzing bars and a thriving live music scene, art galleries such as CIRCA on Jellicoe in Rosebank, Wits Art Museum in Braamfontein and the Johannesburg Art Gallery in downtown Jozi (which has one of the largest collections of contemporary art in South Africa) are making it a must-visit for creative sorts. Once thought of as one of the world's most dangerous places, Johannesburg, it seems, is open for business.
UPTOWN FUNK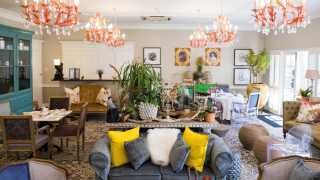 Marthe-Helene Photography
Like most cities, Jozi has its 'swanky' district. Here, it's Sandton – an affluent business hub where young, middle-class office workers spend their evenings in restaurants swilling whisky cocktails and poring over tasting menus.
Hotels in this part of town are high-end – catering to business travellers or wealthy tourists stopping off en route to their safari destinations. But a glittering gem in the parade of corporate-style buildings is Fairlawns. From its fragrant gardens filled with violet-coloured jacaranda and bursts of bougainvillea, to its afternoon tea room festooned with quirky animal ceramics and birds of paradise textiles, this eclectic, all-suite hotel is worth travelling to Jozi for.
Restaurants in this part of town, particularly Big Mouth Sushi, and KOI for bao and dim sum, are impressive too, and I eat at one of the most buzzed-about places in the city – all open kitchens, marble interiors and a celebrity head chef.
I spend the night at Sandton's Saxon Hotel. Most famous for being the place where Nelson Mandela edited Long Walk to Freedom, this is a beautifully historic building, filled with traditional African décor and hidden away in a ten-acre oasis of manicured gardens. It's so lovely, in fact, that it's played host to an impressive roster of well-heeled guests, including the Clintons, Oprah Winfrey and Beyoncé.
THE HEART AND SOUL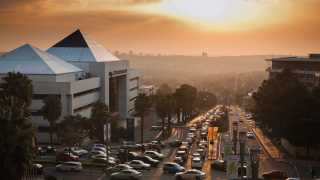 The next day, I take to Uber to explore Johannesburg further. I've been told that this is the safest way for me – a single white female – to get from A to B in the city. It's strange for a Londoner who's used to walking for hours around a city, but actually, meeting some of Jozi's drivers is enlightening.
Bhatso, 24, has a young daughter at home. "I'm pleased the city is getting a bit safer for women," he says. "There's been increased visibility of police across Johannesburg since the World Cup, and actually, Uber has really helped too. It's opened up the city, people can get to places they would never go to before, and it's lowered instances of drunk driving. The taxi drivers weren't happy with us at first, but we feel welcome now."
I want to see what life is really like for the majority of Joburg's residents, who certainly don't spend their time in fancy Sandton hotels. So I'm heading to Soweto, one of the most famous collections of townships in the world, and home to well over a million people.
Formed as a result of racial segregation during the influx of miners in the gold rush of the 1930s, Soweto is a place of contrasts. Drive, skateboard, cycle or take a tuk tuk (there are tours available for each) through its streets and the landscape changes markedly. Higgledy piggledy aluminium shacks with ramshackle communal loos give way to smart one-storey houses fringed by churches, playgrounds and Virgin Active gyms.
It's also an insight into Johannesburg's difficult heritage. Standing at 8115 Orlando West is The Nelson Mandela National Museum, where the former president and his family lived from 1946 into the 1960s, when his role in the struggles forced him underground and into a life on the run.
The modest building was twice set on fire by the apartheid police and as I walk around its exterior walls, my hand gliding over the cracked paintwork, I can see it's pock-marked with bullet holes. Just down the road, too, is the Hector Pieterson Museum, a space dedicated to the Soweto schoolboy who was shot and killed during apartheid clashes in 1976, when police opened fire on students protesting the enforcement of teaching in Afrikaans. Soweto may not always be glamorous, but it's an important, living reminder of the city's tumultuous history.
ARTISTS RESIDENCE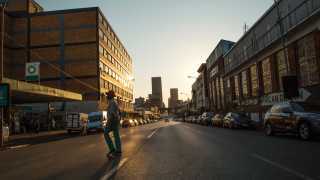 Beyond Soweto, and as Joburg strives to shrug off its bad rep, its previously abandoned neighbourhoods are once again beginning to thrive. The district of Melville is full of great breakfast spots like Pablo Eggs-Go-Bar, cool markets like 27 Boxes – a shopping centre made of shipping containers which are packed to the rafters with interesting knick knacks – and Mootee bar, which serves up outrageous-yet-delicious cocktail creations (the locust bean tequila cocktail, Mashonza, comes served in its own ceramic horn with a fleshy mopane worm balanced on top). Nearby, Maboneng is the city's most creative district, where bright street art slathers the buildings and shops, hotels and restaurants crafted from shipping containers draw in the city's arty crowd to heady effect.
I'm staying at 12 Decades Art Hotel, smack-bang in the centre of this eclectic hub. Run by entrepreneur Bheki Dube, each room is designed to reflect an era in Johannesburg's history, from the gold rush-themed The House That Jack Built (featuring typewriters and weighing scales cast in gold) to the Sir Abe Bailey, inspired by the houses of the city's wealthy Randlords at the turn of the century. The Hallmark House, a contemporary hotel set in an old diamond processing plant is also a great place to stay, and just down the road you'll find Curiocity Backpackers, which Dube also set up after deciding that Johannesburg needed a more affordable design hotel experience. "We're basically borrowing the idea from the Soho Houses and the Ace Hotels around the world," he tells me as we sit in the bar that was once the meeting place for Mandela and his fellow revolutionaries. "People don't want to come to Maboneng, look at art, have a coffee and then run back to the suburbs. People want to live, work and play here."
Need to know
Stay at Fairlawns Hotel from £191 per night. fairlawns.co.za; The Saxon from £423 per night. saxon.co.za; and the
12 Decades Art Hotel in Maboneng from £51 per night. 12decadeshotel.co.za
South African Airways offers daily overnight flights from London Heathrow to Johannesburg starting from £543. flysaa.com
Outside, the main drag of Fox Street is buzzing, and as I mosey about the district, I can see why such a fuss is being made of Maboneng (Forbes recently voted it one of the coolest neighbourhoods in the world). On one corner, Arts on Main – a once-dilapidated atrium of galleries, shops and markets, now a cultural hub – rises from the concrete, while on every other you'll find pop-up cinemas, craft beer bars, vintage shops and book stores (Collector's Treasury on Commissioner Street purports to be the biggest second-hand bookshop in the southern hemisphere). I've talked Dube's colleague Tshepo Mokone into showing me round the place, and as he guides me through hidden sculpture gardens and into foliage-filled rooftop cafés, I ask him why he thinks this neighbourhood is so special. "Maboneng was once one of the most dangerous places in town, but now it's like Shoreditch, or Brooklyn, or Berlin," he says. "But this is not just for hipsters. It's not for the elite. It works because it's not exclusive. Maboneng is still for locals, and once they benefit, they take ownership." So does he feel that Maboneng is leading the charge for safer streets throughout of Johannesburg? "White locals still don't walk in Jozi," he says hesitantly, "But we want to change the feeling of the city. We want to help people of all colours reclaim the streets."