Despite being surrounded by water, New York doesn't immediately strike visitors as the ideal place to cool down on a hot summer's day. Its rivers and vast bay are criss-crossed by relentless boat traffic, while the turbid brown water itself isn't exactly inviting. Yet New York is unquestionably a swimmer's paradise.
Across the five boroughs there are 54 outdoor pools, ranging in size from vast Olympic pools to smaller playground pools for kids. And between late June and early September, they're free for anyone to use.
Being both an obsessive outdoor swimmer and a hopeless romantic when it comes to the Big Apple, this discovery sparked the idea for a challenge. What if I could swim in pools in all five boroughs in one day? To not only say that I'd swum in them, but also to see some of the more far flung corners of a city I like to think I know inside out.
I packed my towel and trunks, studied the subway map and reread John Cheever's classic short story, The Swimmer, about a man's quest to swim home in the pools of his friends and neighbours. One line stood out. "The day was beautiful and it seemed to him that a long swim might enlarge and celebrate its beauty." It was time for a dip.
Pool Rules
New York's public pools operate under a strict set of rules. If you're tempted to dive in, check out these city-wide policies so you don't get caught out:
+ All swimmers must bring their own combination lock or they'll be refused entry.
+ All bags must be placed in a locker (be aware that lockers can only take small luggage) and cannot be brought poolside.
+ White tops only. Yes, it's bizarre, but if you want to wear a top when poolside, it can only be white.
+ Gate staff are fastidious, with no exceptions made.
8am
THE WILLIAM VALE HOTEL, BROOKLYN
Firstly, a confession. New York's public pools open at 11am and close at 7pm, with an hour for cleaning between 3pm and 4pm. With the city's public transport system creaking and its roads perpetually clogged with traffic, getting between all five pools within that time is virtually impossible. And so instead, I take my first swim in the terrace pool at Brooklyn's ultra-hip William Vale hotel.
Located in a part of Williamsburg that until a few year's ago was a busy hub of artists studios, dive bars and assorted hipster hangouts, today the William Vale is just one of a number of luxury properties that have changed the face of the area completely. Its pool parties are the stuff of legend (even at $150 entry for just one day), but it's 8am when I arrive downstairs from my room and the only other person around is a pool attendant sweeping the deck.
Despite the early start, the temperature is already creeping up to 30°C. The surrounding buildings reflect the growing heat, the East River glinting in the distance. I have decided to keep each swim short. There are no other swimmers as I slip in, my bow wave arcing behind me as I set off on the first of 20 quick fire laps. I emerge soaked and smiling, ready to take on the day.
11.03am
ASTORIA POOL, QUEENS
I've given myself ample time to get to Astoria Pool in Queens. The lockers at New York's public pools are tiny, so after dropping my bag at a friend's office in Manhattan, I ride a clanking W train north, across the East River and onto my second swim of the day.
Astoria Pool is the largest in the city. 100 metres long and 50 metres wide, it sits between the Triborough and Hell Gate Bridges. It even held the US Olympic trials in 1936 and 1964. After proving to staff I have my own combination lock (all swimmers must bring their own for stashing their wares), I walk out of the cavernous changing area and along the concrete bleachers to the pool. It's divided into six areas, with one at the far end for 'fitness minded swimmers' (NYC Parks and Rec's words) to tack out laps.
I drop in and front crawl my way along the far rope. In the adjacent area, a seniors' swim aerobics class is underway. As I turn back, I catch the smiles of a group of locals lifting their weights while an instructor tells them to get moving over a funky beat. The vibe here is completely unlike the William Vale. This is everyday, suburban New York, one which tourists so rarely get to see.
12.16pm
FLOATING POOL LADY, BARRETTO POINT PARK, THE BRONX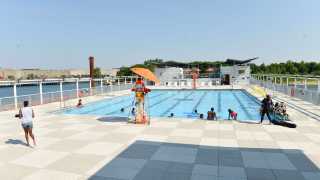 To save time, I hail a cab to my next swim. Riding the subway from Astoria to the southern Bronx involves a long walk and taking two trains, going via Manhattan, posing serious danger to the chances of completing my mission.
The taxi zips across the bridge and over Randalls and Wards Islands before taking the freeway towards Barretto Point Park. This small promontory, found at the far end of a dilapidated industrial zone, all 18 wheelers, mechanic shops and cargo pallets, isn't exactly a tourist hotspot. Local families stretch out over picnics as I stroll across the grass towards the Floating Pool Lady – a pool on a barge – docked on the far side of the park. After a swift bag check, I walk the gangplank and pass into a watery paradise.
This barge is home to a seven lane, 25-metre pool and, quite frankly, it's pandemonium. Kids holler at each other in Spanish and play almighty games of splash as I try and swim back and forth. One swims beneath me, emerging wearing a huge smile and shouting, "I'm a fish, I'm a fish". I give up on laps and instead float on my back, eyes squinting, a big smile slapped across my face. Drying off, I can see the towers of the maximum security Rikers Island prison on the far river bank. I can't think of anything more incongruous with this pool full of happy swimmers.
2.25pm
HAMILTON FISH PARK POOL, LOWER EAST SIDE, MANHATTAN
Riding the subway in summer can be brutal. The 6 train from the Bronx to Lower Manhattan is jam-packed, despite the time of day. After leaving the Floating Pool and dodging the traffic of a six-lane highway which runs beneath a series of flyovers on the south side of the Bronx, though, it feels like a pleasant break. It's time to take stock. I'm making good time, even if the journey will take an hour. If all goes to plan, I'll be on Staten Island just in time for the pools to reopen after daily cleaning.
By some kind of miracle, I emerge onto Manhattan's East Houston Street without having faced any of the subway delays that have dominated the news in recent months. There's no queue to enter Hamilton Fish Pool, which is tucked just south of East Houston among housing projects and tower blocks. However, just as in the Bronx, the pool is absolutely rammed.
The far end is closed for lessons and so I try and swim my way around young couples petting, games of catch and the occasional serious swimmer. It's a challenge. But it's so wonderful to see these pools being used. And being used by kids, especially. It feels like the whole neighbourhood has come out for the afternoon. Mums and grandparents dot the sides, sitting on blankets, berating older teenagers for splashing too vigorously. It feels like Manhattan in miniature and is every bit as compelling.
4pm
LYONS POOL, STATEN ISLAND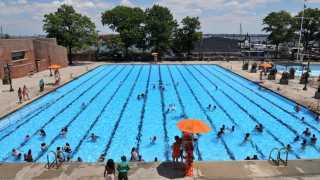 I ride a yellow cab down to the Whitehall terminal, the lazy honk of the Staten Island Ferry sounding out at 3.15pm. In the back of my mind, I'm wondering if I should have started in a Brooklyn public pool at 11am after all and put myself up against the clock. It's too late now and it looks like I'll complete my mission with time to spare.
Emerging onto Staten Island I look back at the glare of the Manhattan skyline in the brutal midsummer sun. Lyons Pool is a 15 minute walk along Bay Street, the borough's jetties and New York Bay just beyond. When I arrive, it's just before 4pm and the gates are still shut. Impatient teenagers get into a quiet argument with some local mums, whose kids are already decked out in inflatables, unwilling to waste even a second getting ready once the doors open.
Inside the high brick walls, an Olympic-sized pool glints blue, its water still, with no swimmers troubling the lanes marked out beyond a huge play area. With time no longer an issue, I swim a steady kilometre before catching my breath, the kids on inflatables screaming with joy. Summer in the world's greatest city can be pretty sticky. But after a day exploring all five of its boroughs' pools, I think that I've found the ultimate way to enjoy it.
Fly from London Gatwick to New York with Wow Air.wowair.co.uk; For info on The William Vale in Brooklyn, seethewilliamvale.com