Mauritius: the foodie
Mauritius may be most famous as a honeymoon hotspot, but it cooks up some mean food, too. The Indian Ocean island, which is about the size of the Isle of Wight, has absorbed influences from three continents – and Indian, Chinese, French and African elements have worked their way into the island's staple dishes, too. Leave your swanky hotel and check out some of the local eats – dholl puri is the island's unofficial national dish, and consists of veg curry wrapped in flatbread and topped with chutney. Pineapples are a big deal here – chomp them on the beach while admiring the view, or for something more substantial try gajak – deep-fried snacks like eggplant fritters that are sold from glass boxes on the side of the road. Chilli is also big news on the island – you'll have it with mango, baguettes and curries. Try and seek out mazavaroo, a luminous-red chilli paste that'll make a great holiday souvenir. Beats a fridge magnet, anyway.

Don't leave without: Visiting the seven coloured earths – a remarkable geological formation on the south west of the island. This striking cluster of sand dunes comes in – you guessed it – seven distinct colours (red, brown, violet, green, blue, purple and yellow).
Budget: If you're just after a base, Airbnb offers beachside apartments from around £30 or so per night.
Mid-range: The Zilwa Attitude Hotel has boutique-style interiors in each of the 214 rooms. Lie on the beach or head to the local village for some fresh grub. Nightly rates from £100 per room.
Luxury:Dinarobin Hotel & Spa is an all-out luxury resort that still maintains a boutique feel. Epic mountain backdrop, too. Seven nights from £1,575pp including flights.
Maldives: the beach bum
If wildlife-spotting, hiking and sightseeing aren't top of your holiday agenda, and lazing around on dazzling white, pristine sand is, the Maldives is just the ticket. The archipelago of islands is dotted with a crazy selection of hotels – ranging from luxurious celebrity hangouts to budget guesthouses. It's not all sunbathing and smooching, though – innovative hotels are creating guest experiences that will keep you occupied if you start to feel restless. There's surfing – yes, surfing – off coral reefs, golf courses, underwater restaurants, underwater spas and more water sports than you can shake a selfie stick at (yeah, you'll be doing a lot of that, too). Once you arrive on your island (via speedboat or seaplane) you're unlikely to leave, but that's exactly the point. Kick back, remove your shoes and give your pedometer a break.
Don't leave without: Trying some Maldivian curry – it's some of the best we've tasted.
Budget:Cokes Surf Shack is located in one of the best surfing destinations in the Maldives, and offers cosy guest rooms from £33 a night.
Mid-range: Food can be expensive on the islands – it's logistically hard to get it there. Staying at an all-inclusive hotel will mean there are no hidden cost surprises. Try Atmosphere Kanifushi.
Luxury:Huvafen Fushi is about as swanky as it gets – but if you've got the cash to splash you'll struggle to beat it. Seven nights from £2,825pp including flights.
Sri Lanka: the culture vulture
For a culture-rich holiday the cities, beaches and tea plantations of Sri Lanka will all deliver. Travelling in the country is easy and cheap – hop on the train (book in advance) or hire a driver, which isn't as luxurious as it sounds; it's a normal and fast way to get around the country. Start with the ruins of Anuradhapura, a collection of huge ancient pools and temples in the city of the same name.
Indian Ocean
A few more
Madagascar: The fourth-largest island in the world (about the size of France) combines epic landscapes, empty beaches and outdoor adventure. Wildlife lovers will be in their element – 5% of the world's plant and animal species can only be found on this particular island.
Réunion: If you're looking for adventure, Réunion island has it all. Expect lush green forests, towering waterfalls and mountains galore. Hiking is activity number one, but there's also paragliding, canyoning, rafting and climbing.
Zanzibar: The ideal choice for twinning with your east African safari, kick back on Zanzibar's coral-fringed beaches. Explore the quasi-medieval medina of Stone Town, or head to the northern tip of Unguja, Nungwi and Kendwa where you'll find budget and luxury accommodation, bars and full moon parties. Expect a pretty laid-back, magical vibe.
Thai islands: Don't go thinking it's all mushroom shakes and neon face paint parties. Phuket and Phi Phi are the main Thai Indian Ocean islands – you can do anything in Phuket, from not leaving your sun lounger to hardcore Thai kickboxing bootcamps. Phi Phi, meanwhile, is much more chilled – there's a beachy vibe that's complemented by craggy cliffs and azure water. Yep, that'll do.
Kandy is a temple-packed city in the north. Try twinning a visit with a trip to the nearby tea plantations – its production and export is one of the country's main sources of income. Elsewhere, the capital, Colombo, is starting to become a destination in its own right; see it as more of a stopover and spend two days exploring the historic city on the sea, its colonial buildings and quirky, colourful art galleries.
Don't leave without: Seeing some whales. Raja and the Whales is a responsible whale-spotting company based in Mirissa on the south-west coast. Twin your time there with a trip to Galle, a cute town with an impressive fort.
Budget: For a pool with a view in Kandy, try the Ozo Hotel, with colourful artwork and cushions jazzing up the rooms, from £60.
Mid-range: Cool off in Colombo at the Kingsbury Hotel pool. Nightly rates from £120.
Luxury:Ulagalla has 20 luxury villas set in 58 acres of land – and well-located for reaching the ruins of Anuradhapura. Nightly rates from £204.
Seychelles: the wildlife lover
Sensational beaches and turquoise water come as standard in the Seychelles, but the islands are also home to a huge selection of wildlife. Let's start with the birds: 250 different species have been found on the rustic archipelago. Each island offers something different, too.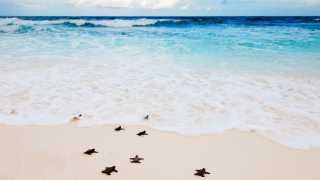 If you're after whale sharks and mountains, head to Mahe, the largest of the islands, packed with lush rainforest and sandy shores – or travel to the Launay Marine National Park for snorkelling and whale shark sightings. Meanwhile, Praslin is the second biggest island and home to the black parrot, the island's national bird, while at the nature reserves you'll also find reptiles, birds and other creepy crawlies. Just two kilometres from Praslin lies Cousine Island, a nature reserve with 8,000 trees and conservation projects focused around turtles and birds. You can join the projects, or just visit for a day to watch giant tortoises lazily roaming the pristine shores. That's the life.
Don't leave without: Hiking. Make the most of it.
Budget: Check out Seychelles Secrets, a collection of guesthouses.
Mid-range:Sunset Beach Hotel has 28 bedrooms are situated on Mahe island. Nightly rates from £200 per room.
Luxury: Find airy pool villas at Raffles Praslin. Nightly rates from £560.