Like mountains? Like holidays? Like cooing over delicious contemporary architecture in some of the world's most scenic landscapes?
Yeah, we thought as much – you probably wouldn't be here reading an article about the best mountainside holiday homes in the first place if you didn't.
Anyway, now that we've cleared that up, let's get down to business: we've scoured the architectural delights of new book Mountain View – containing a whopping 50 top-quality hillside properties – for five of the world's most outrageously gorgeous pieces of alpine real estate.
All of the properties in this guide (and indeed the physical book itself) are available to rent as holiday homes right now, so if you've got the cash to splurge, and the travel itch to get there, you absolutely can. Don't say we never treat you.
1. Tubakuba, Bergen, Norway
Sometimes, the best things come in the smallest, simplest packages. And that's the schtick with this bolthole overlooking the gorgeous city of Bergen on Norway's southwestern coast. Sure, you have to haul your own bed or camping equipment on the funicular from the city centre to get there, and there's no running water, electricity or toilet once you've crawled through its rabbit hole-like entrance, but you can stay here absolutely free. The only catch is that you've got to have a kid under the age of 15 in your party to be able to book. All the more reason to start planning a family, if you ask us. bergen.kommune.no
2. Hen House, Isle of Skye, Scotland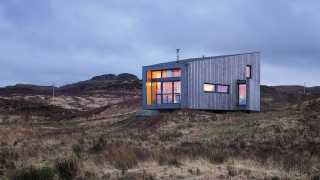 Your average hiker could be forgiven for mistaking this low-impact holiday let on Scotland's Skye for a shed or bothy through the bad British weather. How very wrong they would be. At Hen House, you've got modern-rustic interior design (log-burner, mountain-view mezzanine, cushy sofas et al) paired with huge views out across Loch Bracadale from the lounge. Oh, and when you eventually want to leave, you've got easy access to the Cuillin hills, the Old Man of Storr and the world-famous Talisker distillery. Dramatic sights and dreamy drams? You're sorted. 15fiscavaig.co.uk
3. Solo Houses, Cretas, Spain
The Solo Houses are the first two buildings completed in a project that will eventually see 17 architectural concept homes/living works of art interspersed through 100 hectares of rural estate in the Mantarraña region of Spain. Part luxury holiday rental, part architectural sculpture park, each home hovers above the ground with huge windows to offer epic views the surrounding forests, that are home to Spanish ibex, griffin vultures and deer. Oh, and there's no internet or home entertainment, because – well – who needs all that rubbish in a place like this? boutique-homes.com; solo-houses.com
4. Scrubby Bay House, Banks Peninsula, New Zealand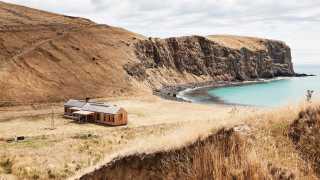 Alright, alright, this waterside retreat doesn't exactly have mountains right up in its grill, but since it's set in such beautiful South Island countryside, we hope you'll forgive us. Nominated for World Building of the Year in 2015, and set against the (albeit distant) backdrop of Mount Herbert, this'll sleep 14, with plenty of room inside and out to enjoy your own private bay. Oh, and there's a private pool and hot tub if a remote, untouched beach and miles of wildlife-packed wilderness isn't quite enough for you. annandale.com
5. Villa Vals, Switzerland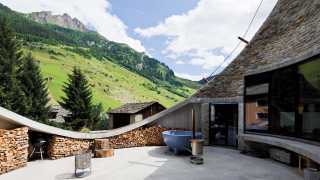 The Swiss mountain village of Vals is already pretty well known for its thermal baths, which – would you believe it – go by the name Therme Vals. But this build, completed in 2009, could just ramp up the reputation of the village a concrete-interiored notch or two. Sunk into the side of the mountain, and tilted slightly backwards to accentuate the views across the valley, no one would blame you for not spotting this awesome alpine hideaway as you're driving through Vals, but you'd be missing out if you didn't stay there. villavals.ch
Mountain View is out now, published by Lannoo