Get cultural in Spain and Morocco
Sometimes an adventure is as much about where you are as the activity you're doing, and this tour of the Med's most western reaches is a winner. Exploring southern Spain and Morocco's Mediterranean coast, on this tour you'll spend a few days discovering the Islamic history of Malaga and watching wildlife near Cadiz, before taking a 30-minute ferry to Morocco from Gibraltar and discovering art, culture and surfers' havens on the coast of North Africa.
Need to know:Rug & Rock offers nine-day tours from £936; Ryanair flies to Malaga, Spain and Fez, Morocco from £55 round-trip.

Cycle the length of Corsica
Also known as 'the mountain in the sea', Corsica is the perfect place for balmy sun, cool coasts and challenging cols to take on by bike. On this particular tour, you'll get a bit of all three – but mainly the cycling – as you pedal 125km a day, passing cute chapels, olive groves and roaming farm animals as you go.
Need to know: Europe Active offers six-day tours starting at £651. europe-active.co.uk; easyJet flies from Gatwick to Bastia from £84 return.

Be an action hero in Croatia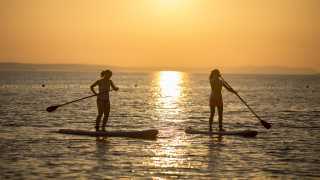 Firstly, if you've got an equal level of love for kayaking, mountain biking, wakeboarding and climbing, well done, you're fitter than us. And secondly: we reckon you'll love Alana Beachclub on Croatia's Northern Dalmatian coast, where you can have a crack at the lot – all included in the cost of your stay. Don't worry, there's a pool and spa, too.
Need to know:Neilson offers seven-night stays at Alana Beachclub from £609pp including flights and transfers.

Discover Portofino in a kayak
The pretty fishing village of Portofino in north-west Italy gets much more than a million visitors each year. Wanna know how to escape them? Get in a kayak, duh. On tour with Outdoor Portofino, you'll get to grips with sea kayaking, as well as feasting your eyes on an all-new view of Portofino, Cinque Terre and the rich wildlife of Liguria. Sucks to be you, landlubbers.
Need to know:Outdoor Portofino offers single and multi-day tours from €98; Alitalia flies from Heathrow to Genoa from £120 return.

Trek Dubrovnik to Athens
If you want to tick off classics and under-the-radar spots in one swoop, this tour is for you. You'll travel from the Croatian gem of Dubrovnik to the Albanian capital of Tirana before things all get a bit Levison Wood, when you'll sail across Lake Ohrid, check out the blocky architecture of Skopje and wander the mountains of Pelister National Park in Macedonia before crossing into Greece for Mount Olympus and two days in Athens.
Need to know:Intrepid Travel offers 15-day adventure tours from £1,588; BA flies from London to Dubrovnik and Athens from £128 round-trip.