Cyprus
What do you get when you throw together Eastern Mediterranean, North African and Levantine influences with flavoursome ingredients that sing of Cyprus's sun-soaked climes? The recipe for a rich, varied and totally tasty food culture. Start with what you know – oozy grilled halloumi and stuffed vine leaves – before dabbling in local specialities like loukoumades: deep-fried dough balls soaked in honey.
Stay: Casale Panayiotis offers Farm to Fork packages from £155. casalepanayiotis.com
Getting there: Fly from Stansted to Larnaca from £154 return. jet2.com
Sète, France
Shun the crowds of the Cote d'Azur and head south west to the coastal town of Sète for shedloads of the freshest fish and seafood you could possibly get your grubby little mitts on. It's a proper working port, with fishermen going out in search of glorious turbot each day, while the Thau lagoon is home to oyster and mussel beds. It helps, of course, that Sète is also home to the finest unsung beaches of France's southern coast. Nothing to do but eat and sunbathe all day? Sounds like our perfect holiday.
Stay: Les Méditerranéennes offers villas from £149. myboutiquehotel.com
Getting there: Ryanair flies from London to Beziers from £80 return. ryanair.com
Palermo, Italy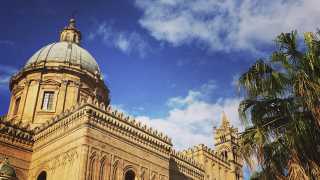 Street food is king in the Sicilian capital, where local dining is gritty and relies heavily on… boiled meat. But we can assure you that frittola – veal fat and cartilage, boiled, fried and sprinkled with lemon juice – is actually pretty tasty.
Stay: Hotel Principe Di Villafranca, from £200. principedivillafranca.it
Getting there: Fly Stansted to Palermo from £148 return. ryanair.com
Crete, Greece
Cretan food is considered to be the pinnacle of Greek cooking. What to eat? Make time for creamy young cheeses made from sheep or goat's milk; lamb sauteed in olive oil and oregano; and sfakia pies, pancake-like treats that contain the infamously potent local liquor raki.
Stay: Daios Cove Luxury Resort. From £220. daioscovecrete.com
Getting there: Thomas Cook Airlines flies from Gatwick to Crete Heraklion from £164 return. thomascookairlines.com
Palma de Mallorca, Spain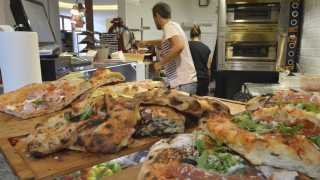 As you'd expect from a Spanish island, you can easily eat your bodyweight in classic tapas and paella here. But as delicious as that is, you'd be doing yourself – and the island – a serious disservice. Look instead to the heaps of regional specialities that hinge around flavour-packed local produce. We love sobrassada, a softer, spreadable take on chorizo, and ensaimada, a delicate flakey pastry stuffed with everything from custard to spicy sausage.
Stay: Hotel Tres. From £148. hoteltres.com
Getting there: easyJet flies from Gatwick to Palma de Mallorca from £104 return. easyjet.com