Lisbon, Portugal: The best things to see and do
NOS Alive
Camping can be a slog, but it doesn't have to be that way. Lisbon is home to some of the world's best festivals – all of which take place without a mud-splattered tent in sight. Our pick is NOS Alive, a mega-fest that rolls out its faux-grass flooring every July. Rock up at around 4pm, chug your Sagres beer while shouting along to the bands (this year's line-up includes The National and Pearl Jam), then roll back to your comfy hotel. You'll feel almost fresh the next day.
12-14 July, tickets from £50. nosalive.com
Culinary Backstreets
Lisbon has been having a bit of a moment recently – which is great and everything, but it has left the central pavements a little… crowded. Escape the bumbag brigade and take a food tour with Culinary Backstreets. Your guide is city resident Celia Pedroso, who will help you find the best chicken shops, grimy (but great) bars and markets away from the throngs. You'll swing by churches, eat provocatively named pastries (nun's nipple, anyone?) and sip wine in some of the best retro restaurants the city has to offer. A 10am cherry liqueuer with a group of old fellas? Yes indeed.
From £90. culinarybackstreets.com
MAAT
On your way back from the Jerónimos Monastery (don't even think about not seeing it – even if you're not that into architecture, 16th-century spikes and stone, it will still definitely impress) head to the new Museum of Art, Architecture and Technology (MAAT). The spaceship-style structure sits right on the Tagus river, and is one of the latest projects from British architect Amanda Levete. Whether you're a contemporary art buff or a complete and utter novice, the guided tour through the maze of galleries is an absolutely great way to leave with all the facts. maat.pt
Lisbon, Portugal: The best places to stay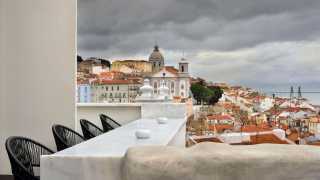 Memmo Hotel
There are two Memmo hotels in the city. Memmo Alfama is a dazzling-white boutique option with easy access to the hills and narrow streets of the historic Alfama district, while the more central Memmo Principe Real has rooftop views, a pool, stylish interiors, and you can mix up cocktails in your own room – ibuprofen not included.
From £145 a night. memmohotels.com
Pestana Palace
The Pestana Palace is one of the most luxurious options in the entire city, and its location on a tranquil backstreet is perfect for escaping the crowds. The rooms come with high ceilings, and the corridors of the restored 19th-century building are filled with vintage lamps, velvet armchairs and paintings. Leave time for the incredible breakfast, which you can have in the dining room or shrub-filled gardens.
Doubles from £200. R. Jau, 54, 1300-314. pestana.com
LX Boutique Hotel
Right in the thick of the action, LX Boutique Hotel is a bright-blue hotel close to Baixa-Chiado metro station. Each room takes on a different Lisboa 'theme', with black and white prints lining entire walls, and shabby-chic white wardrobes and beds. Super-cool staff are on hand to give you insider tips, and there's always an entire platter of pastéis de nata tarts in the lobby, which might be the best added extra we've ever come across.
Doubles from £91. R. do Alecrim 12, 1200-017. lxboutiquehotel.com
Lisbon, Portugal: The best places to shop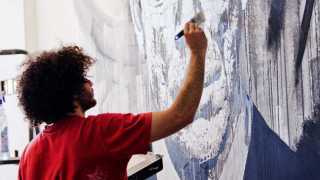 LX Factory
There's a shop for everyone at LX Factory. These converted fabric factories have been brushed up into a hip cluster of cafés, boutiques and bars. Try Pura Cal for textiles, Ler Devagar for books and Landeau for the best chocolate tart you will ever eat. The street art-filled space is great for a wander, and Sunday is market day – have a rummage for vintage clothes and antiques.
R. Rodrigues Faria 103, 1300-501. lxfactory.com
Avida Portuguesa
Whether it's gifts for friends or simply stocking up on pretty knick-knacks, you should check out A Vida Portuguesa ('the Portuguese life'). The floor-to-ceiling shelves in this stylish store are crammed with colourful packages of traditional Portuguese products, and you can stockpile ketchup-red tins of sardines, local olive oils and kitsch, vintage-style bars of soap that look so good that you'll never actually use them. There are now several store locations in the city so you'll always be handily close to one. avidaportuguesa.com
Feira da Ladra
You'll have your pick of markets in Lisbon, but the lively flea market Feira da Ladra – also known as 'Thieves' market' – is one of the oldest and biggest. Taking place every Tuesday and Saturday from dawn until dusk, it's a great place to rifle through stalls filled with all sorts of antiques, clothes, tiles and books. Its location – close to the Monastery of São Vicente de Fora – makes it a great stop-off on your sightseeing list. Need a rest? Grab a refreshing white port and tonic in the square.
Campo de Santa Clara, 1100-472
Lisbon, Portugal: The best places to eat and drink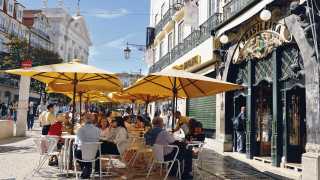 Bairro do Avillez
Hotshot Portuguese chef José Avillez is churning out more restaurants than you can possibly handle in one trip, but if you do want to try, many are conveniently located under one roof at Bairro Do Avillez. Taberna, with its stool seating and legs of ham dangling from the ceiling, is great for informal small plates at lunch (try the exploding olives that pop in your mouth).
R. Nova da Trindade 18, 1200-466. joseavillez.pt
Tapisco
For value for money plus a well-heeled crowd, try new restaurant Tapisco in the Principe Real district. There's an open-plan kitchen, counter seating and mammoth portions of Portuguese and Spanish dishes, like croquettes, pork with padron peppers and braised green peas with chorizo and slow-cooked egg. With a playlist of 1980s synth hits you may be reluctant to leave, but do stumble outside and hail a taxi for a nightcap at Procopio, a cosy, old-school bar with velvet armchairs and vintage lamps.
R. D. Pedro V 8, 1250-093. tapisco.pt
Le Consulat
Part of the joy of a trip to Lisbon is strolling along the bar-crammed streets of Bairro Alto, dipping into whichever place is blasting your preferred tunes. For something more sophisticated, try Nova, a new wine bar packed with floor-to-ceiling bottles from lesser-known Portuguese producers. Nearby, the bar at Le Consulat hotel (the former Brazilian Embassy) has creative cocktails including the Vilma Goes to Hollywood (sparkling rosé and gin, served with rose petals). It ain't cheap, but it is pretty.
Praça Luis de Camões 22, 1249-190. leconsulat.pt
Ramiro
If seafood is your game then a meal at Ramiro – the 'seafood temple' - is compulsory. Efficient waiters charge around the loud and lively Lisbon institution, dolling out platters of the day's catch, from salty percebes (the coastline's famous barnacles) to crab. Make sure you squeeze in a prego - a garlicky steak sandwich the locals eat instead of dessert.
Avenida Almirante Reis, 1 - H. cervejariaramiro.pt
Getting there
EasyJet flies from London Gatwick to Lisbon from £58 one-way. If you want to twin your city break with a visit to Portugal's popular south coast, it's around a two-and-a-half hour drive from Lisbon down to the Algarve, and you can fly back to London Gatwick from Faro airport from £80 one-way with BA.