There's all sorts of self-catering accommodation spread across UK. Luxury self-catered cottages? Got it. Cosy holiday cottages. That too. Cheaper-but-oh-so cheerful houses; buildings with space for big groups; and even a former pigsty: our country is home to it all.  
And thank god, too, because let's be honest: right now, it seems like we'll be enjoying our home ground for a little while. But with this lovely lot on offer, we're not too mad about it. 
If there's something we've learned over the past year, it's that – if the weather plays ball – the UK can be pretty darn beautiful. Anyone else got a new-found appreciation of the changing seasons? Or is that just us? 
Sure, summer, with its hot days and balmy-ish night, is usually considered king. But in autumn, you can don your plaid shirt, lace up your hiking boots and head out into the wilderness.
Forests, lakes, hilltops and rivers await – all you need is a suitably 'gram-worthy crashpad to call basecamp. Team a night at one of these beauties with a trip to a road-trip-worthy restaurant; venture to one of the UK's wineries; or hit up a bucket list of the UK's top natural spots.
No matter whether you're after an off-grid getaway or something a bit more luxe, we've got you covered. And psst... Some of these spots still have availability before the end of summer. GO GO GO!
Best self-catering accommodation in Scotland and the North
The Pigsty
Yorkshire
With the North Sea in front of you and the North York Moors behind you, there are worse places to rest your weary head than this eccentric, mock-Greek hiding place on the Yorkshire coast. Once an actual pigsty, it's since been painstakingly converted into a unique, back-to-basics retreat by the Landmark Trust.
Need to know: Four nights from £281; landmarktrust.org.uk. five-hour drive from London
Glen Dye
Aberdeenshire
Set in a 30,000-acre private estate in the middle of Aberdeenshire, Glen Dye is a jaw-dropping wilderness of forest and moorland right on the banks of the River Dye. It also happens to be home to two restored self-catered cottages and a vintage Airstream caravan for you to cosy up in – each of which comes with a different quirk (think wood-fired hot tubs and riverside cabins) and a Big Green Egg barbecue primed for balmy evenings.
Need to know: Three nights from £956; glendyecabinsandcottages.com. easyJet flies to Aberdeen from £72 return. easyjet.com
Bank Barn - Wreay
Watermillock, Lake District
Get back to basics at Bank Barn in Lake District. Except there's nothing basic about the mountain backdrop, views over Ullswater lake, and stylish Eastern-influenced interiors at this gorgeous holiday home. If you're feeling adventurous you can visit the lake, just half-a-mile away, or you can explore the surroundings fells. And, while the place is remote enough to satisfy lone wolves, it's also not far to the nearest tourist attractions, too.
Need to know: Sleeps eight. For seven nights from £1679; lakeland-cottage-company.co.uk. Around five-and-a-half-hour drive from London
The Little Barn
North Yorkshire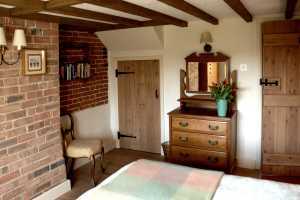 This cute converted cabin sits with a Dark Sky Reserve in North Yorkshire, so grab your boo and some hot chocolate and get ready to snuggle up and watch the show. On a clear night, you might be able to see more than 2,000 stars, plus the glittering Milky Way. But this cottage is as gorgeous on the inside as it is on the outside, with wood beams, white-washed walls and all the quaint British décor you could dream of. If you did fancy striking out from your idyllic base, the Yorkshire moors are only a hop, skip and a jump away. 
Sleeps two. From £95 pn. oneoffplaces.co.uk/the-little-barn
Shank Wood Cabin
Lake District
Sick of everyone else getting your way and being noisy? Us too, which is why you'll find us at this remote wood cabin in the Lake District this summer. Perched on a secluded riverbank in the forest, it's as blissful as can be – but for all its tranquility, it's still only a short drive from adventure, which you can find in the form of watersports and paintballing at Whinlater Forest Park in Keswick. Got a head for heights? There's a Go Ape around the corner, if you dare...
Sleeps four. From £230 pn, minimum two-night stay. oneoffplaces.co.uk/shank-wood-log-cabin
Best self-catering accommodation in Wales
Cynefin Retreats – summer availability
Wales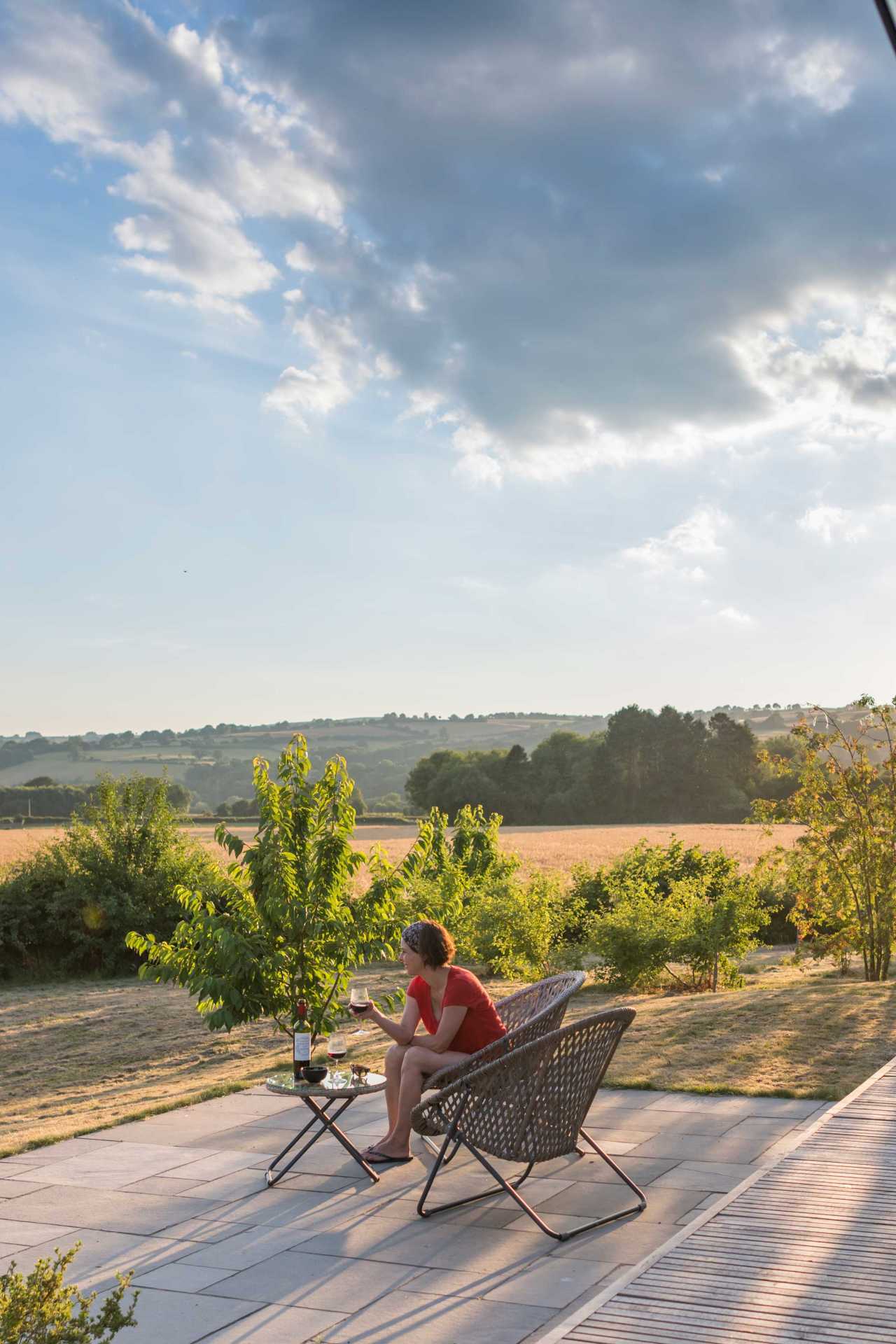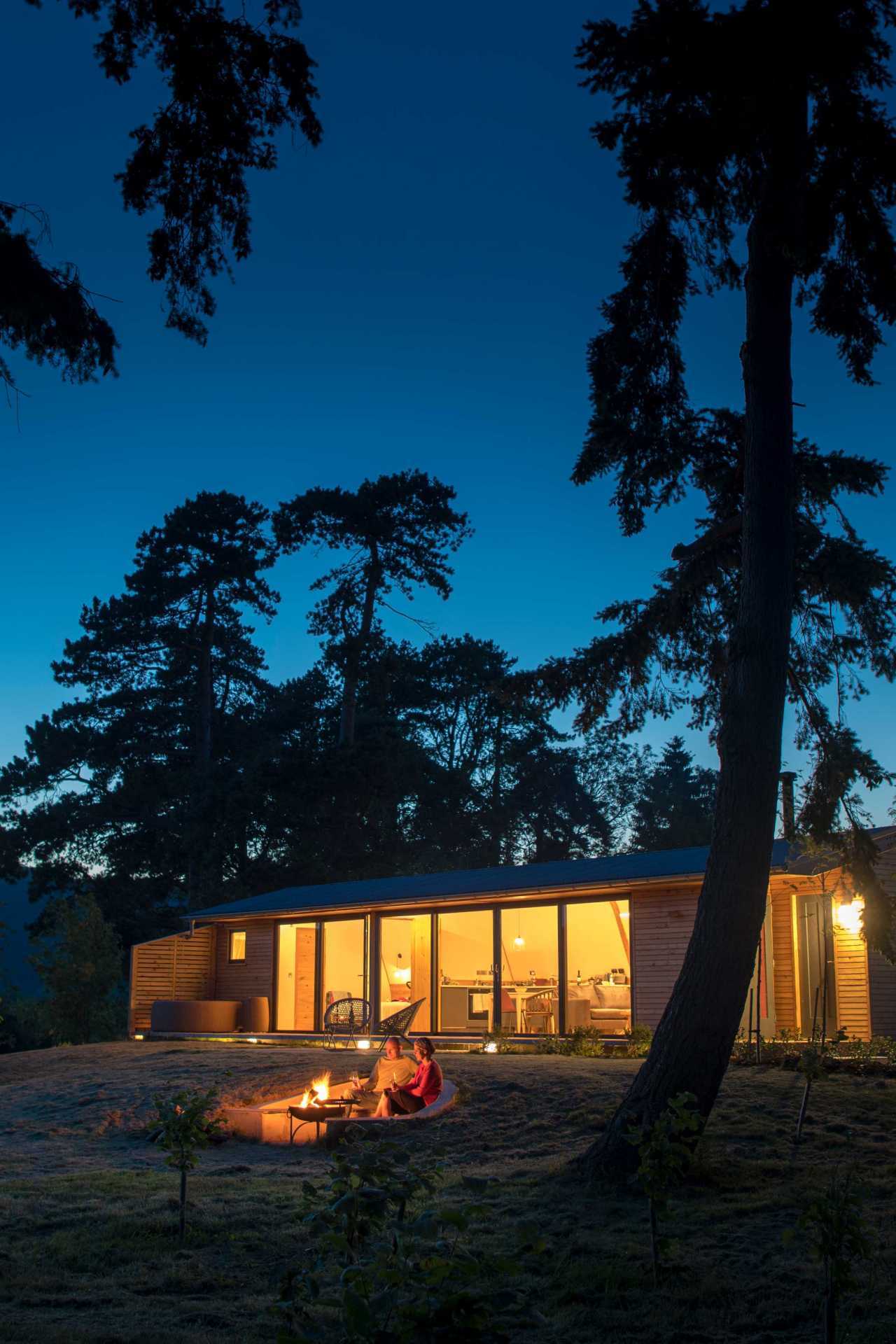 Located on the edge of the Brecon Beacons Dark Sky Reserve, these super-plush pods let you stay in the outdoors without the soggy sleeping bags and cramped tents. Each of Cynefin's four pods has a terrace, tub, fire-pit, wood-burner, kitchen and heartwarming views across the local hills. Right from the doorstep, you can walk in the Wye Valley, checking out the Offa's Dyke path and the lovely literary town of Hay-on-Wye.
Need to know: From £150pn; cynefinretreats.com. Four-hour drive from London
Best self-catering accommodation in the South and South East
St Michael's Place
Brighton and Hove, Sussex
There's a lot more to Brighton than fish'n'chips, piers and paddling. Sip coffee, eat at the street-food market and, for the proper Brighton experience, stay at this chic three-bedroom flat in the town centre. The best bit? A stunning patio courtyard, all to yourself.
Need to know: Sleeps six. For seven nights from £890; bestofbrighton.co.uk. Around a two-and-a-half-hour drive from London
Meadow Fescue – summer availability
Suffolk, United Kingdom
Camping holidays are hard work and we get it. But wait till you try Meadow Fescue, at Secret Meadows in Suffolk. On the inside, the tent – with electricity, natch – is supremely comfortable, and on the outside, it sits in a field that gives you access to a nature trail through wildflower meadows, yoga, guided walks, bushcraft workshops, meeting the farm animals including British White cattle and hens, including rare breeds – which you can hire during your stay for a supply of fresh eggs. Absolutely delightful.
Need to know: Sleeps six. From £173 pn for a safari tent; canopyandstars.co.uk. Around a two-and-a-hour drive from London
Tower Windmill Bunkhouse
Burnham Overy Staithe, Norfolk

National Trust- Kevin Jones
Pretend you're in a fairytale* when you stay at this cute-as-you-like windmill in north Norfolk. Sleeping up to 19, it's great for large groups, and the location is primed for bird watching, crabbing or enjoying the beaches along the east coast. *Prince Charming not included.
Need to know: Sleeps 19. No linens or pillows provided. Seven nights from £1352 (see price guide on website); nationaltrust.org.uk. Roughly a three-hour drive from London
Best self-catering in the South West
Mistery 2 barge – summer availability
Near Falmouth, Cornwall
Shepherd's huts? Been there, done that, got the shepherd's crook. Instead, opt for something a little bit different and book yourself in for a stay at this house barge, which was lovingly designed by shipwrights. This is far more stylish than your average boat: made with mostly recycled materials, it has an open-plan living space that's fitted out to top spec. You'll have direct river access for paddle boarding or kayaking; or if you vibe is more chill than thrills, there's a wood burning fire just calling out for a glass of wine and a good book. And to give you full sea vibes, the barge rises and falls gently with the tide – so you can let all your worries drift away...
Sleeps 4. 7 night from £900. classic.co.uk
Lobster Pot – summer availability
Porthcothan, Cornwall
This one-bed cabin sits a mile from the beach at Porthcothan on Cornwall's north coast. Blending rustic fishing cottage stylings with contemporary furnishings, it's probably the cutest thing since Bambi, and Bambi is old. Not sold yet? The gorgeous garden takes its cues from the legendary filmmaker Derek Jarman, using found objects from along the coast, too.
Need to know: Seven nights from £354; beachretreats.co.uk. Five-hour drive from London
Fingals Folly
Dartmouth, Devon
With its rainbow-hued exterior, this South Devon folly looks more like a child's drawing of a house than a chic hideaway, but don't let that fool you. Inside you'll find a wood-burning stove for snuggling up on chilly nights, a giant Buddha in the hallway, beach house-style interiors and seclusion for your romantic getaway. Nearby, there are tons of activities like biking, kayaking or sailing – for when you're not basking in the sun and gazing at the stream. This two-storey cottage has one bedroom, plus a daybed in the sitting room. Dogs are welcome at an additional charge of £5 per night.
Need to know: Three nights from £400; fingalsapart.co.uk. Four and a half hour drive from London
Stargazer Pod
Hartland, Devon
Loveland by name, love land by nature: there's probably not much more romantic than lying in bed gazing at the stars in your own geodome with panoramic windows over the spectacular countryside of the Hartland Peninsula. Perched on the border of Devon and Cornwall, it's home to six geodomes for you to choose from. Enjoy the distant sea views while sipping coffee, fill your lungs with properly fresh air, and later go for a surf, snorkel or dive in the clear waters or, for landlubbers, bike around the spectacular countryside. What's more, there's an indoor eco-swimming pool heated by a wood-chip fired biomass at the farm common for guests of all the pods.
Need to know: Geodome for six from £160 pn; canopyandstars.co.uk. Four-and-a-half-hour drive from London
The Lighthouse Keepers' Cottage
Lynton, Devon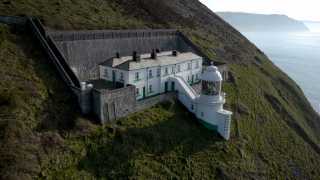 National Trust - Julian Gurney
This Lighthouse Keepers' Cottage on the Exmoor Heritage Coast has more drama and romance than you can shake a stick at. It's still an operating lighthouse (thankfully without soul-piercing foghorns) and its location means you're in the right place to hike along the South West Coast, or you can head inland towards Watersmeet for a nice cuppa in the the tea garden.
Need to know: Sleeps ten, six bedrooms. Three nights from £839; nationaltrust.org.uk. Four-hour drive from London
The Stumpy Hobbit – summer availability
Cornwall, Mill Valley
Lord of the Rings fans, rejoice! You don't have to slog all the way to New Zealand for a taste of that hobbit life – this hut in Mill Valley, Cornwall, will have you feeling like you're in Hobbiton faster than you can say "We're going on an adventure." The tiny hut houses a living ash tree, as well as a private outdoor covered dining area with wood-burning stove and pizza oven, a wood-fired bathtub and compost toilet. If you are indeed planning to go on an adventure, you can explore the wild Bodmin Moor in the east or head north to the coast for the wide Trebarwith Strand, or go on a quest to find the hidden coves at Port Quin and Tregardock.
Need to know: Sleeps two. From £95 pn; canopyandstars.co.uk. Around a five-hour drive from London
Tibbetts
Lundy, Bristol Channel, Devon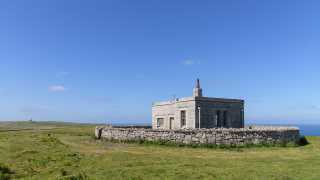 We know, we know: other humans can sometimes be kinda, well, annoying. To really get away from it all, head to the isle of Lundy and book into Tibbetts. Built on the second highest point on the island and about 1¾ miles from the village, the cottage is so remote you won't see another soul throughout your stay (unless you want to, obviously). For proper wild hideaway vibes, it doesn't even have electricity, although all basic amenities are provided. Tip: see if you can spot the 14 lighthouses in the surrounding areas.
Need to know: Sleeps four. Four nights from £482; landmarktrust.org.uk. Around a five-hour drive from London to Hartland Point from where you can take a Helicopter Service during the winter (beginning of November until the end of March) and during the summer (end of March until the end of October) you can take the Island's own supply ship and ferry, the MS Oldenburg departs several times a week from either Bideford or Ilfracombe.
Puckshipton Treehouse
Wiltshire, United Kingdom
Want serious brownie points with your kids? Take the family to Puckshipton Treehouse in Wiltshire. To get there, you'll need to walk or cycle from the station – cars are banned – and when you arrive you'll be greeted by a deck, complete with sleeping pod and lounge, suspended from an enormous tree, while at ground level, there's a shower, cooking hut and firepit. This is one for the brave, but it's definitely worth it.
Need to know: Sleeps two. From £80 pn; canopyandstars.co.uk. Two-hour drive from London
Parsons Camp – summer availability
Dorset, United Kingdom
Double-decker buses are good for transport and all but probably don't seem like a place to spend your weekend – but hear us out, because the double decker at Parsons Camp is a world away from your grim commute. On the top deck of the bus there's a kitchen cabin at one end, while the other end is open air for you to enjoy the sunset over the Dorset countryside. There are five single beds in the bus, a bunkhouse nearby with one double and two singles, and a shepherd's hut for two. You can also enjoy activities like fishing, archery, paint-balling or just simply walk around the 1,800 acres land at Stock Gaylard.
Need to know: Sleeps 11. From £118 pn; canopyandstars.co.uk. Around three-hour drive from London
Horton Court
Nr Chipping Sodbury, Gloucestershire
Sometimes the best way to enjoy a holiday is to get all your family and friends under one roof, preparing home-cooked meals and playing Monopoly. If that's your perfect idea for a getaway, then check out this beautiful manor in a small countryside village of Horton, less than 15 miles from the ancient Roman city of Bath. The building has an incredibly rich history stretching back to 1185 and was also used as a filming location for both Wolf Hall and Poldark, for proper period drama vibes.
Need to know: Sleeps 10. For three nights from £2199 (minimum stay three nights); nationaltrust.org.uk. Two-and-a-half-hour drive from London
Little Portion
Cubert, Holywell Bay, Cornwall, UK
Not so little in nature, Little Portion is an idyllic couples' coastal retreat. A short journey away the golden beaches of Holywell Bay and Porth Joke, the cottage is ideal for keen surfers, and at the end of the day you can kick back and relax in the hot tub under the star-studded sky.
Need to know: Sleeps two. For seven nights from £1050; uniquehomestays.com. Around a five-hour drive from London
Burrington Eco Lodge
Somerset

You'd be forgiven for the thinking the golden hues of Burrington Eco Lodge are somewhere more... Exotic. But no, this sleek, wood-panelled hideaway is actually located in the Mendip Hills in our very own Somerset. The spacious terrace is just crying out for barbecues and sundowners, and if things get a bit chilly once the sun sets, hop in the hot tub to keep on enjoying the great outdoors. Not to mention the Mendip Hills and the Cheddar Gorge are ideal for hiking, history and... locally made cheeses. 
Sleeps 4. From £707 per week, minimum three-night stay. oneoffplaces.co.uk/burrington-lodge