Being outdoors, dancing, and adventures are some of our favourite things to do in summer, so it's safe to say we jumped at the chance to go to Camp Wildfire in the woods in Sevenoaks, Kent. Part summer camp, part music festival, the whole thing sounded like a one-stop shop for our ideal weekend.
The festival scooped loads of awards for its fun, friendly vibe and unique offering, and this year's line up looked set to be better than ever, with everything from sets by Norman Jay to a crazy obstacle course created by Camp Wildfire's partner KEEN Footwear.
This summer, KEEN has been inspiring us with its Better Takes Action campaign, to encourage us to make our lives as amazing as possible – and spending the weekend on an adventure in a forest in Kent fit the bill perfectly. That's why, a few Fridays ago, we found ourselves piling into a car to Kent for three days at an adult adventure playground.
Friday
As soon as we arrived, we chose which group we wanted to join – Badgers, Hawks, Squirrels or Foxes – before pitching our tents and finding the rest of our team to get things going with bonding activities like games of duck duck goose and running through our teammates legs. We threw a few drinks into the mix and the whole thing was a very fun, slightly silly party.
Unsurprisingly, all that running around worked up an appetite, which meant it was time for food. Dinner choices included a woodfired pizza joint, a hog roast, a vegan wrap stall and a burger van, all dishing up food to make sure we're primed and ready for tomorrow's events.
Then – obviously – we went to the bar. Camp Wildfire operates a no single-use plastic policy, so most campers were buying tin Camp Wildfire mugs (£5) to use instead – we'd suggest bringing a carabiner with you so you can attach it to your bag or your belt, so you'll never be caught short. We particularly liked the roaming bar that heads to wherever gets busy – mostly because it served bloody marys in the morning.
Drinking inevitably led to dancing, so we found music in the form of London-based eight-piece brass band The Brass Funkeys before staggering to bed to recharge for the morning.
Camp Wildfire – a gallery:
Saturday
If you've managed to escape a hangover, activities start at 9. If you haven't managed to escape a hangover, activities also start at 9. If you fall into the latter category, do what we did and find that roving Bloody Mary bar, pronto.
We were up and about early to walk around the relatively small site to see everything you can get up to over the weekend: silent disco yoga (yes, that's a thing); arts and crafts; acro-yoga; orienteering; and drumming are just a few. Deeper in the woods, we found shelter building; a zombie run; floral-headdress-making; and spear throwing, and we heard that you might just stumble upon a few secret ones, too…
To make the most of all these activities (and the dancing), it pays to be quick on your feet – so KEEN's involvement makes perfect sense. The brand's Terradora shoes will see you outrun zombies and dance till dawn.
Tip: it's best to select your 'premium' activities when you book tickets, because they can fill up quickly – and a standard weekend ticket to the festival gives you a set number of premium activities. That said, there are still loads of walk-up activities to get involved with, from jumping into a huge airbag to climbing, screen printing and more.
In between all this activity is the two-hour lunch break, which gave us loads of time to grab some food, chill out and explore, before heading off for more activities and team games.
Come evening, we head to the main stage for music from Leeds band Talkboy, a banana-themed party led by Son of Kong and and brilliant set by garage legends DJ Luck & MC Neat, before getting ourselves to bed in preparation for arguably the most important day: finals.
Sunday
Things get off to a slower start thanks to the antics the night before, but it's safe to say that everyone has their game faces well and truly on. Over the course of the day, we found ourselves hurtling along a giant slip'n'slide and missing the target in archery, among other things.
KEEN's obstacle course – a gallery:
Early evening is when things start to get serious with the team-based cup final. The total points are tallied, and the scores give each team time bonuses. Badgers, Hawks, Squirrels and Foxes have made it through to the obstacle course, which was cleverly devised by KEEN Footwear.
Each team nominates eight people to do the course, and two head-to-head races happen at the same time to work out who'll be in the final. If you take part you can opt to be kitted out in KEEN's super-comfy Terradora shoes to make you're extra speedy and sure-footed around the course.
Climbing over a 4ft wall; leaping in between boxes; scrambling over and under wooden logs; manoeuvring across ropes; dashing across moving planks; crawling through tunnels; climbing over a cargo net; four teams hell-bent on victory, mud, sweat, tears and wounded pride. It's hard-fought, but Foxes and Squirrels make it through.
To decide the winner, each team has to work together to dismantle a catapult, and then run the KEEN obstacle course again while carrying said catapult, before reassembling it and using it to fire a water balloon at one of Camp Wildfire's leaders. It's close, but Squirrels cinch the victory, and mayhem commenced for the victory cup handover ceremony.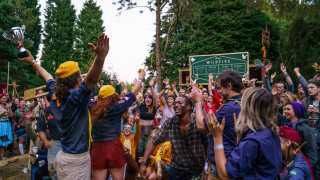 Celebrations continued all the way through to a stonker of a headline act from DJ extraordinaire Norman Jay, but we sadly had to head back to London to be ready for work the next morning – albeit with sore heads and aching muscles, and looking forward to another madcap adventure at next year's Camp Wildfire...
Better Takes Action doesn't have to be about making your own life better, it can be about inspiring people to put passion and energy into the areas of life that matter. This can be about cultivating the life of those around you, or helping the world at large. It can be through protecting the environment, living sustainably, or just raising money for causes close to your heart. As long as it makes the world a little bit of a better place, it counts towards KEEN's awesome initiative. Want to take action in your own life? Check out our Better Takes Action series below.
Want more adventure inspiration?
Take Action For A Better Summer | Here's Why Camp Wildfire Should Be On Your List
Take Action For A Better Life | A 72-hour micro-adventure in Morocco with KEEN Footwear