Mountain Hardwear Super/DS Climb Hoody: gear review
Mountain Hardwear's new Super/DS Climb Hoody is great for cold days out hiking and climbing, here's how the multifunctional jacket tested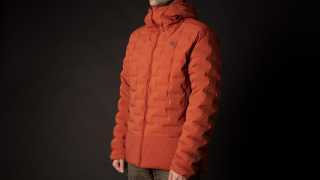 Mountain Hardwear Super/DS Climb Hoody: What is it?
A stretchy down jacket made for chilly afternoons out walking or climbing, and one that looks and feels great at that. A kind of jacket-of-all-trades for adventures in chilly climates (although not full-on sub-zero ones), it's designed to fit comfortably underneath a climbing harness, and the hood is roomy enough to fit a helmet, too.
Mountain Hardwear Super/DS Climb Hoody: Why do I need it?
The DS in Super/DS stands for Dynamic Stretch, which is the bespoke fabric this jacket is made out of. Put simply, it's made of a single, flexible piece of material that means there are no stitches or glues that constrict your freedom of movement, making it perfect for warming up when outdoor bouldering or great when you're stood on belay for hours in the cold. It's that single piece of fabric that gives the jacket its particularly distinctive offset baffles, too. As well as making the jacket look great (or at least we think so), Dynamic Stretch means there are fewer cold spots than your regular down jacket, nowhere for wind to creep through and better breathability overall. It has a water-resistant finish to protect you from drizzle, too.
Mountain Hardwear Super/DS Climb Hoody: Should I buy it?
For someone whose adventures are mainly UK based, this is a good buy: the midweight down fill is ample for the chilliest of winter days here – especially if you're using it for high-output activities. The stretch and flexibility, meanwhile, is instantly noticeable (and very much welcomed) compared to a lot of other down jackets on the market. The only hang-up is a lack of internal pockets and an adjustment toggle to tighten up the relatively capacious hood. In short, you'll find better jackets out there for more alpine pursuits, as well as out-and-out active jackets, but for a belay or hiking jacket that don't make you feel like a mug in the pub, this is your guy.
The Mountain Hardwear Super/DS Climb Hoody is available from £270. mountainhardwear.eu