What's the score?
Is Jackson Hole the most zeitgeisty of American ski towns? It certainly has a lot of features to recommend it for the superlative. The Wyoming resort offers the haute sophistication of Colorado big-hitters Aspen and Vail alongside the intimate, Old West atmospherics of Crested Butte, with buckets of champagne powder dumped in for good measure.
Whether you're looking to lavish yourself après-ski with multi-course fine dining or cut loose with cowboys in a honky tonk saloon, there's a little something for everyone – and a lot of character to boot. Perhaps that's what makes it such a popular destination with big names. Walk its snowy streets and there's a good chance that you'll tread past outdoor royalty such as climber and filmmaker Jimmy Chin or snowboarding G.O.A.T. Travis Rice. It's been a hot commodity for donkey's years amongst Hollywood stars such as Harrison Ford and Sandra Bullock, and has even accrued a few contentious personalities over the years (Dick Cheney and Kanye West – the latter has now, thankfully, moved on). A heady mix of people are drawn to its bright cowboy lights at the foot of the Grand Tetons, from ranchers to tech mavens and everyone between. If you want to get in amongst it, here's the best way to experience this underrated corner of Wyoming's Rocky Mountains.
Where to stay
Hotel Jackson
When hitting the pistes at Jackson Hole, one must decide whether they want to be slopeside in Teton Village or drink in the Wild West vibes of the town of Jackson. If you're staying in the latter, we can't recommend Hotel Jackson enough. Located bang in the centre of the town – a stone's throw away from the infamous, Instagram-frequented elk antler archways of the Town Square – it offers the perfect platform to salve any aches and pains gleaned on the mountain and fill the cup with some of the best cocktails around.
Its 55 rooms all exude western sophistication, like an upmarket John Ford movie set, complete with worn wood wall panelling, bison rugs and a chocolate, taupe and mocha colour scheme that coalesces with the local landscape. Warming up post-slope in front of a private fireplace feels like wanton luxury, as does slipping between the three sheets of a king-sized bed and washing off the afternoon underneath a rainshower.
For sustenance, the hotel restaurant FIGS offers an eclectic Lebanese and Middle Eastern menu – a breath of fresh air after the superabundance of hearty Rocky Mountainfare that underpins the town's dining scene. However, the cocktail list is potentially even more alluring. Knocking back a Za'atar Boulevardier made with smoked oregano syrup was a highlight of the stay.
Rooms from £485 per night. 120 Glenwood Street, Jackson, WY 83001; hoteljackson.com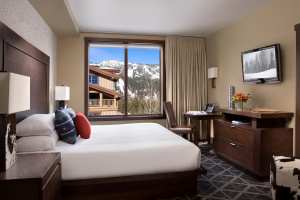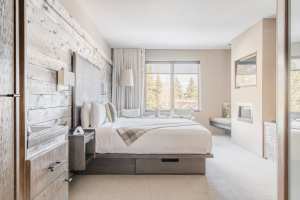 Hotel Terra
If you'd rather get first tracks on the corduroy of the piste or cut lines down recently fallen powder in the ungroomed sections, you can't beat Teton Village. The ideal place to stay here is undoubtedly the trendy Hotel Terra, which is in pole position for ski-in/ski-out convenience. As easy on the environment as it is on the eye, the LEED Silver-certified hotel was opened in 2008 and has prioritised sustainability every step of the way with organic amenities running the gamut from sheets and towels to mattresses, not to mention an in-room recycling programme.
Guests can soothe any aches and pains in the Chill Spa, which offers a rooftop hot tub and infinity swimming pool with aerie-like vistas of the Tetons. There's also a cutting-edge fitness centre if you feel you haven't burnt enough calories on the mountain. And, while we're on the subject, for those that prefer to fuel up with classy carbs, the hotel's restaurant Il Villagio Osteria offers some of the best Italian fare in town, drawing from all corners of the country for menu inspiration.
Rooms from £342 per night. 3335 Village Drive, Teton Village, WY 83025; hotelterrajacksonhole.com
What to do
Resort skiing
There's no beating around the bush, Jackson Hole is geared towards those who prefer to push the limits. You might have heard of Corbet's Couloir, one of the most infamous inbound runs of any resort, which requires a drop-in that can descend to 15 feet when the snow is low in the chute. After taking a gander down the precipice I swiftly retreated with my tail between my legs, and watched someone careen hundreds of feet down the mountain after botching their landing.
However, there's still a little something for everyone, with 133 named trails, 2,500 acres of slopes and 4,139 feet of vertical rise from base to peak. The accepted knowledge is that about half of the mountain caters to learners and intermediates.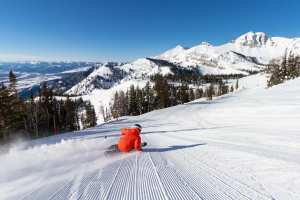 Backcountry skiing
If you hop the carmine red Tram to the peak of Rendezvous mountain and beyond Corbet's Cabin and follow the perimeter fence of the resort, you'll spy a couple of gates which open up like a wardrobe into a veritable Narnia of off-piste terrain.
Coming in at over 3,000 acres, it's peppered with glorious groves of blue spruce and ponderosa pine as well as sweeping, sublime bowls filled to the brim with ice cold cowboy powder. You'll want to strap on a transceiver, pack your backpack with a shovel and probe and brush up on your avi training before heading out of bounds, but those that dare will be rewarded with some of the best 'slackcountry' skiing – backcountry withinwalking distance of a resort – in the United States.
Where to drink
Million Dollar Cowboy Bar
Here's a fun fact. Google 'most famous cowboy bar in the world' and Jackson's Million Dollar Cowboy Bar will be the first entry on your screen. Opened in the wake of the Great Depression in 1937, the venue is deeply woven into the DNA of Wyoming and has played host to everyone from presidents to cowpokes. It's hard to miss when walking through Jackson, as it boasts one of the most generous displays of neon lighting you're likely to come across in the county, including one of the eponymous farmhand holding on for dear life on a ten-foot-tall bucking bronco. As you do.
Inside, the venue is replete with everything Old West, including cowboy murals, artwork and animal mounts. To grab a drink at the bar, you'll literally have to saddle up as the stools have been repurposed from packsaddles. At the far end of the room there's a stage that's played host to country royalty from Glen Campbell and Hank Williams Jr to Waylon Jennings and Willie Nelson. Yes, it is touristy. But it's a tourist trap elevated to art form.
25 N Cache Street, Jackson, WY 83001; milliondollarcowboybar.com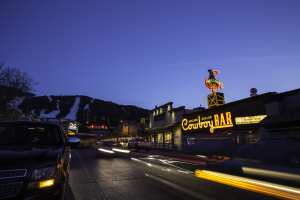 Mangy Moose Steakhouse and Saloon
There's nothing quite like a celebratory pint or ten when you're fresh off the mountain, and the Mangy Moose Steakhouse and Saloon is surely the best place in Teton Village to engage in a serious drinking bout.
Opened in 1967, it's packed to the rafters with American flags, mounted animal trophies and assorted stars and stripes tchotchkes. They serve the hearty fare that you'd expect at a Rocky Mountain ski resort – think cast iron mac gratin, elk stroganoff and wild game meatloaf – alongside a fantastic array of craft beer from local breweries Snake River, Grand Teton and Melvin. When I visited, a live band was banging out Grateful Dead covers and the atmosphere was as effervescent as the drinks. I had to crowbar myself out of there.
3295 Village Drive, Teton Village, WY 83025; mangymoose.com
Where to eat
The Kitchen
Just across the street from the Jackson Hotel, The Kitchen offers elegant, contemporary bistro fare paying homage to small-town Wyoming; yet it has the chops to trade blows with big city gastronomy. When entering through a handsome deck overhung with an iron gantry trellis, the room's modernist design incorporates an open-planned kitchen and imbues the copper-coloured room with a sense of energy. Kick things off with mouth-tingling selections from the raw bar such as hamachi crudo with smoked ghost chilli salt, yuzu-avocado mousse and dashi before enjoying meaty Asian-inflected mains including short rib ramen with gochujang-infused shoryu broth.
155 Glenwood St, Jackson, WY 83001; thekitchenjacksonhole.com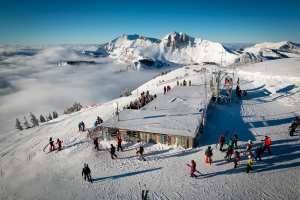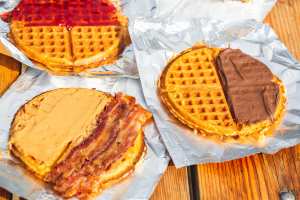 Corbet's Cabin Top of the World Waffles
Ride the tram to the top of Rendezvous Mountain and you'll find an old ski patrol shelter that's been repurposed to offer toothsome treats to skiers and snowboarders who are keen on filling their tanks at the lofty altitude of 10,450 feet. Corbet's Cabin Top of the World Waffles trades in, you guessed it, waffles – possibly the ultimate snack before heading through the gates and off the piste. A waffle sandwich with Nutella, peanut butter and bacon may sound like an Elvis killer, but provides the perfect dose of fat and protein to keep the motor running while dropping big bowls in the backcountry.
Rendezvous Peak, Teton Village, WY 83025; jacksonhole.com/waffles