Tactical retreats
Health retreats with an added sense of adventure
Sparta, Greece
If ever there was a body culture it was Sparta. But, Gerard Butler aside, Sparta has become one of the world's top health destinations of late, largely put on the map due to holistic health spa Euphoria. Located at the foot of Mount Taygetus, Euphoria offers a wellness philosophy aiming to provide physical and spiritual transformation, and has only grown in popularity since its opening. There are a variety of activities on offer, ranging from yoga, pilates and detox therapies to hiking, cycling and trail running, for those who want to further explore the historic setting.
The feeling: While you've been put through your paces you still manage to find it in yourself for one last jog up to Mystras.
High Atlas Mountains, Morocco
There are perhaps no two practices that complement each other as well as rock climbing and yoga. Both rely on a heady cocktail of strength and flexibility and have a proven track record of bettering both mental and physical health. Supercharge your sense of adventure by taking your practice to Morocco – the Todra Gorge in the High Atlas to be specific – a veritable climber's paradise of limestone cliffs. Much Better Adventures runs a retreat with sunrise and sunset yoga amongst vast sand dunes before tackling a variety of climbing, ranging from Morocco's only via ferrata to ascending challenging routes up striking red rock canyons. Participants will also have the opportunity to engage in some life-affirming cultural activities, such as visiting UNESCO World Heritage Site of Aït Benhaddou as well as Ouarzazate or enjoying mint tea in a traditional Berber tent.
The feeling: Mint tea always tastes better in Morocco, but especially when it's poured from height in a cooling cascade in a bedouin tent in the middle of the Sahara.
Gili Lankanfushi, Maldives
Riding the waves is an incredible means of clearing your head and connecting with nature. And Gili Lankanfushi – a resort on the leading edge of 'barefoot sustainable luxury' in the Maldives – has planned for both the thrills and the spills of catching a breaker. Guests of all abilities can choose from manageable waves on white-sand and larger, more difficult rollers a short boat ride away, and retreat to the spa after an overdose of sea, salt and sun for a Surf Remedial massage: firm or deep pressure combined with stretching through muscle tissues with therapeutic balm will relieve and loosen tension in the neck, shoulder, lower back, and arms. Yoga techniques and breathwork are woven in to tune the mind and posture to catch the perfect ride.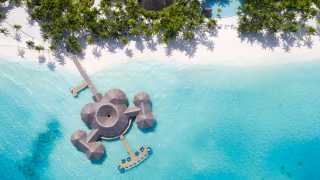 The feeling: The waves have punished your muscles, but things are looking up: an aloe vera massage beckons to ease the pain.
Glenapp Castle, Scotland
Amplify your wellness journey with a weekend at the uber-luxurious Glenapp Castle, nestled in Ayrshire, a Caledonian diamond in the rough. Situated with 110 acres of private estate, it's replete with gardens and woodland, and an enviable vista of the volcanic outcropping of Ailsa Craig. The property also offers 65 indoor and outdoor activities that include axe throwing, canoeing, coasteering, kayaking, yoga, forest bathing and a digital detox day.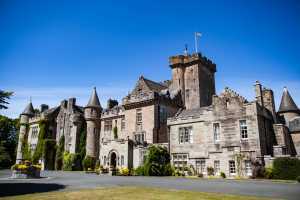 The feeling: Practising perfect sun salutations, the air scented with woodsmoke.
Catalonia, Spain
Catalonia has become a modern-day cycling mecca for its enormous Pyrenean foothills, serene sunny weather and smooth tarmac. Yoga is the ideal complement, helping to relieve tightness and improve strength to improve performance and safeguard against future injuries. A week-long cycling and yoga holiday entails one-on-one coaching, morning yoga and breathing sessions, bike rides, massages, muscle flexibility and coordination and meditation sessions. Breathwork is important for both pursuits, and you'll be able to get yours dialled in while cruising through jaw-dropping countryside, visiting medieval villages such as Banyoles, Besalú and Alt Empordà.
The feeling: Wheeling up to a pristine aquifer-fed basin and plunging in for a refreshing jolt ahead of the return journey.
Best spa none
We check out spas that turn it up a level
Adler Thermae Spa Resort, Tuscany
If you want to learn how to live the high life like an ancient Roman, borrow a page from the Etruscans, who were luxuriating in hot spring baths centuries before Romulus and Remus suckled on a mangy wolf. Nestled in Val d'Orcia, a panoramic valley spread below the glowering caldera of an extinct volcano, Adler Thermae Spa Resort is only minutes away from Bagno Vignoni, which has been known for its warm, health-giving waters since the time of the Etruscans. The resort has all of the fixings that it needs to compete with the biggest names in health retreats, including thermal pools, saunas, yoga studios and fitness centres.
The feeling: Channelling Dionysus during a Brunello di Montalcino bath (yes, really).
Lily of the Valley, San Tropez
Lily of the Valley was designed to channel the Hanging Gardens of Babylon, and provides a grand stage in which to pursue your health goals. Situated outside of St Tropez in the Provençal foothills, it offers a variety of expertly curated programmes to help guests shed a few pounds and improve physical performance. Outdoor fitness sessions include aqua boxing, sea wading, Nordic walking, mountain biking and many other land and sea activities, and you'll be able to luxuriate over elegant Mediterranean meals while drinking in panoramic sea views.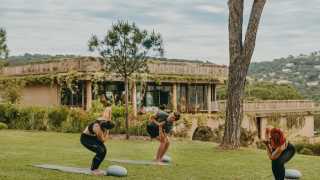 The feeling: Watching the sunset on a private beach and letting your muscles unwind after an active, energising afternoon.
Nihi Sumba, Indonesia
At this eco resort, nestled in a mind-bendingly beautiful corner of the wild, undeveloped Indonesian island of Sumba, guests rise at the break of dawn for a 90-mile hike through verdant rice paddies, dense jungle and a traditional Sumbanese village to arrive at a jaw-dropping spa perched upon a cliffside. After breakfasting in a dining area cantilevered over a white sand beach where monitor lizards laze between the rocks, you'll be brought to your private bale where the treatments begin. Take heed of the head massage for an out-of-body experience.
The feeling: Towelling yourself down after a dip in the plunge pool, with a steaming mug of sumptuous Sumbanese coffee.
The Beer Spa, Iceland
Head to the small village of Árskógssandur, where The Beer Spa offers you the opportunity to drown your sorrows while refreshing your skin in handsome vat-like tubs crafted from Kambala wood. After a soak, you'll be led into the relaxation room where you'll be swaddled in a blanket. The idea is that you leave the yeast on for a few hours which – being a great source of Vitamin B, protein, potassium, iron, zinc and magnesium – has a salubrious effect on your skin. Perhaps most importantly, there are draughts on the side of each tub where you can sample Kaldi beer from nearby Bruggsmiðjan brewery, so rest assured that you'll get a shine one way or another.
The feeling: Your epidermis is rather smooth – and you're a little… tipsy.
Finn Lough, Northern Ireland
If you feel like you could use a break from the metaverse, make haste to the sylvan sanctuary that is Finn Lough, where the hotel has put together a package to assist guests in cleansing themselves of digital bad behaviour. Guests will find themselves ensconced in giant back-to-nature domes on the banks of Lough Erne, surrounded by hibernian forest. There's no Wi-Fi or TV on the premises, giving ample time to make use of the property's Elements Spa, which offers bespoke spaces and treatments. Follow the forest spa trail to reach a Finnish sauna and float room and if you need to lower your body temp take the plunge into the lake.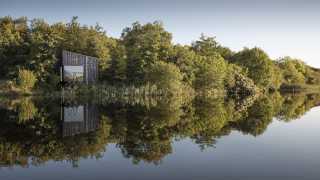 The feeling: After a weekend without your phone, childhood memories begin to return.
Keep it fresh
The best hiking and hill running trips this summer
Dolomites, Italy
Its jagged limestone spires may have made it a sought-after destination for donkey's years but somehow the crisp, rarefied air of the Italian Dolomites has never been anything but fresh – attracting new visitors and devotees on a yearly basis. Skiers flock to the peaks and valleys of this magical Alpine landscape in the winter, however in late spring, summer and autumn, sports like via ferrata, downhill mountain biking, trail running, big wall climbing and paragliding have become ascendant. It's also the perfect place to nurse any aches and pains, with industry-leading spas and yoga retreats providing the pampering you need to keep your body firing on all cylinders.
The feeling: You scramble among white limestone sarsens to reach a steep mountain col, rolling fields stretching to the horizon.
Azores, Portugal
Adventure shares space with oxygen in the Azorean air. The nine-island archipelago is an autonomous region of Portugal 930 miles to the west of Lisbon. Unesco has designated three of the volcanic islands as biosphere reserves: replete with crater lakes, enormous hydrangeas, cave systems, lava tubes, waterfalls and rainforest, it's been a haven for intrepid explorers from Norse Vikings to Mark Twain. However, it's never rife with tourists. There are over 500 miles of waymarked trails on the island chain, and a good probability that you'll have them to yourself. For anyone looking to reap the benefits of nature, The Azores is a shoo-in.
The feeling: Returning from a narrow ridge walk to a secluded bay, where the dorsal fins of bottlenose dolphins part the waves.
Lofoten Islands, Norway
Located 800 miles north of Oslo and almost 100 miles north of the Arctic Circle, this is very much the land of the midnight sun. For those looking to hike the archipelago's mountains, stride its beaches, kayak its carious coastline or try your hand at arctic swimming, you'll want to visit between June and September. 24 hours of daylight means the days will be high-resolution clear and the nights illuminated with seemingly endless golden hour sunsets – all the better to experience the majestic backdrop that the islands provide. The 100-mile range of crags and peaks is bathed in vividly turquoise water, with beautiful fishing villages dotted throughout and a glut of marine wildlife.
The feeling: Watching an interplay of cloud, sea and rock reflected on an enclosed bay.
Julian Alps, Slovenia
60 percent of Slovenia is covered in forest, and with new studies demonstrating that time spent amongst the trees benefits mental health, improves creativity, boosts wellbeing and makes us sleep better, now is a better time than eveto book a flight. There's a huge amount of terrain to visit in such a small country, which compensates for its diminutive size with towering mountains. Of the ranges, the Julian Alps, which border the Friuli-Venezia region of Italy, are perhaps the most renowned and are also a Unesco World Heritage biosphere. Wildlife also flourishes here, including European lynx, wolves and brown bear.
The feeling: Pushing past altitude headaches while straining to summit the 2,863m Mt Triglav; the tallest mountain in Slovenia.
Trans Bhutan Trail, Bhutan
Bhutan famously banned all visitors well into the 20th century and remains one of the great frontiers in East Asia. This year sees The Trans Bhutan Trail – a 250 mile pilgrimage route that traverses the country from Haa in the West to Trashigang in the east – reopening for the first time in 60 years. For those who want to take in some of the most scintillating scenery, start at Dochula Pass at 10,170 feet above sea level and pass through remote villages, temples, fortresses, nunneries, monasteries and even a brewery to finish at the Trongsa viewpoint. Along the way you'll have the opportunity to meet a fascinating array of Bhutanese, sharing tables and enjoying traditional food.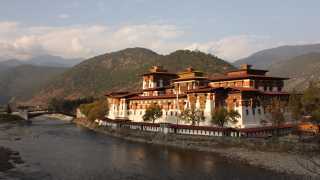 The feeling: Stretching the legs after a long day as you settle in a farmhouse to eat.