For the curious
Destinations with food scenes to tantalise your taste buds
The Lake District, England
Once synonymous with culinary creations like Kendal mint cake and Grasmere gingerbread, The Lake District boasts a constellation of Michelin stars. In fact, Cumbria now has more Michelin stars than any other county in the United Kingdom. What's on offer is, simply put, one of the most delicious, eclectic collections of restaurants in the country, including Old Stamp House, Allium at Askham Hall, HRiSHi, Rogan & Co, Forest Side and Cottage in the Wood, which does an incredible reimagining of Herdwick hogget.
The feeling: The cheeseboard did mortal damage. Oh – petit fours? It'd be rude not to.
The Basque Country, Spain
For anyone who likes a little gastronomy mixed in with their adventures, you could do worse than a summer excursion that starts in Bilbao and takes in the surrounding region. A trip to these parts showcases the famously tumultuous Atlantic coast of Spain's Basque region, home to some of the world's most infamous foodie destinations, such as the iconic city of San Sebastián, with its innumerable casual pintxos bars serving delicious Basque bites alongside txakoli wine and cider. A trip to Bilbao or San Sebastián is a short drive away from a number of restaurants that have occupied pride of place on the World's 50 Best Restaurants list, including Mugaritz in San Sebastián and Asador Etxebarri in Bizkaia.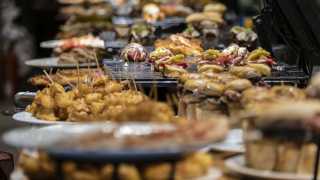 The feeling: Sitting at a multi-Michelin-starred Basque restaurant and waiting for the first course of a long tasting menu.
Lima, Peru
Ayahuasca notwithstanding, the gastronomy in Peru flirts with the hallucinatory when it comes to diversity and quality. Where else boasts as many vegetables that do not exist in any other country? Maca, lúcuma, aguaymanto, chirimoya, pacay and tumba. You probably haven't heard of them, but they all play a part in the local diet. Peru gave us the potato, and it also gave us some of the most stupidly delicious culinary splicings of the past century. Throw in traditional dishes like anticuchos, causa, papas a la huancaina and lomo saltado and you have one of the most colourful, well-balanced and nuanced food scenes on the planet.
The feeling: As you nibble on salty cancha corn, a surfer rides a perfect Pacific tube.
Copenhagen, Denmark
A trip to the Danish capital is on the bucket list for anyone who's serious about high-end gastronomy, from the biggest-name restaurant in the Nordics, Noma – which arguably kick-started the New Nordic food movement – to the three-story temple to story-led dining Alchemist, many of them located in some truly spectacular post-industrial environs. But there's plenty to discover at a more wallet-friendly price point, like croissants and bread at the iconic Hart Bageri, world-leading craft beer at one of Mikkeller's breweries, and street food markets to rival any city in the world, too. Put simply, if you go to Copenhagen with a couple of months' worth of savings and an open mind, you can't go wrong.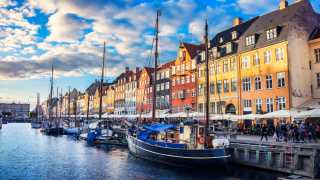 The feeling: The rejuvenation given by a freshen-up before dinner, walking through City Hall Square as the sun sets.
Tokyo, Kyoto and Osaka, Japan
Japan is a once-in-a-lifetime destination, so if you're going to do it, do it right – which for us entails eating all of the food. Two weeks will give you ample time to feed your belly and soul in one of the world's most unique countries. Taking in the three culinary capitals of Tokyo, Kyoto and Osaka, you'll experience everything from formal kaiseki cuisine to eat-on-the-fly experiences in ramen and sushi stalls, not to mention all of the other Japanese delicacies, gleaned from izakayas and restaurants: yakitori, teppanyaki, okonomiyaki, udon, tempura, sashimi, gyoza and more. It's also an amazing place to learn, whether it's hand-pulling soba noodles in Matsumoto or discovering the spiritual side of cooking in a Buddhist temple on Mount Koya.
The feeling: The ramen shop windows resemble a sauna from the outside, and your stomach rumbles with anticipation.
Take it to the street
Great destinations for snacking and street food
Naples, Italy
One of the first things you might notice when arriving in Naples is that, well, they're perhaps a bit less slender than the Romans or Milanese. But how can Neapolitans not be, when you can eat like a king off the streets for under a tenner? Naples, let me count the ways that we love thee: pizza napoletana, pizza fritti, pizza montanara, pizza a portafoglio, panuozzo, panzarotti, pezzelle, cuoppo, cuzzetiello, ragu, sfogliatelle, baba al rhum. All can be enjoyed at a mere pittance for the highest-quality nosh. But Naples is not just that and it's not the sum of its parts either. It's a real, functioning, non-confectionery city with the attendant attitude. It's a place that invites you to eat with your hands, to mix it up, to get a little dirty. Naples is one-of-a-kind. And its street food game is Rocky Balboa strong.
The feeling: Devouring a cuzzatiello – stuffed bread – ragu dripping off your chin, as you ascend to the top of Castel Sant'Elmo.
Istanbul, Turkey
Istanbul is a megalopolis. With roughly twice the population of London and three times its geographical size, it takes at least a week to properly explore the city, and you still won't know it well. One of the original melting pots, its street food borrows inspiration from the Greeks, Armenians, Kurds and the palace cuisine of the Ottoman Empire, resulting in some of the most fascinating cuisine on the Mediterranean. Bread is prince on the Istanbul streets. You'll find it in various guises: pillowy dürüm wraps; balık-ekmek – a Turkish take on a fish sando; lahmaçun, of course – a pizza like flatbread topped with glistening melange of minced lamb and red pepper; cheesy börek for breakfast; and, for the enterprising eater – kokoreç – spiced and skewered sheep's intestines on a fatted baguette.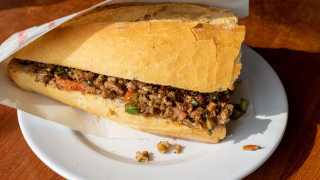 The feeling: Walking the jetty to the old ferry as you disembark from Sultanahmet to Kadıköy, to dine at Çiya Sofrası.
Beirut, Lebanon
It's undoubtedly fallen on hard times recently, but Beirut has, hands-down, some of the best street food on the planet and an incredible street culture to match. All of the classics of Lebanese cuisine are on display here – hummus, tabbouleh, shawarma, kibbeh, baba ganoush – except, they've never really tasted like this. Ineffably fresh, so alive with flavour – it's a city that rewards you for getting a little jostled. Line up at Falafel M Sahyoun and you'll experience just that. But you'll also get the most immaculate morsels of joy you could shake a wooden fork at. So, for those willing to experience something real, Beirut will repay you in kind.
The feeling: The surprise that you don't feel like taking a nap after putting away enough food to feed you for the rest of the month.
Mexico City, Mexico
Mexico City's food scene is so prolific that it's surprising to find a street corner without at least one stall dealing mind-bending delicacies. Tacos, tamales and quesadillas are ubiquitous and don't require much if any forward planning, but if you want to dive some of the more niche items, strike out for the markets, which offer vividly authentic food with flavours ranging from the demure (barbacoa antojitos, esquites, tlacoyos) to the creepy-crawly (fried crickets, scorpions and spiders). And let's talk about that taco game. The sheer number of varieties would overwhelm, were they not so delicious: al pastor, suadero, canasta, the list goes on.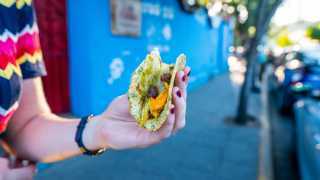 The feeling: A permanent patina of grease on your fingers and chin from the endless tacos you've consumed over the past week.
Manchester, England
Manchester is known for many things, but it's only in the last few years that it's become a genuine hotspot for food, with a handful of great fine-dining restaurants alongside the real prize: a wealth of brilliant street food markets up and down the city centre and a few of the suburbs. The excellent Mackie Mayor is the pick of the lot – a beautiful old market renovated to reveal its former glory, with traders selling Neapolitan pizza, tacos, fluffy bao buns and more, while the Escape to Freight Island market is also a cracking destination that makes use of a similarly industrial locale. The best city outside London for street food, in our opinion.
The feeling: Your last beer in Mackie Mayor after two or three different bites, with a big night out in the offing.
Drink it in
Inspirational trips for those who love to drink in the atmosphere - and the local tipples
Porto, Portugal
Porto and its chief export – the eponymous fortified wine we know as port – have been so popular in the past that wars were fought over it. It's easily one of Portugal's most beautiful destinations, and aficionados passionate for the tipple will be well rewarded by visiting the many ancient Port houses that dot the city. A trip east into the Douro Valley is a must, too: bone-dry during the summer and numbingly cold during the winter, it's been farmed for millennia with vertigo-steep vineyards terraced into its valley walls. From these come an incredible array of delicious, largely inexpensive Portuguese grape varieties, and the local cuisine pays them the highest compliment.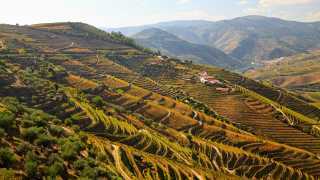 The feeling: Heading to The Yeatman after a wine-soaked afternoon for one of the best Franceschina sandwiches in the city.
Kerala, India
Kerala, on the southern tip of the Indian peninsula, is a veritable paradise for those who prefer not to drink alcohol. Not only is it difficult to find it, but it's one of the world's great Ayurvedic capitals, meaning that they've been putting great thought into what cleanses your body and soul for many thousands of years. The result? Destination non-alcoholic drinking at its finest. Beat a path to the painfully beautiful tea plantations around hill station Munnar for a technicolour experience of field-to-cup brewing. Hop on a houseboat and float downstream in the Keralan backwaters imbibing milk from a freshly decapitated coconut. And don't forget to neck a lassi or two along the way – sweet, salty, mango, banana – there are endless varieties.
The feeling: Lounging on a river boat in the balmy air to the gentle drone of cicadas.
Highlands, Scotland
True whisky connoisseurs will inform you that the purest expression of the spirit comes from adding a few drops to a dram, taken from the burn (stream) that feeds its distillery. While this is gratingly annoying to hear at a cocktail party, it's another thing entirely when you're at a stone-built distillery on the banks of the River Spey. For many, a trip to the Scottish Highlands or Islands is a necessary pilgrimage, and an inclusion on many a bucket list. The people and the landscape of Scotland have worked in tandem over centuries to create one of the most noble tipples there is to drink.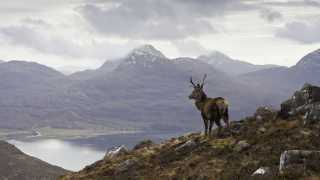 The feeling: Braving the famous Scottish mist on a cold October evening and taking refuge next to a woodfire with a hearty dram.
Piedmont, Italy
Piedmont is perhaps the most unsung of the great European wine regions, overshadowed by Bordeaux, Tuscany and Burgundy. Like the latter, it's a bit erudite in its approach, less market-oriented, more intellectual. The name Piemonte derives from Latin as 'foot of the mountains' and its chief grape nebbiolo from the Italian word 'nebbia' for fog. The nebbiolo grown in Piemonte is a near perfect distillation of the region's terroir. Hemmed in by the Ligurian Alps to the South and the Swiss Alps to the north, the hilly, tumultuous region is bisected by the mystical Po River, with its valley zipping up its belly. It is some of Italy's most bewitching countryside, laden with steep vineyards and ancient cathedrals.
The feeling: A wooden track leads through rich fields of vines. As the hill crests, the Swiss Alps and Monte Rosa hove into view.
Prague, Czech Republic
Pale gold and brilliantly clear, pilsner is one of the easiest beers to put back in large quantities, and there's no better place to do so than the Gothic city of Prague. With thousands of beer bars spread lavishly across the city, and many of them dating back to the 15th century, it's easily one of the best destinations for a pub crawl. The culinary offering is equally adept at absorbing the nectar of the gods: we're talking pork knuckle with shattering crackling, duck roasted in its own juices and crispy potato pancakes. You might pack on a couple pounds, but Prague delivers a drinking experience that's second to none.
The feeling: A Wizard of Oz vibe is exacerbated by many pints of pilsner.