Forget the wildlife, the hygge, the blissful quiet and the jaw-dropping accommodation. Forget the fika, the forests, the famous hospitality, the finely curated tasting menus and fantastic fish restaurants. Of all the things people travel to the far north of Scandinavia for, there's one that people mention more than any other: the Northern Lights.
Why? Well it's probably because they're just about the closest thing to magic that exists on Earth – and they're rare enough to make the pilgrimage to colder, more mountainous climes well worth the round-trip. Yep, those iconic green glows may be a little bit fairweather, but they're also one of the only things that'll get people out of bed at 4am on holiday.
And if you lot are willing to go outside, in the cold, in the middle of the night, for one fleeting glimpse of an amazing aurora, we're more than happy to let you know where to look. That's why we've teamed up with the experts at Best Served Scandinavia to share a few of the finest regions to visit for a chance to see the Northern Lights, as well as a few other reasons why you might want to go there anyway. Just in case the Norse gods are feeling fickle while you stay, you know.
Norway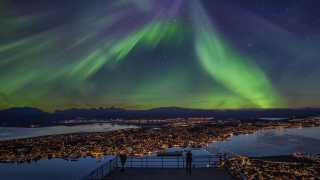 Thanks to its picturesque position between mountains and fjords, its colourful Scandi architecture and its incredibly high hit-rate for aurora watching, the city of Tromsø is rightly known as Norway's Northern Lights capital. It might look remote in the pictures, but thanks to being positioned just inside the Arctic Circle, and home to a relatively large regional airport, it's also one of the easiest places in the Far North to get to. The Northern Lights are often visible from the city itself, but while you're in such a rugged landscape, you might as well make the most of it with a day out on a husky safari, a whale watching tour or an afternoon at a local distillery in the Lyngen Alps.
Want our advice? Pair your stay in the city with a getaway into the wild at Malangen Resort or Lyngen Lodge. Less than two hours away by car, these resorts are the perfect way to get away from it all and truly experience the peace of the Arctic.
Svalbard
Halfway between the north coast of Norway and the North Pole, the Norwegian archipelago of Svalbard is one of the most rugged and inhospitable places on Earth. But don't let that put you off. Well inside the Arctic Circle and almost completely devoid of light pollution, it's one of the best places to see the Northern Lights come wintertime.
It's this awe-inspiring Arctic destination that made it one of the magical settings chosen for Philip Pullman's epic novel series and new BBC drama His Dark Materials. From late October until the end of January, the sun never gets above the horizon in a dazzling phenomenon known as the Polar Night, which casts the landscape in a one-of-a-kind blue twilight that's perfect for sighting auroras. Head out across the frozen tundra by snowcat, Ski-Doo or husky sledge for the most authentic experience – and explore the region's amazing ice caves while you wait for them to come out.
Swedish Lapland

Whether you want a cool city break with a bonus sighting of the Northern Lights or a long weekend in a luxurious lodging in the middle of the Arctic wilderness, you can have it all in Swedish Lapland. The city of Luleå is an affordable alternative to somewhere like Tromsø – and makes the ideal basecamp for all kinds of adventures thanks its Unesco old town, top-class restaurant scene and nearby backcountry.
Traipse off the trail a little, meanwhile, and you can stay at iconic properties like the world-famous ICEHOTEL and Treehotel – both of which are great for winter pursuits like snowshoeing or snowmobiling, and have great restaurants cooking with revered food using the best of Lapland's abundant natural larder.
Finnish Lapland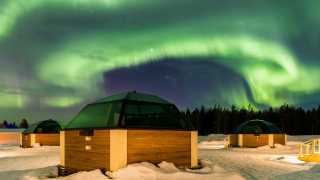 Scandinavia is well known for its staggering natural landscapes, and luckily plenty of the design-forward accommodations that have popped up across Finnish Lapland over the last few years will let you make the absolute most of the views. Who wouldn't want to get their first glimpse of the aurora borealis from the comfort of a glass-roofed igloo pod at Arctic Snowhotel, or cosy up in front of a log fire after a night in a Northern Lights camp at the side of a frozen lake at Wilderness Hotel Nangu? We'd wager not many people.
This remote, northerly region of Finland is secluded and peaceful while still being great for families thanks to activities like reindeer sled rides and a myriad of Santa's grottos to visit. Whether you want to stay in a luxury modern treehouse among snow-covered pines (try Arctic TreeHouse Hotel) or on a bed made carved from ice (check out Arctic Snowhotel) – in this winter wonderland, you can.
Iceland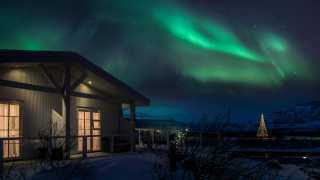 On a lucky winter's day, you can see auroras down by the water in Reykjavík – but you're probably not in Iceland just to hang out cityside, soaking up the restaurants and bars and head home. Oh no, you're probably going to strike out into the wild to experience the best of Iceland's natural beauty – its jaw-dropping mountains, its steaming hot springs, its gigantic waterfalls and its vast glaciers.
In just a couple of days, you can check out the world-famous Golden Circle – home to legendary sights like Gullfoss waterfall and Strokkur geyser – as well as seeing the black sand beaches of Vik and 60-metre-high torrent of Skogafoss on the South Coast. While you're travelling, you'll be well served for boutique boltholes – many of which have hot tubs, hot springs, innovative dining and Northern Lights wake-up calls. And if you don't catch that telltale green glow in the sky, there's always a last-minute SuperJeep aurora tour on your way back to Reykjavík.
To book your Northern Lights break, contact the experts at Best Served Scandinavia on 020 7664 2248 or visit best-served.co.uk