There is hardly a better feeling than that split second moment before you take your first ski run of the season.
As the tips of your skis sit briefly airborne, about to send you rocketing downhill, and you take one final, swooping look at the vista in front of you: blue skies and ragged peaks, the only interruption being the stoic clusters of feathery pine trees. And then, just like that, it's over, and you're heart-thumping-mind-racing soaring down the mountain, the wind whistling in your ears, your mind empty of all thoughts except the path you're going to take, carving lazy slalom routes through the powder.
Europe isn't exactly starved for wonderful skiing destinations, but there's no doubt that the Swiss Alps offer some of the best ski resorts in the world. Zermatt, Verbier, Davos and Gstaad are all household names that attract clusters of adrenaline junkies every season. And yet, if you dig a little deeper, there are a few spots that offer the same world-class slopes without the crowds, attracting hardier snow-lovers who go against the grain.
That's where Radisson Blu comes in. For a stay that rivals the snow conditions, the Radisson Blu Reussen resort and hotel in Andermatt, Switzerland has got everything you need and more. There's a sauna and steam room to soothe weary muscles after big days on the slopes, enormous beds to ensure you get a good night's kip, and it's just a five minute walk from the gondolas that take you to the Gemsstock and Nätschen ski fields.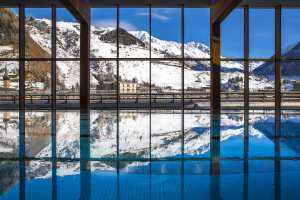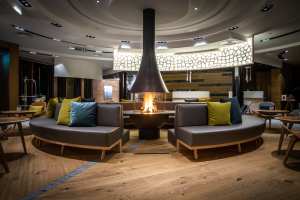 With 244 rooms and residences, the hotel makes travelling in groups easy, offering up three bedroom suites and residences alongside the standard-sized rooms – which means you get all the benefits of the hotel alongside the space and amenities of a chalet, for a stay that combines the best of both worlds. There's also a 25m indoor pool, a wellness and spa area, and plenty more besides – all just an hour and a half from Zurich airport and 45 minutes from Lucerne.
Waking up to sweeping views over the mountains and being able to check the conditions without even needing to leave bed truly cannot be beaten – and the Radisson Blu Reussen Andermatt is the best place to experience it.
For more information or to book, go to radissonhotels.com/en-us/hotels/radisson-blu-andermatt-reussen, call (+41) 41 888 11 11 or email info.andermatt@radissonblu.com