Cutting a course through winding country roads, the smell of perfectly in-season Jersey Royal potatoes penetrating air that also has a musk of the sea, it's hard not to notice that the Channel Island of Jersey is one of those curious things: a mix-and-match of endemic cultures – a bucolic place where British speed-limit signs pop up on roads with French names; where there are tall palm trees and white-sand beaches but there are also Waitroses.
But a long weekend here will also underline that there's an endemic culture here that's not influenced by its relationship with the UK or its proximity to France – while it's only a 45-minute flight from Gatwick, the west coast of France is close enough to be clearly visible from its eastern shore on a clear day, and there's definitely a subtle but unmistakably French flavour to its back roads and farmhouses.
While driving past the L'Auberge du Nord inn, you could be forgiven for thinking you're in Brittany thanks to a culture of food and sustainable agriculture that's built into the very fabric of this small island.
Exploring it over a couple of days or more brings it home: at low tide, a walk around countless rows of oyster beds also gives a view of the vast array of seaweed species, many of which are composted and used to nourish the soil – a process – along with the iodine that enriches the rain clouds that form on the coast and later empty inland – that brings incredible richness to the soil and might even give its hero crop, the Jersey Royal potato, some of its characteristic flavour.
At nine by five miles, Jersey is probably the size of a small county, while its capital, St Helier, is certainly no one-horse town, with a vibrant culture of its own, including shopping complexes and a banking district.
The island is big enough to not have to import all its crops (and its culture), and small enough to have learned over time to be self-sustaining. That ingrained culture of high-quality food and farming has resulted in a holiday destination that's reassuringly familiar but also refreshingly different, easy to get to by air or ferry, and – of course – brimming with great food and drink.
Things to do in Jersey: Where to stay
The Atlantic Hotel
Mont de la Pulente, JE3 8HE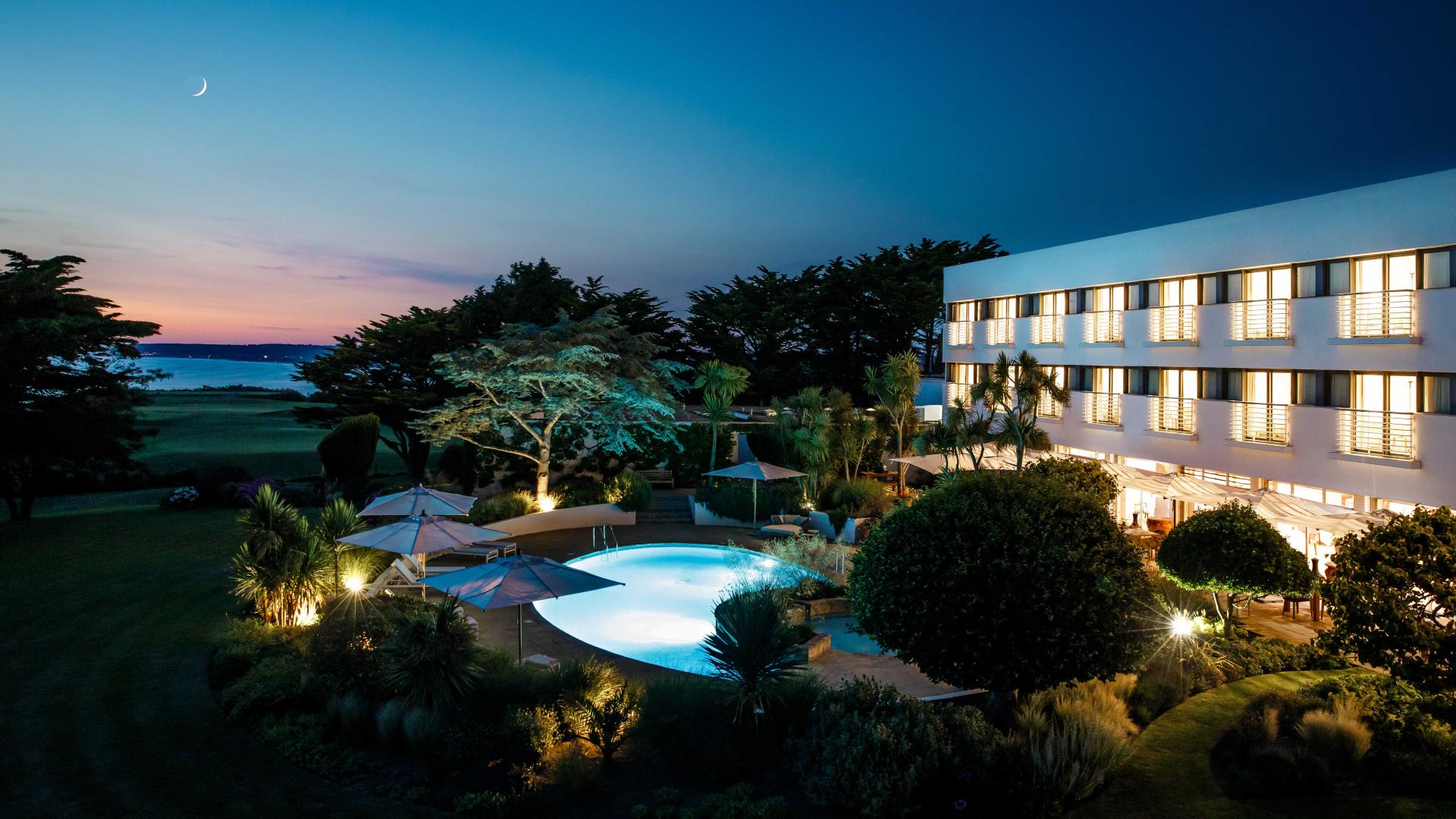 ANDY LE GRESLEY PHOTOGRAPHY
On the south-west tip of the island near the parish of St Brelade, The Atlantic is a one-stop shop that combines pretty, comfortable and functional rooms and suites with beautiful views of some of the island's southern beaches, along with a spa and the La Moye championship golf course, while the beautiful Les Mielles conservation area is also close by. Operated by SLH (Small Luxury Hotels), with an opulent marble-decked lobby, a swimming pool with plenty of space for lounging, a very good restaurant (more on that later) and a compact bar area making very good cocktails all add up to a hotel that's charming and luxurious without being rarefied, and a great place to rest your head when you're not exploring the island.
From £330 per room including breakfast. theatlantichotel.com
Things to do in Jersey: where to eat
Bohemia
Green Street, St Helier, JE2 4UH
This jewel in the crown of St Helier's dining scene has been going strong for nearly two decades, and hasn't stood still, recently installing new head chef Callum Graham to head up the kitchen. With slick interiors, French-accented fine-dining service and an adjoining bar. Graham continues the ethos that's seen Bohemia retain its Michelin star for the last 13 years, working wonders with a tight supply chain that's unsurprisingly fish and seafood-forward, and also uses the island's bountiful supply of seaweed in a few dishes. There's a tasting menu, although we opted for the restaurant's 'surprise' option – £10 cheaper than the à la carte offering, it sees the kitchen team build six courses around likes and dislikes. A potato mille feuille with aged comté and potato jus pushes that characteristic sweet Jersey Royal flavour to the fore; sea bream tartare, speckled with sea vegetables, was fresh and tart, with a saline richness and an acidic split oil; while the star of the show (aside from a superb cheese supplement, paired with an ice wine from the excellent Peller Estate in Ontario, Canada) was a meaty hunk of cod alongside a verdant basil purée and a ratatouille with sumptuous caramelisation and bite. From the more cheffy courses to the simpler stuff, it's excellent and deft cooking throughout.
Ocean
The Atlantic Hotel, Mont de la Pulente, JE3 8HE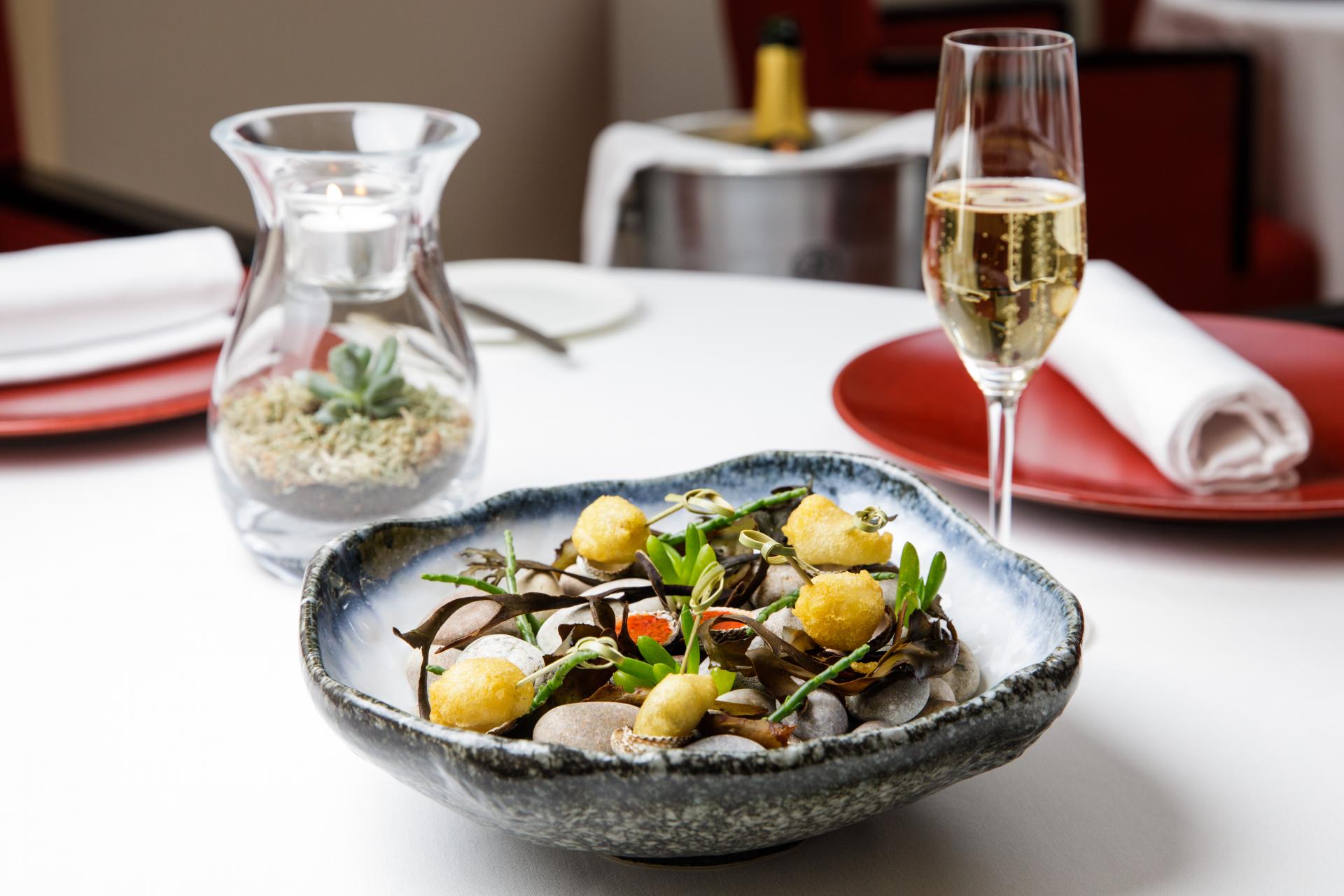 Closer to home, Ocean is the resident restaurant at The Atlantic, and while it's not as obviously decorated as Bohemia, executive chef Will Holland does bring some serious pedigree: he had previously run things at L'Ortolan in Reading before winning a Michelin star at its sister restaurant La Bécasse in Ludlow, having spent time beforehand at restaurants including Le Manoir aux Quat'saisons. Food here leans indulgent and classic, especially on the 50th anniversary menu, which features a slab of foie gras on brioche, with a sauternes reduction and bitter chicory that cuts through the richness; roasted fillet and braised short rib with a sweet onion tarte tatin and an unctuous, marmite-y black garlic reduction; while the star of the show was a beautifully seared local scallop, served on a brandade of salt cod and mashed potatoes with vibrant poached carrot, paired with an exquisite chardonnay from Bouchard Finlayson in Hermanus, on South Africa's Western Cape.
The Potato Shack
Rue de Maupertuis, JE2 3HG
For something altogether more casual – although, in its own way, no less ambitious – The Potato Shack on Woodlands Farm is a must-visit. Set up last year by the Le Boutillier family, it acts as a vehicle to deliver the family farm's produce, including Jersey milk and beef, plus those famous Jersey Royals. We started with a luscious iced coffee made with Jersey milk, and tucked into a beautiful house-made merguez with beetroot hummus on a pillowy flatbread, and an exceptional hash of sautéed Jersey Royals, late-season asparagus, bacon jam and egg. The stone-clad courtyard and lawn make for some great lounging if the sun's out, while that combination of fresher-than-fresh produce and elegant and unpretentious cooking by chef Claire Allenet results in surely one of the best pit-stops on the island. There's also an on-site butchery and the original Jersey honesty box, if you're keen to take some of that Jersey produce home with you.
Things to do in Jersey: where to drink
The King's Bar
14 Bond St, St Helier, JE2 3NP
If you were labouring under the misapprehension that Jersey's drinking scene would be all old-fashioned English pubs and French-style inns, a trip to The King's Bar in St Helier is a nice reminder that there are plenty of forward-thinking food and drink venues to be found on the island. The bar is thoughtfully decorated, dimly lit but with touches of grandeur, and while its drinks list is wide-ranging and with more than a few crowd-pleasers, there's a deft touch to classic stirred cocktails. A 50-50 sazerac and a bourbon manhattan were both expertly crafted, while the lists of beer and wine are no slouches, either. A great place for an aperitif or a nightcap if you're eating nearby.
Things to do in Jersey: the best holiday activities
La Mare Wine Estate
La Rue de la Hougue Mauger, St Mary, JE3 3BA
Jersey's only winery is set in beautiful grounds on the north of the island, and a tour here – especially with good weather – is a great way to continue getting a feel for the island's unique natural larder, whether you're seasoned in wine or not. Rather than the bacchus and champagne varietals you might be used to from English winemaking, La Mare makes white, rosé and red blends with grapes including seyval blanc and orion, with a complex and distinctive character, as well as cider from estate-grown apples. Aside from wine and cider the estate's apple brandy, made like calvados, is a beautiful sipper, and the tour takes in the beautiful pot still that produces it. Pick up some Jersey black butter and house-made chocolate on your way out.
Jersey Walks & Tours
We love a good walking tour – and when it takes in the countless beds of the Jersey Oyster Company, all the better. Our guide for this one, Trudie Hairon, is an adoptive Islander with years of experience in teaching people about this incredible natural ecosystem, and a walk along the oyster beds when the tide's out will give you a few proper penny-drop moments as you learn about the specificities of top-level sustainable oyster farming (and graze on a bit of foraged seaweed along the way). If you can combine it with a few fresher-than-fresh oysters at the end, as you gaze out across the serene beach past the Seymour Slipway – well, that's all the better.