Yearning to drive
The ultimate drivers' roads – from scenic cruises to dream drives
North Coast 500, Scotland
White-sand beaches, turquoise waters, hidden coves, enormous waterfalls – you'd be forgiven for thinking that you were driving the coastline of a Caribbean idyll. However, this is the North Coast 500 – one of the true phenoms of recently minted road trips – which circumscribes the northern tip of Scotland from Inverness to Ullapool. Having recently won a number of accolades in major travel publications, it's seen a surge in popularity in recent years, offering everything that makes Scotland great: vast distances, unspoiled wilderness, seafood just out of the ocean and game fresh from the field. The road itself is a joy for the discerning motorist, with an intensely solitary single track often shared solely with stags or sheep. The North Coast 500 has become one of Europe's classic routes and has put Scotland on the map as a bona fide motoring destination.
The feeling: Pulling up to the verge of the road and getting your feet wet in the heather and moss as you make your way along a sheep track to the broad white cataract of a waterfall.
Amalfi Coast, Italy
A classic road trip for very good reason, you'd have to go a long way to beat the feeling of listing lazily along the Amalfi Coast in a convertible (a Fiat 500 will do the trick if you don't want something beefier). While it's located on the Bay of Naples and not technically part of the Amalfi, the historic Grand Hotel Excelsior Vittoria in the quaint and historic town of Sorrento is a great place to start (and saves you the chaotic Naples traffic). Within an hour of checking out you'll meet the coastline and be well on your way, sticking with the sea on your right-hand side as you go through picture-postcard towns. The beautiful Positano is always worth a stop either for a long lunch or an overnight – with loads of great restaurants and, crucially, plenty of parking space – while the town of Amalfi is an ideal ending for a well deserved gelato made with those bountiful Amalfi lemons.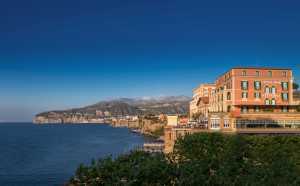 The feeling: The town swinging into view as you round the last corner before Positano, top down, sun shining and waves crashing onto the rocks a couple of hundred feet below.
Romantic Road, Germany
Suit up with a German supercar worthy of Iron Man and take off for the high country on Germany's Romantic Road, which traverses Bavaria from Würzburg to Füssen. Founded in the 1950s (with the aim of giving German tourism a post-war shot in the arm), the roughly 250-mile route connects the most beautiful features of the country: vast Teutonic castles; mediaeval churches; charming vineyards and half-timbered villages that would sit easy in a Brothers Grimm fable – plus, there are plenty of badass taverns to quench your thirst at the end of the day. Since the early days of Volkswagen, Germany has been one of the titans of the car industry. While the Autobahn is great for opening it up, if you really want to get under the hood of the country the Romantic Road will get you there.
The feeling: Feeling the rubber of your tires vibrate as the grip cobblestone streets. You pull up next to a Christmas market in front of a Gothic revival town hall.
Fjords, Norway
Take your driving experience space-age by cruising through one of the world's most beautiful landscapes in an emission-free electric supercar. Off the Map Travel is offering the opportunity for eco-conscious motorheads to get behind the wheel of a Porsche Taycan Cross Turismo for a racetrack-ready grand tour of Norway's iconic fjords. Rev your engine (or your, er, battery) in Alesund before taking off on a road trip for the records that will take in world-famous stretches of tarmac including Atlantic Ocean Road, the Troll Wall, Geiranger Fjord, Storfjord and the Sunmore Region. Along the way you'll cross ferries, glamp in a traditional Sami tent, unwind in luxury 5-star hotels and get well-acquainted with an electric car on the bleeding edge of new tech. It's not cheap, but if you can a-fjord it (sorry), it's a drive you won't soon forget. Perhaps, more importantly, with a Porsche Taycan Cross Turismo, you don't have to worry about emissions either.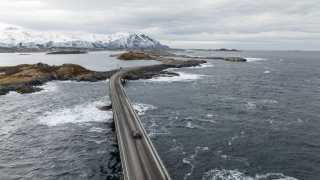 The feeling: Coasting into a viewpoint, cumulus clouds hanging like candy floss in the middle distance below you, to snap photos of a pod of humpbacks playing in the fjord.
Sonoma Coastline, California
Is a road trip shortlist complete without an American route? From the travels of Jack Kerouac to Bob Dylan, no country has the road baked into its mythology more thoroughly than the United States, and no state more than California. Why not reward yourself at the end of it with a trip to Napa Valley. A convertible would work here, but so would a vintage VW bus or even a Detroit-bred muscle car. Strike out from San Francisco and point it towards Sonoma on Highway 1 for your very own Sideways experience. Bodega Bay to Gualala River showcases 50 miles of delicious coastline, where you can stretch your legs on Doran Beach or jump on a whale watching trip from Bodega Head. We know it's all about the journey and not the destination but this trip offers a particularly ripe cherry on top of the sundae: some of the world's best pinot noir and chardonnay.
The feeling: Pure relief as the first mouthful of Pinot finds its way into your belly after a dusty day on the roads ("I'm not drinking any fucking merlot!").
Taking it off-road
For those who prefer to leave the tarmac in the rearview mirror
Tizi n'Tichka Pass, Morocco
Roughly translating from the Berber language as 'dangerous mountain pasture', Tizi n'Tichka is a high mountain pass that connects the plains around Marrakech to the Saharan desert of Ouarzazate, topping out at around 2,250 metres. The track winds back and forth, up and down, with vertiginous switchbacks at high frequency, skree on the tarmac, and overhangs that require you to edge out like a tight-rope walker to the precipice. This drive is certainly not for the faint of heart, nor the acrophobic, but it has adrenaline junkies lining up in spades.
The feeling: A cursory glance at an argan tree full of goats on the steep slope.
The F Roads, Iceland
Four-wheel drive is an absolute must on Iceland's Ring Road – mainly for the many unfrequented offroad offshoots accessible from it. Otherwise known as Fjalla or F-Roads, these unpaved mountainous single track roads often lead inwards to the centre of the volcanic isle. You'll need to be prepared to handle loose, unstable terrain and steep, blind turns where you have to trust that you won't fall into an abyss. There are very few places on the planet that feel as if they were lifted straight from the set of a science-fiction movie, and this is one.
The feeling: Cresting a gravel col, watching the scenery expand into panoramic vistas.
Skeleton Coast, Namibia
Start from the heart of the Namibian desert in Sossusvlei to marvel at the iconic dunes, then strike out for the adrenaline capital of Swakopmund before swinging down to Damaraland and Etosha National Park for some big-game spotting. There are few holidays that will offer you such intense freedom and solitude than motoring through one of Africa's last great wildernesses, and Namibia is a veritable moonscape.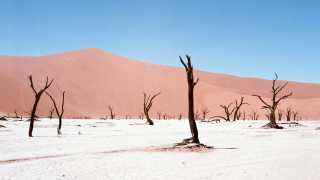 The feeling: Pulling up to a broad expanse, then climbing onto the roof of the vehicle to watch the sun go cherry red.
Salisbury Plain, Wiltshire
Along with Stonehenge and the Army-operated Salisbury Plain Training Estate, Salisbury Plain boasts an extensive network of green lanes – hundreds of miles of unpaved, unmaintained, unmetalled, ancient pathways formerly used by drovers, farmers and travellers that you'll be able to explore from behind a steering wheel. If you're new to the game and want to dial in your fundamentals, stick to the perimeter road and the graded areas. More of a modern day Steve McQueen? Let it rip in the ruts and puddles of the less frequented areas.
The feeling: A little too much gas over a rise and the tires of the car levitate, airborne.
Mojave Road, Arizona
When it comes to offroading, Americans do it better – simply down to the embarrassment of riches of their country's terrain. Mojave Road – which spans 140 miles from Bullhead City, Arizona to Newberry Springs, California – is a case in point. The road was formerly utilised by native Americans, Spanish explorers, settlers in stagecoaches, the US Army and more. And the payoff is massive: along the way you'll ford the Colorado River, thread the Joshua Tree Forest, douse your face and be thankful for air conditioning at Rock Spring, and grab a selfie at Soda Lake. Saddle up!
The feeling: Sand resettles and dust stirs as a sidewinder kicks its way across the desert on the roadside. A tumbleweed rolls past.
Choose your own adventure
Unique high-octane experiences
Cycle the backroads, Albania
Relatively unfrequented compared to its Ionian counterparts, Albania and its Accursed Mountains have quietly been magnetising the adventurous to its diverse landscape. Cycling presents the opportunity to experience the country in its entirety, from wild swimming in the vast Lake Shkodra to Valbona Valley and its sublime national park. The village of Dharda boasts exquisite views and the opportunity to spot Albanian lynx and foxes, the village of Puka is renowned for its craft beer and porcini mushrooms, and there are even fjords in Albania on Komani Lake. Who knew?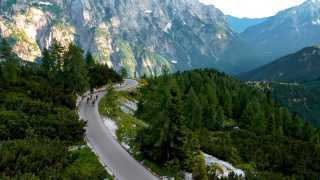 The feeling: Cresting a backbreaking hill, the Adriatic shimmering in the afternoon haze.
Amazon expedition, Colombia
If you fancy testing your mind and mettle against dense, unforgiving jungle, this one's for you. Embark from Medellín, Colombia for a 100km expedition that will deliver you from tropical mountains to the Amazon's beating heart. You'll pass through five different biospheres and starkly diverse terrain, and it also offers the opportunity to see an amazing array of Amazonian critters, including tigrillos, tapirs and monkeys.
The feeling: Banana-wrapping yourself in a tree hammock before falling asleep to the cacophony of the Amazon rainforest.
Trailblazing, Greenland
Kayaking between icebergs is extremely cool, and Greenland offers the opportunity to do so, as well as incredible, generous people and a stupidly gorgeous landscape. Do it self-powered and you can count yourself amongst some of the true pioneers of contemporary travel. Kayaking allows you to get up close and personal with not only looming, luminous glaciers and bergs but also wildlife such as (in order of scariness): seals, caribou, whales, walruses and polar bears. From the craggy shorelines of ice-hewn fjords, you'll have the opportunity to ascend to the top of glaciers. This is transformative travel at its finest.
The feeling: A shot of adrenaline as an ear-splitting crepitation announces the calving off of an iceberg from a glacier.
Watersports in Croatia
Stand-up paddleboarding, kayaking, whitewater rafting, wild swimming and cliff jumping into a waterfall – you can do them all on the Mreznica River in Croatia – at 60km, with 90 waterfalls and a bevy of deep canyons and emerald bathing pools along the way, Croatia's balmy waters make for a more-than-inviting week of summer adventuring. Along with hiking and cycling, the region provides ample opportunity for spotting wildlife in Plitvice National Park and Krk Island, with avian wildlife running the gamut from golden eagles and lesser spotted eagles to the western capercaillie and great white egret.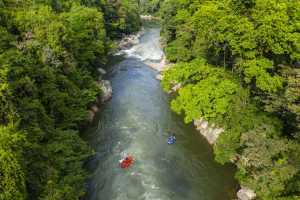 The feeling: Amid the roar of white water pouring over the cliff's edge, you plug your nose and jump into the cascade.
Walk Pembrokeshire, Wales
Take a walk on the Wales side with a coasteering trip in Pembrokeshire. The coastal equivalent of mountaineering, coasteering is an endorphin-pumping pursuit that puts to use a variety of full-body skills, including wild swimming, scrambling, rock climbing, wave diving and, most importantly, chucking yourself off big drops. Responsible Travel has put together a three day guided adventure in which you'll stay at the Preseli Venture eco lodge, a low-carbon retreat with a top-shelf sustainability initiative. Wetsuits, helmets, buoyancy aids and minibus transport are all provided – just make sure you don't mislay your courage along the way.
The feeling: You hear a 'gasp' behind you and turn to find the inquisitive mind of a harbour seal doing a recce.