Danner Jag Wool hiking boot: gear review
This lightweight hiking boot has been reborn after a 30-year hiatus, and the result is an incredibly modern shoe with a gorgeous retro feel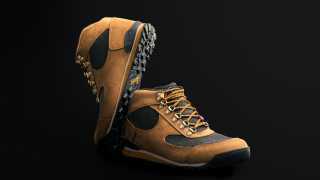 Danner Jag Wool: What is it?
A 1980s classic reborn with all the tech you'd expect from a modern-day hiking boot (but with much better looks). Until it was discontinued, the original Jag was a sturdy and lightweight alternative to the heavy-duty hiking boots Danner is most famous for. On its return from 30 years later, it's much the same, but with the bonus of modern waterproof technology, and the pleasantly retro feel only a three-decade hiatus can give you.
Danner Jag Wool: Why do I need it?
If you're an outdoorsy type who wants a casual look without compromising on the support, and weatherproofing a hiking boot gives you, there's plenty to love about the Danner Jag. These boots are equally at home pounding city streets on a weekend break as they are getting soaked while hiking. The company's proprietary Danner Dry lining stops water getting through all parts of the shoe, while an attached tongue means you won't get your feet wet when you step in deeper water. New for 2018, the Jag Wool cuts a slightly more winter-friendly outline than its nylon-inlaid cousin. As a result, it's every bit as toasty as a boot made by a Wisconsin company sounds like it should be.
Danner JAG Wool: Should I buy it?
Versatility and durability is the name of the game with the Danner Jag, so if you're looking for a lightweight boot that'll last many-a-winter and carry you from road to trail, this is it. If you're going to be pushing yourself in more extreme conditions, though, the Jag Wool's low-profile, waffle outsole might not quite hold up in the way a more activity-specific shoe will. But with looks like that, we're not even slightly bothered.
Available for £149.35.danner.com